Une journée particulière: Mozart Maximum at La Seine Musicale, Paris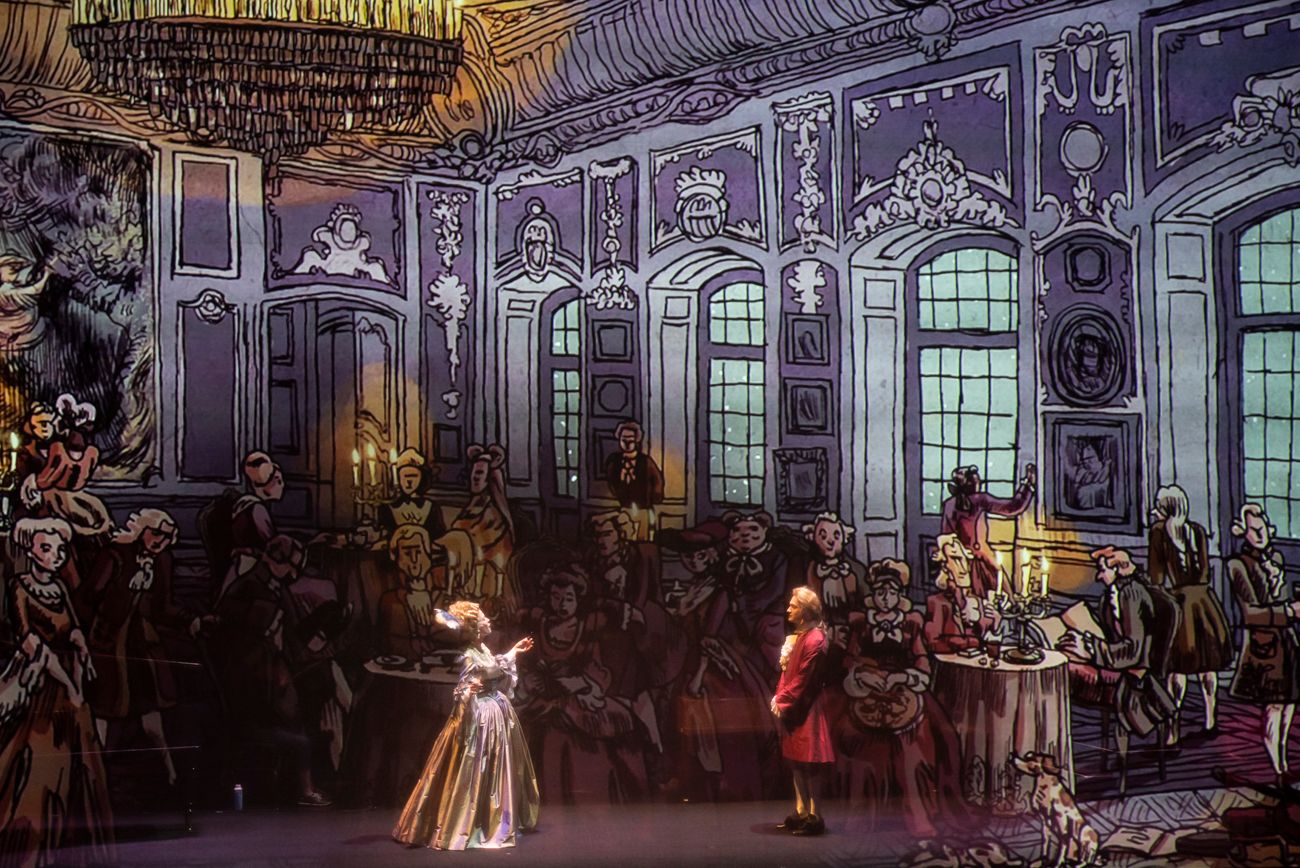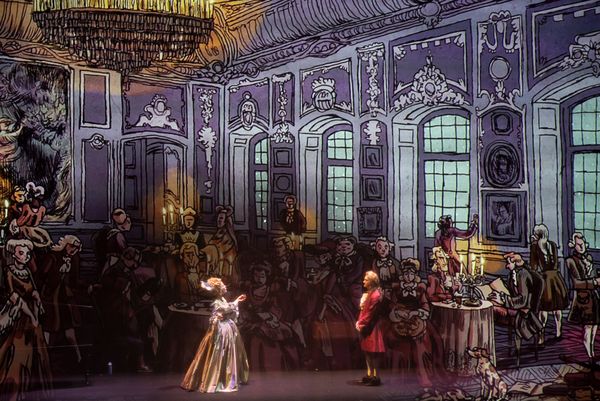 The "Festival Mozart Maximum" is underway in Paris. This was the first of three performances on consecutive nights of a remarkable interpretation of one particular day in Mozart's life: November 12, 1791.
With a libretto adapted from the writings of H. C. Robbins Landon, David Lescot's staging allows us a window into Mozart's life. Just one day ("One particular day" would be a translation of the title, or perhaps, "A special day"): November 12, 1791, via stunning animated illustrations by Sagar Forniés and Jordi Gastó. The original idea came to the composer Franck Krawczyk after being exposed to Miloš Forman's film, Amadeus, but working from a more musicoligically-informed angle.  The event spans the centuries in talking to a contemporary audience directly about issues that are certainly foregrounded in today's world: sickness, economics, power. This is just the sort of thing Insula under its inspirational Music Director Laurence Equilbey excels at - one just needs to think back to their 2020 event, Pastoral for the Planet.  Un journée particulière offers the public a new way to experience this well-known music; it also brings in many lesser-known works.
French speakers will enjoy this introduction by the animated Thomas Baronnet. Watch out for the X-Files theme tune when he starts talking about Freemasons!:
We are in the time of late Mozart (he died December 5, 1791); the setting is, of course, Vienna. Mozart is played by the pianist and composer Thomas Enhco, whose own activities traverse Classical and jazz (something we heard, brilliantly, within the evening). All of the major players in Mozart's life stories are here, from Schikaneder to Salieri.
The use of technology to effect this experience is simply stunning. Projected line drawings create ambiance - they are animated, and brilliantly so. Viewers of a certain age - me, for example - will perhaps experience this as a sort of hyper-sophisticated version of the children's TV series Mr. Ben. Against this deliberately "drawn" scenery, real people are juxtaposed: Mozart himself, and the primary players of his wife, Constanze (Antoinette Dennefeld), Baron van Swieten, Prince Galitzin and of course Schikaneder (all taken by Jacques Verzier). Soprano Florie Valiquette plays Ana Maria Von Genzinger, who was close to Haydn - and as part of the evening we do indeed hear the bracing finale to Haydn's "Oxford" Symphony - and Mademoiselle de Destary, a potentially fictional character presented by Robbins Landon as the niece of Baron von Braun, who was among the subscribers at three concerts given by Mozart in 1784. A messenger and an assistant are both played by Yoann Le Lan. Through this superbly-acted lens, we really do experience Mozart the man, in delicious duet with Constanze (Antoinette Dennefeld) in a canon based on  O du eiselhafter Martin! but with the words altered to show playfulness between lovers. Here's the original:
Musically, we hear the importance of Bach on Mozart's music: that canon is sandwiched between the Adagio and Fugue of K 546 (a small point, but Insula's programme erroneously gives K 564 as the catalogue number). Here's a performance (with score) by the Staatskapelle Dresden. The Fugue begins at 2"19:
In telling the story, the creators mix familiar music with the decidedly unfamiliar. Mozart's Ne pulvis et cinis, K. Anh. 122 (Anhang = Appendix) is little-known, but decidedly occupies a similar world to the Requiem, and indeed we hear it next to an excerpt from the great "Recordare" of the latter. Here, though, we can hear the full sequence:
Equilbey and Insula have already offered an unforgettable interpretation of Mozart's Requiem directed by Yoann Bourgeois and of course Equilbey's recording of that piece is superb. The work finds its perfect placement in the storyline here, and as part of the presentation's musical fabric.
Watching the city of Vienna and the interior of Mozart's lodgings unfold in this magical, animated way was itself a privilege. The setting, thanks to the tech and Paul Beaurelles' brilliantly conceived lighting, meant the directors could switch between full-focus on the ongoing 'play' and allowing the orchestra and conductor to be visible: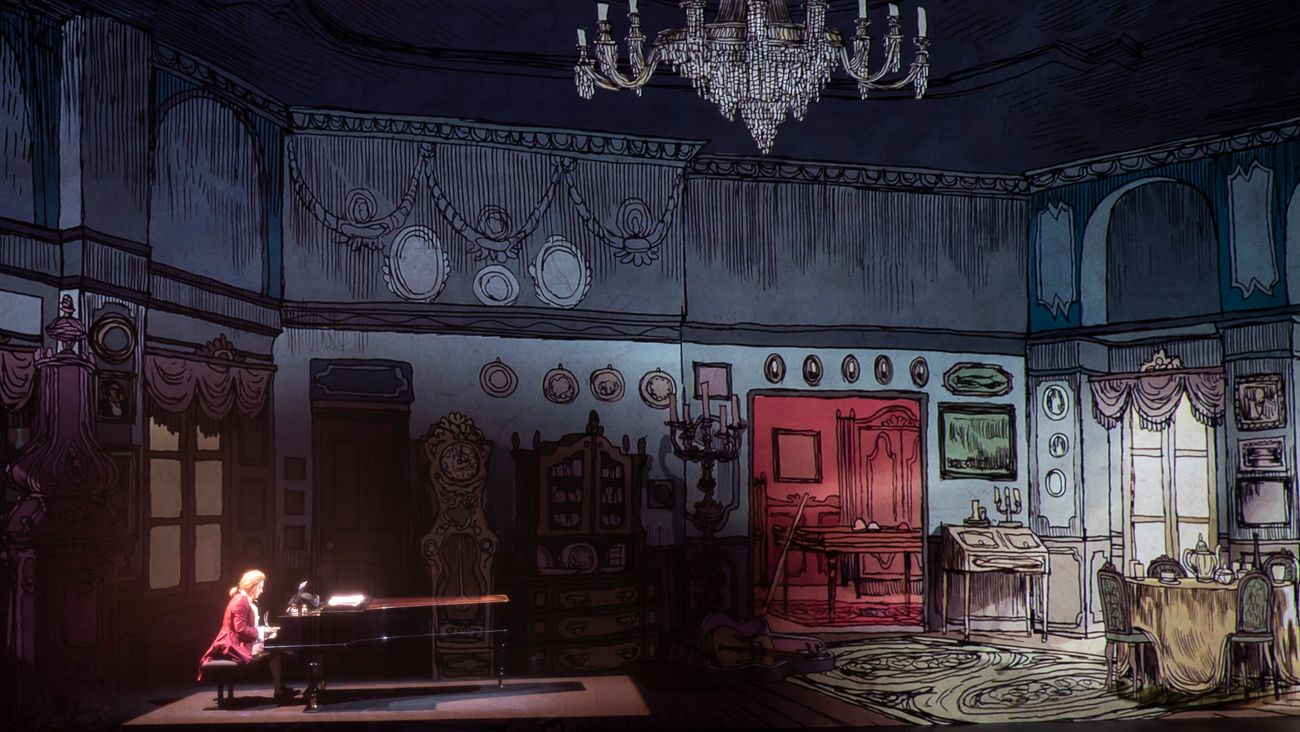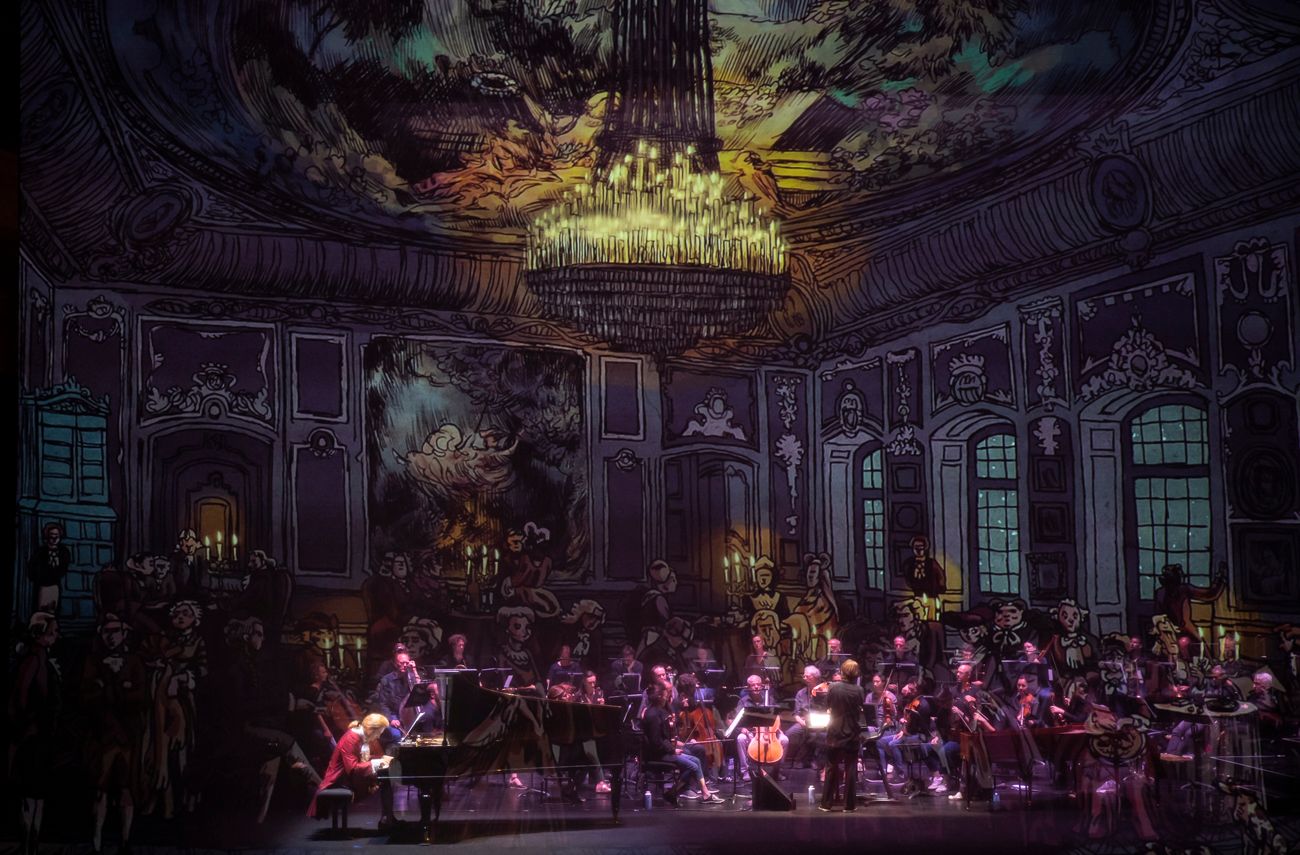 (all images from Mozart, Une Journée Particulière © Julien Benhamou)
Good to see that Mozart's "other" late opera, La clemenza di Tito, gets pretty much equal footing to Die Zauberflöte, including the fabulous trio from Tito, "Vengo ... aspettate"; and what performers at La Seine Musicale: soprano Florie Valiequette (who we met recently in the stunning La Captive du Serail disc from Versailles), mezzo Antoinette Dennefeld and bass Mikhail Timoshenko.
There is a real sense of enchantment about this production; the cleverness is never the point, but the storytelling is. Familiar tropes about the Requiem appear, and of course those Freemasons. Even the tarot cards we see are historically accurate: the images are from the Major Arcana-only Tarot de Marseilles (the first modern edition we know of was printed in Dinon, France, in 1709), which predates the now pretty much ubiquitous Rider-Waite(-Smith deck by 200 years (that one was published by the "Rider" of the title in 1909 - Waite refers to the esotericist A. E. Waite and Smith refers to the artist, Pamela Colman-Smith).
Within this evening, we the audience become remarkably close to Mozart and his circle; how fitting to hear Zerlina's "Batti, batti o bel Masetto" (Don Giovanni) as part of the  action. For me, the musical highlight was Enhco with Insula under Equilbey in the final movement from Mozart's last piano concerto (B flat, K 575), powerful, devastating in its revelation of Mozart's perfection. No YouTube of Ehnco playing this, but there is a complete performance of Mozart's C-Minor Concerto (K 491) in which we hear how his jazz background impacts his Mozart in the first movement cadenza (11'03 ff) and how convincing he is in Mozart slow movements. This performance is taken from a live performance at Palais Beaumont, Pau, in France with the Orchestre de Pau Pays de Béarn conducted by Pierre Dumoussaud on February 10, 2017:
As Yann Breton explains in his notes the choice of one day presents in microcosm, or in summary, the ambience of Mozart's final years, a place where debts collide with Freemasonic activity and Mozart's compositional genius but where also, as Breton says, we find Mozart "the man".
It was the beauty of the performances that remains most strongly in the mind, however, with Insula on top form, robust in the Adagio (from that Adagio and Fugue), tender in a million places.
This final video will give a further idea about this miraculous evening. In the meantime, one fervently hopes for a DVD/Bluray ...
Mozart Requiem (Equilbey)