Meeting Marschner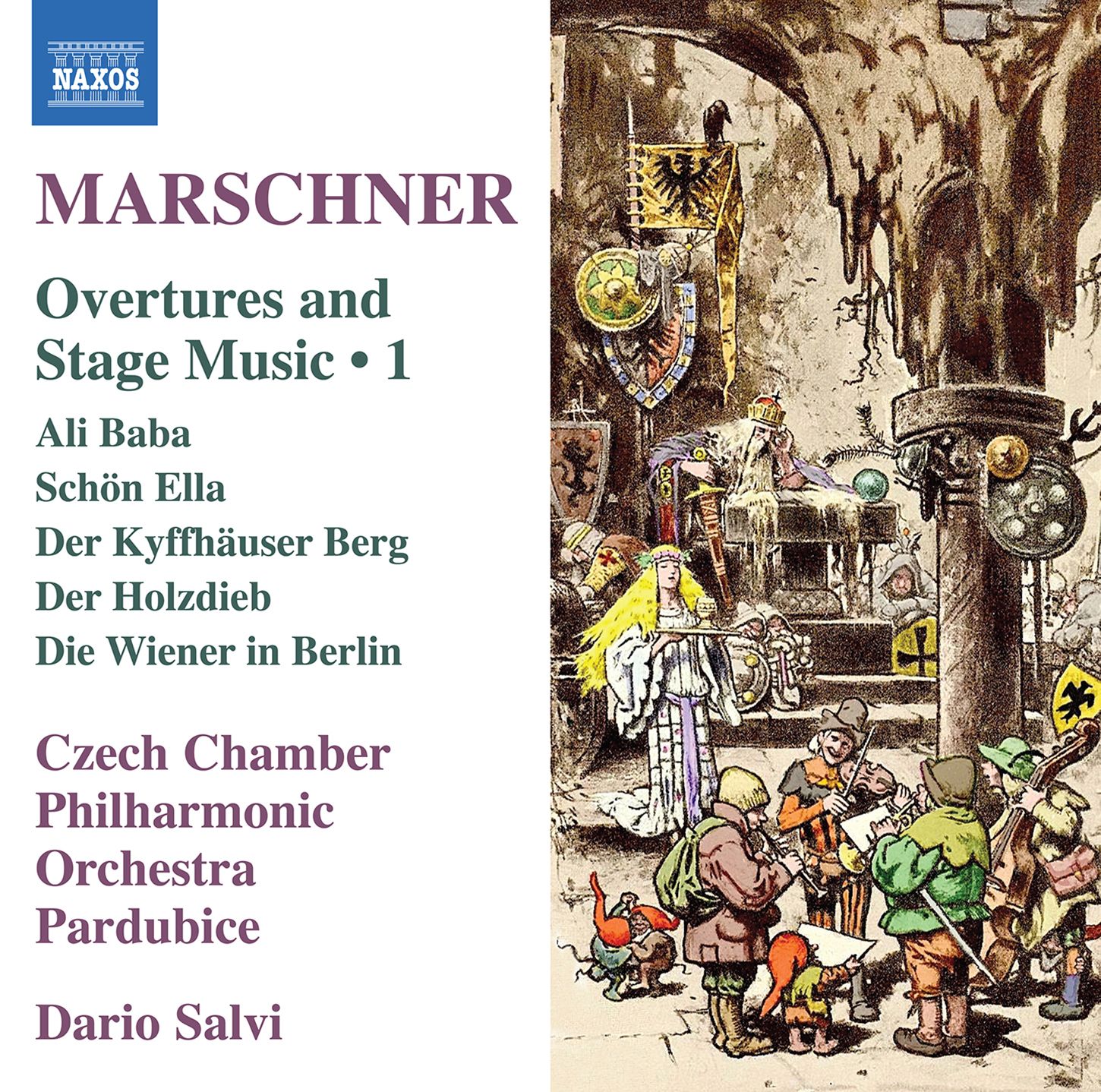 Heinrich August Marschner (1795-1861) is probably best known for writing an opera about a vampire (Der Vampyr, 1827, after a book by Pollidori). That opera was successful enough in its recording heyday to attract Siegmund Nimsgern (as Lord Rithven) in an Italian radio performance conducted by Günter Neuhold; Capriccio also released a recording in 2014. Also, that opera was actually produced by the BBC in 1992 as a series entitled The Vampyr: A Soap Opera..
Naxos, ever inquisitive about repertoire, bring us a selection of Overtures and Stage Music. This disc presents music from the early part of Marschner's career, from his time in Dresden and Leipzig.
Marschner forms a sort of link between Weber and Wagmer.  Listen to the dramatic opening of Der Kyffhäuser Berg Overture (1816, premiered Zittau, 1822):
Like Der Vampyr, Der Kyffhäuser Berg's plot includes supernatural elements (as does, of course, Weber's Der Freischütz). The story sounds a blast: "the heroine's father returns from an enchanted sleep of 20 years, bearing a fabulous golden ball acquired from dwarves, enabling his daughter to marry the man she loves," the booklet notes tell us. There is great invention here, but what really impresses is the way Marschner can darken the music. There's also the most delicious change of harmonic direction right st the end, leaving us with a raised eyebrow - and the impetus to know what happens next, of course ...
There is a real sense of suave expression and resonance with this early Romantic music in the Pardubice orchestra's playing. We've met them before, in music by Carl Stamitz (Le Jour variable), Saint-Georges, and several posts on the music of Paul Wranitzky conducted by Marec Štilec: Orchestral Music Volume 1, Volume 2, Volume 3 and Volume 4 (this last including Das Waldmädchen); Volume 5 will follow on soon on Classical Explorer - it includes the 52-minute ballet Das listige Bauermädchen (The Cunning Farmer Girl).
Marschner's "Volkstrauerspiel" Schön Ella (Beautiful Ella, 1823) is another piece that references the supernatural. "Volkstrauerspiel" means "Folk tragedy," and this one tells the story of a night ride by a young bride who has been taken away by the ghost of her dead lover. The story itself is taken from a 1773 ballad by Gottlieb August Bürger. The music is brilliant, and of a consistent level of invention. Just listen to the charm overload of the second act Ballet (sounding for all the World as if it  could easily feature on a New Year's Day concert from Vienna):
Even tiny Entr'actes are filled with joy (this is what I would call 'good froth' in music). And how's this for a happy march, full of optiomism: the 'Marsch der Krieger und Mädchen' (March of the Warriors and Maidens):
The final Entr'acte cotains some of the most dramatic music of the piece:
---
The other theatrical piece that comes with a selection of movements is the 'drama with music' Ali Baba, oder Die vierzig Räuber (Alla Baba, or the 40 Thieves). The use of percussion to perhaps invoke an Eastern flavour puts one in mind of Mozart's Turkish percussion in his Die Entführung aus dem Serail. Here's Marschner's Overture, performed with great verve by the Pardubice orchestra:
... and here's a performance of the Mozrt Overture to Die Entführung, with the Orchestra of the 18th Century under Frans Brüggen:
Again, there's a ballet in Marschner's Ali Baba, full of energy. The acoustic occasioanaly feels a touch resonant here, but the spirit is all there:
---
The Overture to Der Holzdlieb (The Wood Thief, 1823), a 'Singspiel' (play with musical numbers) is a story of wedding plans gone awry. It was clearly light, as the overture certainly is. It is, basically, a rollicking rondo (meaning a passage returns again and again with various contrasting sections in between):
Finally, the Ocerture to Die Wiener in Berlin (The Viennese in Berlin, 1825 for a production in Dresden). This was a Liederspiel (play with songs), and a farce. The opening of the Overture seems very grand, but soon seems to start poking fun of itself, accelerating eventually into a frothy, melody. The plot centred on the humorous differences between Berlin and Vienna. It is terrific fun, and the Pardubice players have a ball, particularly when it come sto the rustic drones around the four-minute mark:
A nice aspect of this booklet (by no means the norm for Naxos) is several pages of illustrations - frontispieces of scores,  and relevant paintings. In terms of recording, the strings are a touch shrill up top but there is some warmth to the middle and lower registers - I particularly heard the latter aspect using a pair of Apple Airpods Max as opposed to my usual speakers.
At the time of writing, this disc is reduced by 15% at Amazon to £9.67. And, just as was the case with the Wranitzky series, this is Volume One - which means, knowing Naxos' reliability in these matters, there will be more delights to come!