Rameau Platée on Bluray/DVD
Hilarious, and just what we need in these interesting times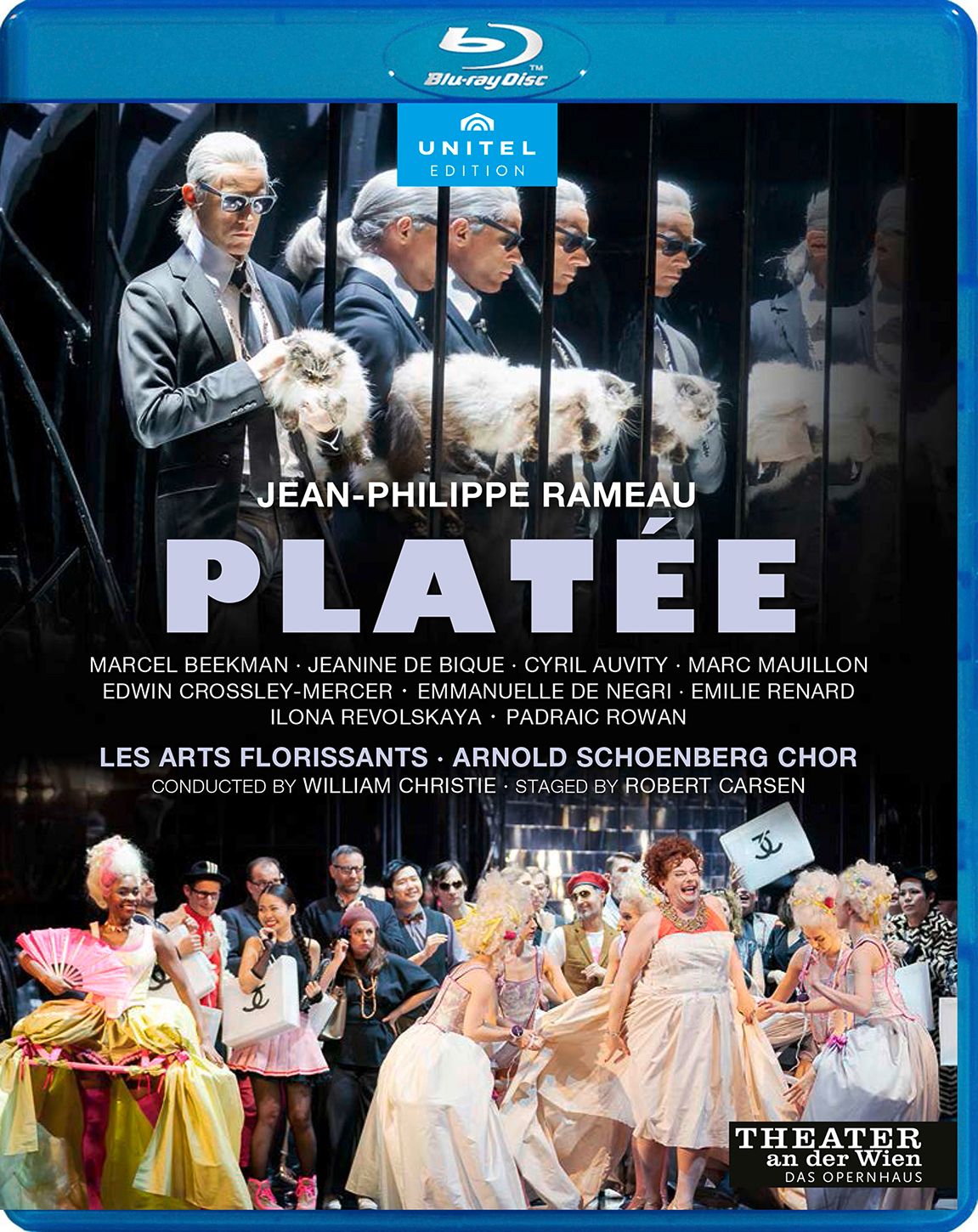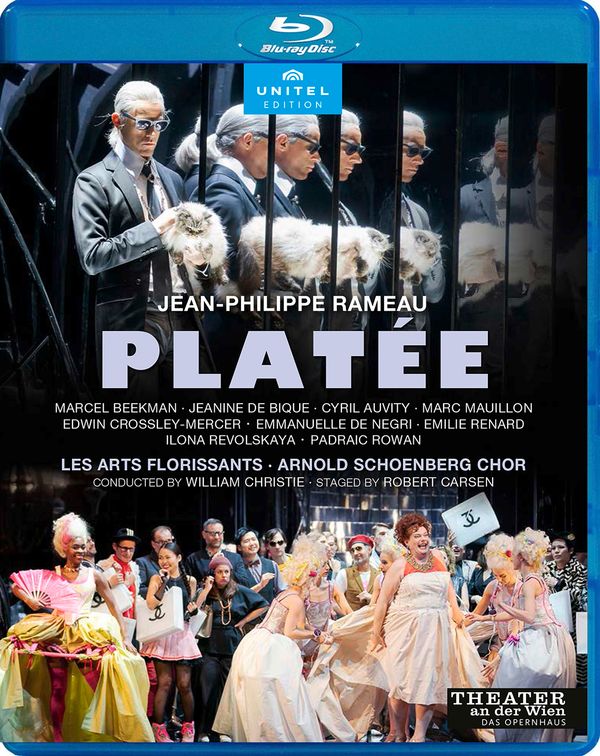 We are indeed blessed in the French Baroque currently, with both William Christie and Christophe Rousset active in this field. Here's William Christie at his very best in Rameau's Platée, ahead of (and as useful comparison to) Hervé Niquet's Château de Versailles performance of May 20, 2022 (the run started on May 18 and extends until today, May 22, the final performance of that particular run).
The libretto of Platée (by Adrien-Joseph Le Valois d'Orville). is an adaptation of  Platée, ou Junon Jalouse (Plataea, or Juno Jealous) by Jacques Autreau (1657–1745), itself based on Greek legend. It is a pretty cruel story: Platée is an ugly water nymph who falls prey to Jupiter's machinations to rid his wife, Juno, of her jealousy. Platée is left to return to her "pond" all alone, devastaed. I won't spoil, (here), the lovely moment of the Versailles ending.
In terms of teh DVD/Bluray production here, the transfer of Baroque opera to modern times is nothing new: Handel operas submit to this treatment regularly, as operagoers at English National Opera in particular in the UK will know only too well. It works just beautifully. Here's an example of that approach from the Theater an der Wien, Vienna, applied to the music of Rameau: events take place in the Parisian world of haute couture; Jupiter, well sung by Edwin Crossley-Mercer, is the fashion god Karl Lagerfeld (1933-2019), now in Olympus. If this really is what goes on post-mortemly, he must be having a ball. And of course there's the odd angelickal Cupid (the wonderful Emmanuelle De Negri) around in amongst the near-naked cross-dressing. If you're tyring to imagine that mash-up, here's a video to help you out:
For those of you still with us after that (and you can read about a more traditional staging of Lully's Atys here), let's look a little at the actual story - such as it is. Platée is a demi-goddess who lives in a "swamp" with her nymphs - but she has ambitions to be a Goddess. She is blessed or cursed, depending on one's viewpoint, with an idealistic vision of love. She's also portrayed as being rather dumpy. Mercury tells her that Jupiter is willing to have an affair with her - which links into her idealisation of amor. Behind her back, everyone makes jokes. Platée only understands how badly she has been treated - and tricked - at the end of the opera (Jupiter has only paid court to her to arouse the jealousy of his wife, something which goes spectacularly wrong - when the pair are caught, Juno finds it amusing).
There are parallels in the staging with the 'soap opera of the gods and goddesses' staging at Strasbourg in 2019 of Legrenzi's La Divisione del Mondo (my review of that is here). The idea that gods can be vacuous too is perhaps mirrored in the perceived superficiality of the fashion industry - where looks, after all, are all.
Rameau's Platée is actually described as a "ballet boffon with a Prologue". It  starts with the drunken Thespis (the superb Cyril Auvity) against a glittery curtain: one could set the Prologue to Berg's Lulu effectively on exactly this set.. And while the trope of disco-dancing to Baroque and Classical music might have been done to death by now, it works here in context ... there follows an absolute riot of colour and intrigue underpinned by Rameau's beautiful music and William Christie's phenomenal direction.
The high tenor Marcel Beekman is Platée, an assumption of the role driven by vivid characterisation that leads to much hilarity. His voice is deliberately edgy: this extended excerpt (around 20 minutes) gives a good idea. It's scenes 3-5 of the first act:
The fact that the choir here is the Arnold Schoenberg Chorus is itself a dream; the whole thing gels though through the real partnership of William Christie and Robert Carsen (and one should absolutely acknowledge Gideon Davey's sets and costumes).
This is also available on a sound-only release via Harmonia Mundi, but it really does need seeing It's hilarious, and just what we need in these interesting times.
Platée on disc (sound only) yields a surprisingly sparse list, dominated by Marc Minkowski. But there is one surprise entrant, and we are luck to be able to present as an addendum the complete piece conducted by Hans Rosbaud from the Aix Festival in 1956. The cast includes Michel Sénéchal in the title role, and Nicolai Gedda as both Theseus and Mercure, plus one of the leading French sopranos of her time, Janine Michau, as La Folie: