Battle Cry: She Speaks ... Helen Charlston and Toby Carr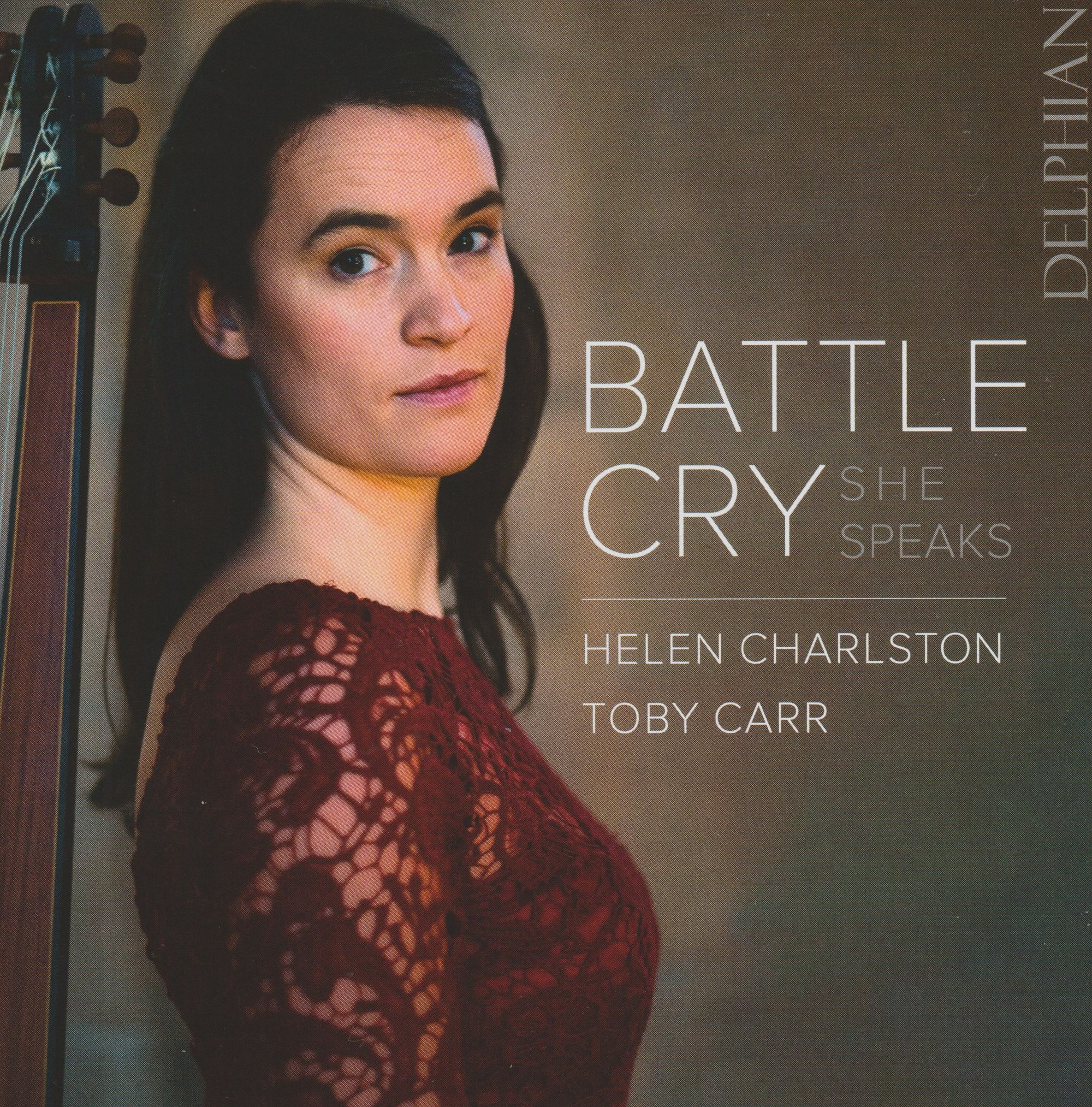 This is Classical Exporer's first "advance" review: this disc is actually released on May 27, 2022 (at which point this may be reposted if YouTube links becone available at that point). The point is though that the musicians here, Helen Charlston and Toby Carr, will give a concert performance related to the music on this disc at St John's, Smith Square on Monday, May 16, when Charlston and Carr will celebrate the music of Barbara Strozzi (1619-77).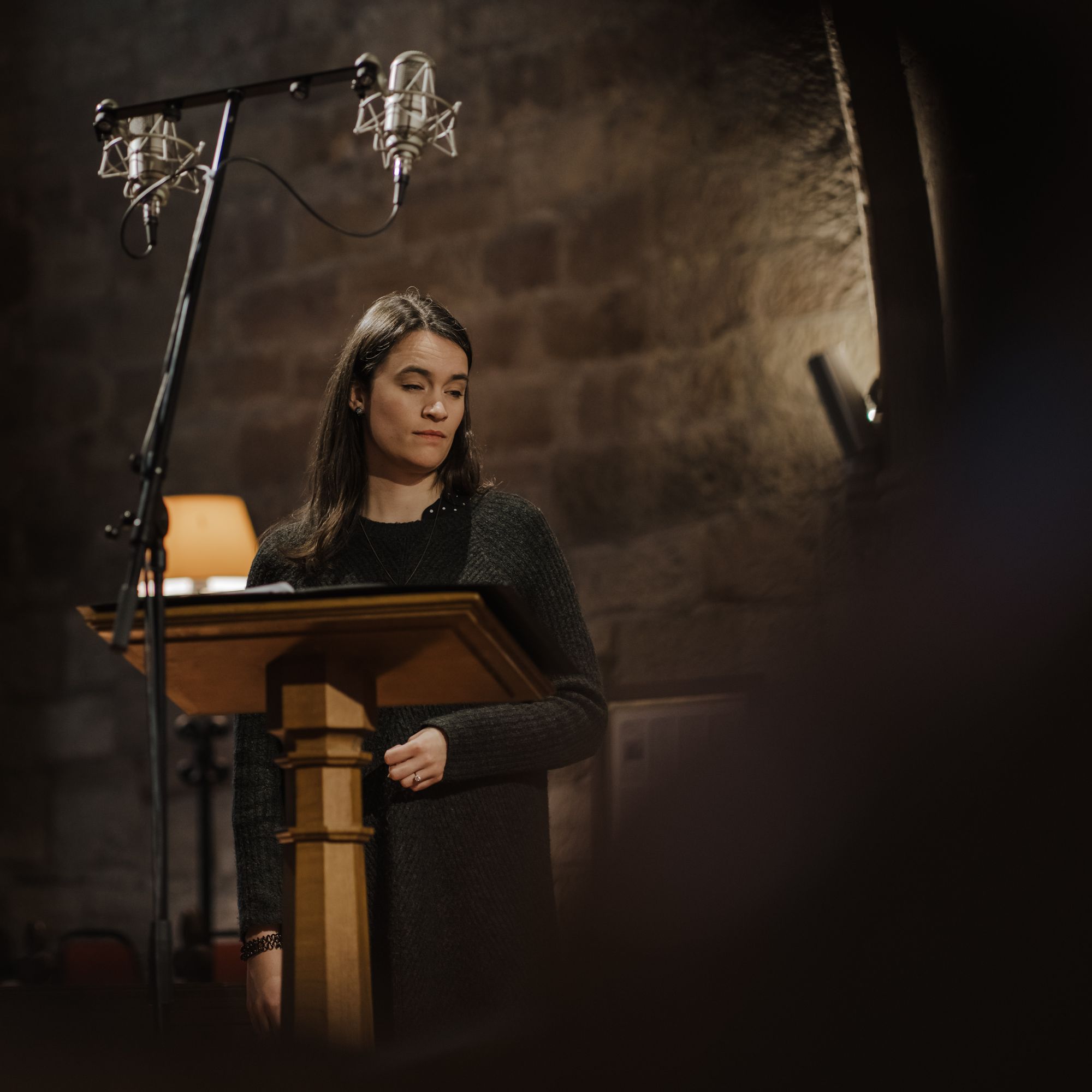 The theorbo emerged in Florence in the 1580s; its promnence faded by the mid-18th century, but it left a trail of rich repertoire behind it. Its long neck is a distibguishing feature, as it has a significant low register. Its sound is delicate, but rich.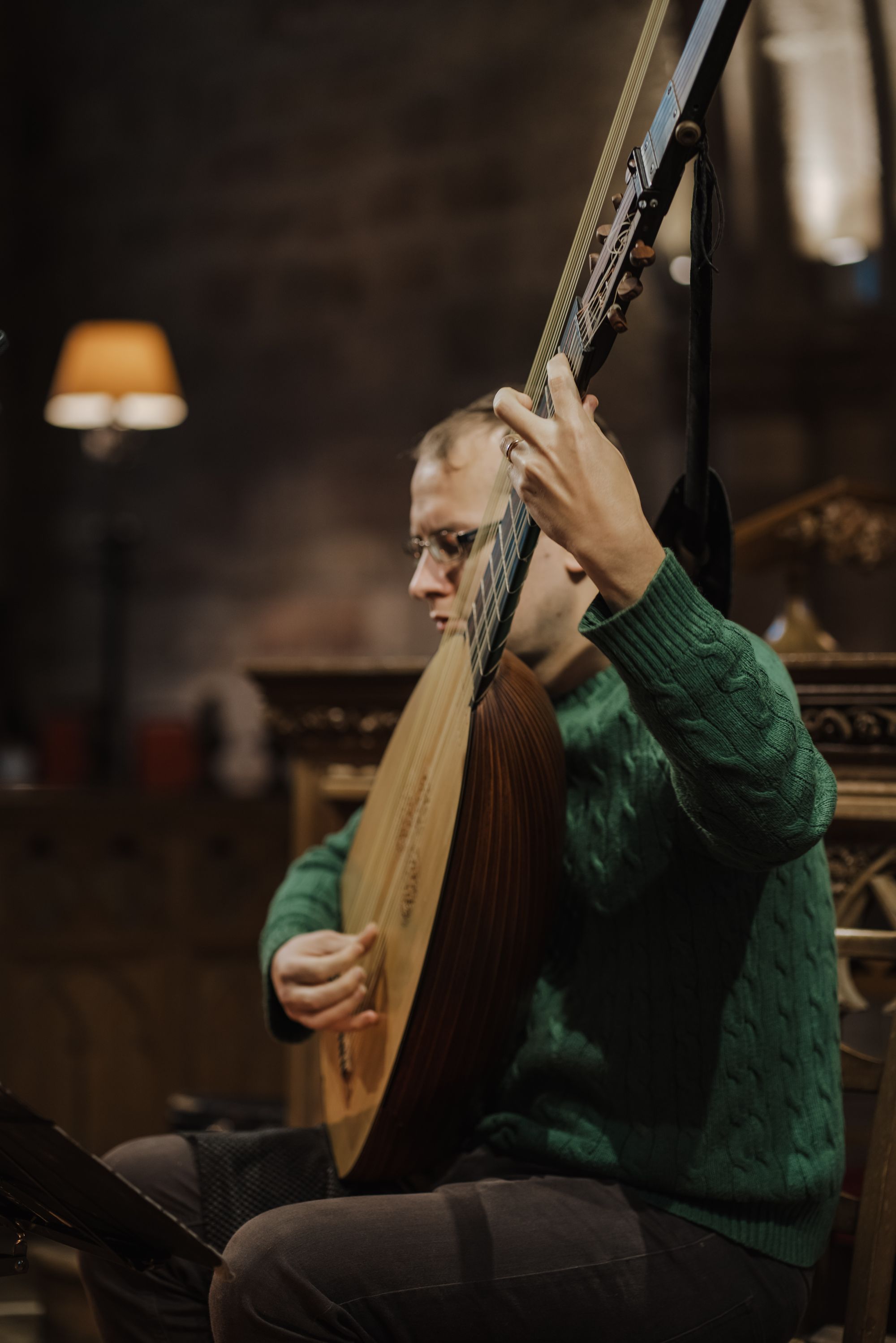 Charlston's programme is inspired- and possibly unique - in that it compbines works from that period with a specially-commissioned work by a living composer for this combination: Owain Park's Battle Cry, which here receives its premiere recording.
The phrases "Battle Cry" and "accompanied by theorbo" might seem on first flush to be mutually exclusive. The title actually comes from Owain Park's  piece of that name, comprising "Boudicca"; it is indeed the combination of theorbo and voice that distinguishes this album, and gives it a particualr transfixing beauty. But don't imagine there is no power here.
But let's backtrack a little in time to Purcell, for the beautiful "O lead me to some peaceful gloom" from the incidental music to Fletcher's play Bonduca (Z 574 in Franklin B. Zimmermann's catalogue of Purcell's works). Fascinating to hear the voice imitate trumpets as part of the work's tapestry; and how touching is Charlston at the words "never think of war again" ("There let me spoothe my pleasing pain, And never think of war again").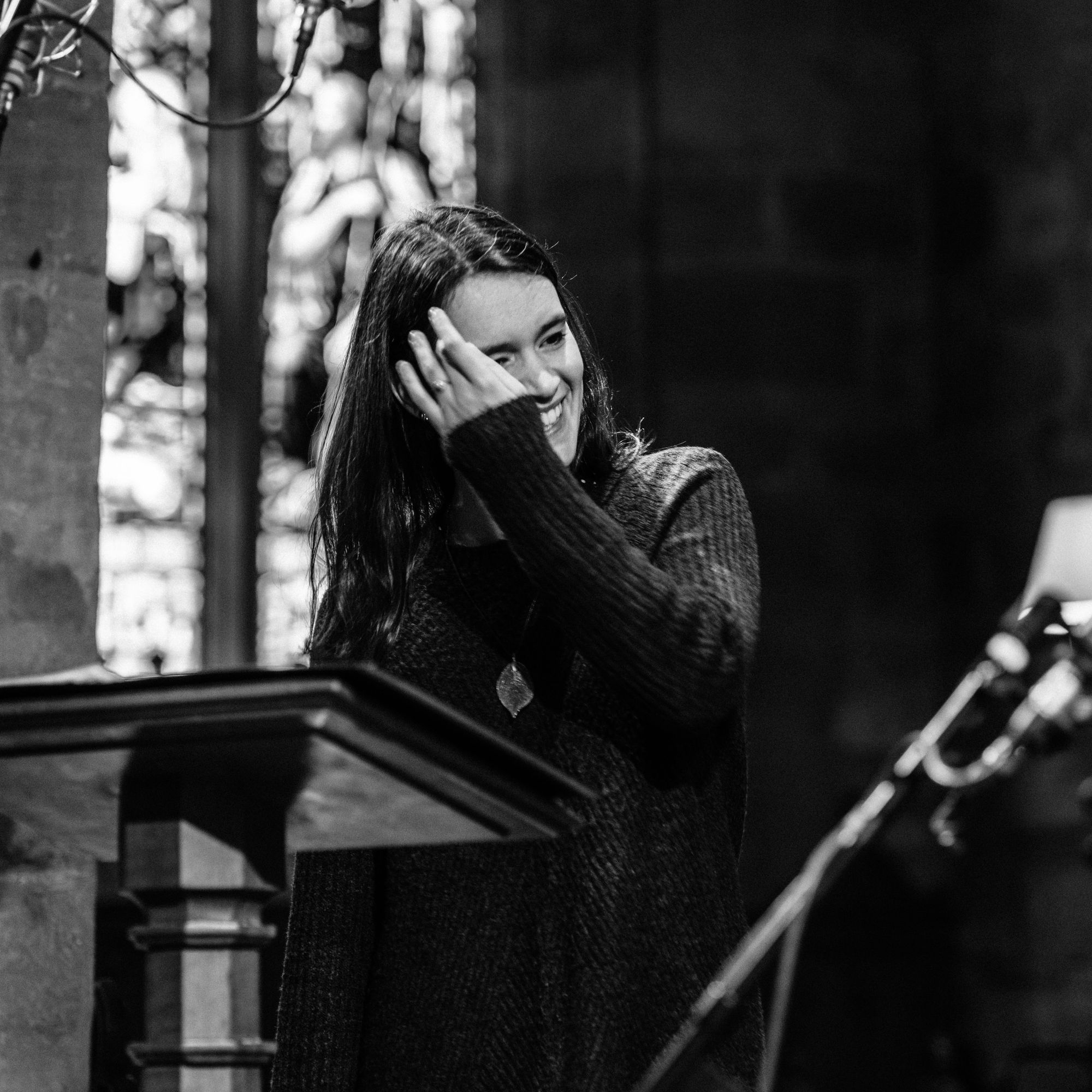 Wonderful to hear music by Barbara Strozzi (1619-1677), her L'Eracito amoroso, Op. 2/14 ('Heraclitus in Love'), in Strozzi's theatrical style. Eloquent and heartfelt, there's something inherently lachrymose in particular about Strozzi's apporach to and use of cadence, something fully realised by Charlston and Carr; Charlston's seamless legato in melisma is another notable facet of this performance'
Punctuating theorbo pieces not only vary the scenery, but  deepen our appreciation of this music. Robert de Visée's Prélude (from the Vaudry de Saizenay manuscript) is one such interludial example, in which one can revel in the sheer resonant beauty of the theorbo's sound or enjoy the meandering melodic line.
Perhaps John Eccles' time is come, at long last. The Academy of Ancient Music's superb recent release of his Semele was surely a defining point on this rediscovery; now we have the incredibly tender "Restless in Thought" from She Ventures, and He Wins (by one "Ariadne," 1695). Charlston and Carr find great drama in this lament; and it is quite right that it nestles right next to one of the greatest farewells of them all, the so-called "Dido's Lament" from Purcell's Dido and Aeneas. Charlston inludes, rightly, the preceding recitative ('They hand, Belinda, darkness shades me") prior to "When I am laid in earth". Hearing this on voice and theorbo (in Carr's own arrangement)  seems to add an extra layer of grief.
Park's Battle Cry itself is remarkable: comprised of four moveents, the third is an unaccompanied 'A Singer's Ode to Sappho'. The powerful poetry is by Georgia Way (born 1992). The first two movements running straight on ("Boudicca" and "Philomena in the Forest"). Parks' settings have an otherworldly, extra-temporal quality. The second song in particular strikes me as remarkably variegated, with hints of the dance and yet the piece is a cry for solitude ('Turn tail, little flacon, fly far away, and leave me on my own").  
The effect of the third song is a dramatic coup. With the concentration purely on the voice, Park plays with  pure sounds, isolating the sibillant "s" of "Sappho" for example. Teh dissonance between an expected entrance of the theorbo and it's non-appearance is a definite element in the experience of this piece - even if we know it's for solo voice, some of that expectation remains.The fourth movement, "Marietta," ties everything together. Here's a performance of that last movement by Helen Charlston and Toby Carr on May 19, 2019 as part of City Music Foundation's Sound Unbound Festival:
A theorbo Prelude ('Preludio V' from Libro quarto d'intavolatura di chitarone) again acts as a Divine Puctuator: the composer this time is Giovanni Giralmo Kapsberger (c. 1580-1651): one minute of pure bliss as the theorbo whispers its sweet cadences into our ears.
Charlston spent much of the lockdwon with the music of Barbara Strozzi, whose La travagliata (The Troubled Woman) is heard here. This is impassioned music, the song of a woman 'dying of grief'. The text is unbearingly touching as it is; Strozzi makes it at least doubly so in her remarkable setting. We don't have that available publically as yet, so here's Charlston singing some other Strozzi, again with Toby Carr on theorbo, the magnificent Il Romeo (The Wanderer) caught live at the beautiful Charterhouse Chapel, London:
Very few pieces could follow this. One of those that can is Claudio Monteverdi's "Lamento d'Arianna," the only remaining tract to survive from that composer's second opera Arianna (we have, and cherish, his first of course, Orfeo). The effect of performing it on voice and theorbo is incredible: there seems to be increased focus, and the way Carr responds to Charlston's delivery of the line is surely the result of high artistic resonance between these two musicians.
The two final items appear as decidedly crepuscular: Robert de Visée's lovely Sarabande (from the same MS as above) and Purcell's unforgettable Evening Hymn, Z 193 .Here's Charlston and Carr in a  performance of the Purcell given as part of London's Sound Gallery:
Helen Charlston features Strozzi in the concert at St John's Smith Square on Monday.  I waxed lyrical about a previous Charlston project, Isolation Songbook, here. This most recent disc promises to be just as significant.
You can use the link below to pre-order Battle Cry; or use the link underneath that to order a copy of the Isolation Songbook.