Isolation Songbook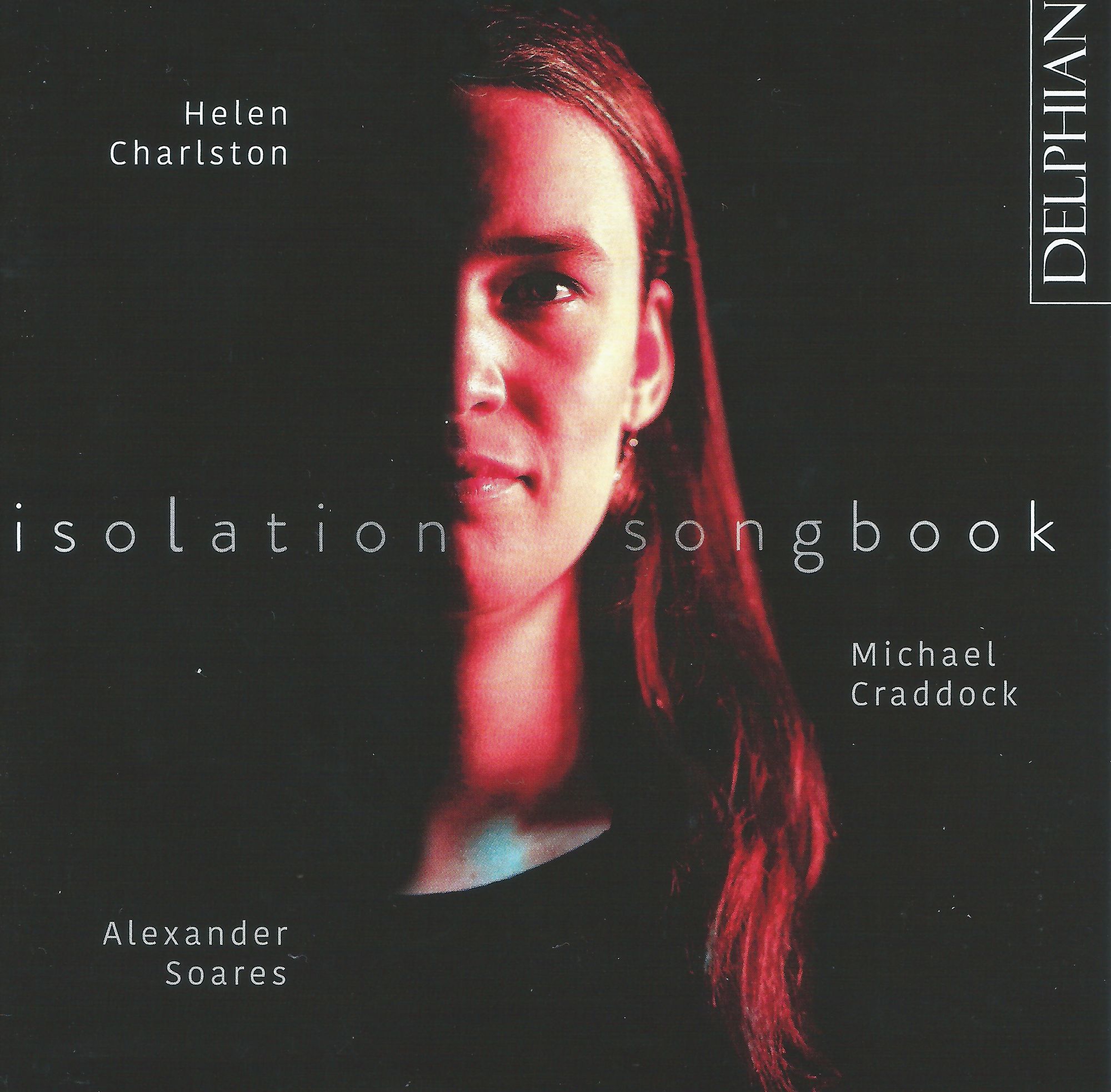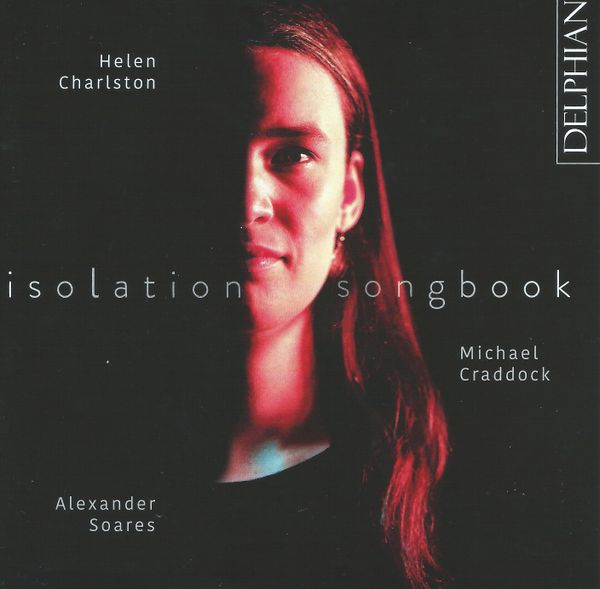 This is a remarkable project fronted by one of the foremost singers in front of the public at the moment, Helen Charlston. The isolation felt by many because of the CoVID lockdowns has been felt particularly keenly by musicians, that itinerant segment of the population who depend on audience contact as a vital part of their lives.
Helen Charlston and Michael Craddock, the singers on this disc, had been due to marry last April. Putting her creative energies into a different sphere, Helen wrote a poem for Michael to mark their postponed wedding date, and composer Owain Park (a friend of the couple) set it to music; and it is that very song with which the disc begins. As Helen contacted other composers and poets, the Isolation Songbook took shape; Delphian's determination not to slow their flow of releases enabled a way into the record catalogies. The disc was recorded during last Summer's relaxation of restrictions, its release on March 26, 2021 marking the anniversary of the beginning of lockdown in the UK. Baritone Michael Craddock is is a member of The Gesualdo Six, a vocal group we met before when considering the Hyperion release Fading and who have impressed live a number of times: see my reviews of this concert at St Martin-in-the-Fields and this concert as part of VOCES8's Live from London series.
Here's the initial fundraiser video, which also includes excerpts from songs on the disc:
The title of Park's 18th April, the song that begins the recital, refers to the date Charlston and Craddock were due to be married; the text is by Charlston herself. Park's setting is masterly; I  particularly love the piano's gentle invocation of the chiming of church bells, beautifully realised by pianist Alexander Soares, who offers the most ensitive of accompaniments throughout the disc. The poem is, in fact, beautiful in and of itself, line upon line of that soul-touching memorability that marks the best poetry; it is clearly born of the heart, amd it is remarkable that Park has found music that honours it so well.
The composer Héloise Werner (also vocalist with The Hermes Experiment) set a new poem by Ali Lewis, itself inspired by a print on the poet's wall (of the Cubist Orange Vendor: Spain by Natalia Goncharova, 1916). For two voices in angular discourse, perhaps reflecting the cubism of the painting, the work exhibits a lightness of being, itself raised by the musing question of what would happen if one of the oranges balancing on the woman's head were taken away? (Do click on the link to the painting - it's stunning!). Michael Craddock's voice is, like Charlston's, one to revel in; the way he launched the recital's penultimate song, a duet, Dreams by James Davy to a text by South African musican and writer Barry Smith, is full testament to this.
Stillness is the order of the day for Charlston's atmospheric solo song, Andrew Brixey-Williams' Abat-jour. As one listens to the disc, the variety of compositional voices becomes evident: this is also a celebration of the musical diversity in song around right now.
On a personal level, Melancholy (and Buttercream) by Keerensa Briggs to a text by Gareth Mattey resonates hugely: a song dedicated to those who got swept away by the nation's sudden passion for baking during lockdown (remember the rabid search for flour?). But here broken eggs reflect  broken relationships. The male's carpy commentary on the female's baking reflects the interpersonal dynamic (on the page, the two voices are printed on opposite edges, emphasising the divide, a conceit that put me in mind of Robert McGough's poem, 40 Love). Katherine Towers' poem the way we go uses another metaphor, that of a house as place of enrrapment, the vision of a tree outside offering the emancipatory factor. Natham James Dearden's setting is itself shot through with light, and Charlston and Soares capture the mood perfectly.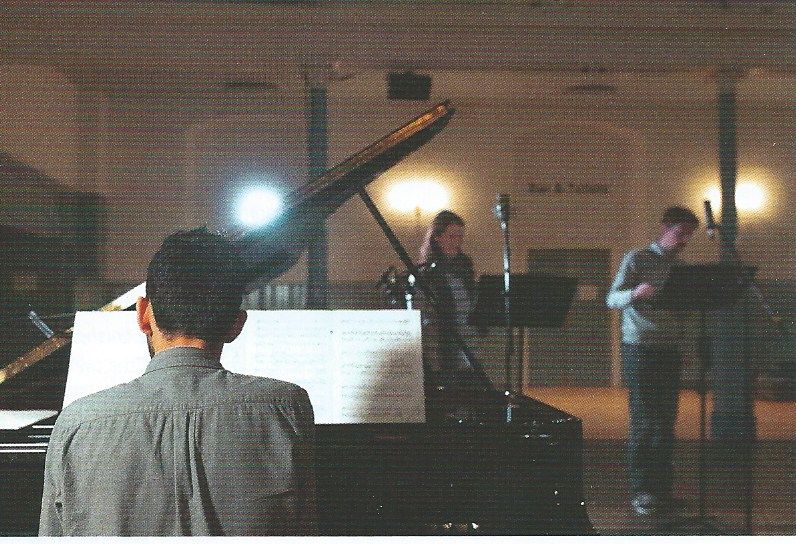 It's lovely how Richard Bernard sets three Early Stroll Songs by the poet  Ian McMillan (the latter well worth following on Twitter: @IMcMillan. Not Bernard's first settings of McMillan's tweets (those happened in 2016), he returned to them at the beginning of the lockdown, and the third, a duet, was written expressly for this disc.  Like the poems themselves, Barnard's settings are perfectly judged and perfectly pithy. The final song, a beautifully performed duet by Charlston and Craddock, seems to take us to a deeper level of poignancy.
There were aspects of lockdown that were positive, certainly. Remember the first time you noticed birds vociferously tweeting (as in making sounds, not on their little mobile phones @-ing the government to complain)? Urban areas suddenly became alive again, and Joshua Bonin's setting of Sophie Rashbrook in Nature is Returning honours that aspect beautifully. Tender, modern and beautifully pictorial (the "moment with the moth"!), this is a lovely song, Both this and the way we go appear as part of this full recital by Charlstonn given with pianist Christopher Glynn as part of the Ryedale Festival and performed in the Long Gallery at Castle Howard. The whole programme is beautiful, with its empasis on Brahms songs and its inclusion of Copland's Dickinson setting Nature, the gentlest mother (the video is 36 monutes long):
For humour, try  Ben Rowarth's setting of A. A. Milne in The King's Breakfast, a song that finds Charlston in brilliant, comedic story-telling form (and the inclusion of God Save the Queen is brilliantly, deftly done!). Plenty of scope for artist contributions there; even more so in Elliot Park's Skysong, which can last anything from five to 24 minutes. It's not quite true to say, then, that these are "extracts" (although it is literally true) - any number of the six sections can be included (here we have four). The text is an English translation of Tasso. The music is beautiful, and Michael Craddock's beautiful baritone is mightily impressive in "dawn," the second song here. And how beautiful are Charlston's melismas in teh final "Refrain i".
One oft he most fascinating songs here is Derri Joseph Lewis' setting of  Mary Elizabeth Coleridge, A Moment, in which teh two stanzas are sung simultaneously, one in each voice. Fun fact: in the Middle Ages, a "moment" was a concrete amount og time (90 seconds; the song is actually a touch longer).
Helen Charlston's father, Terence Charlston, teaches at the Royal College of Music and write the texts for his own Three Duets (the first and last inspired by Keats and Robert Lowry respectively). Here we really hear how well Charlston and Craddock work together musically; the balance between them is beautiful; both of them seem enraptured by Terence Charlston's lovely music.
Humour returns for Matthew J. C. Ward's pithy Concerning Cows, to texts that paraphrase William Topaz McGonegal (1825-1902, sometimes conferred the title of the World's Worst Poet), Ogden Nash (who needs no introduction) and Eddie Braben - joke writer for Morecambd and Wise! Wonderful, clever music; and it sounds as if Craddock is having a ball of a time, too.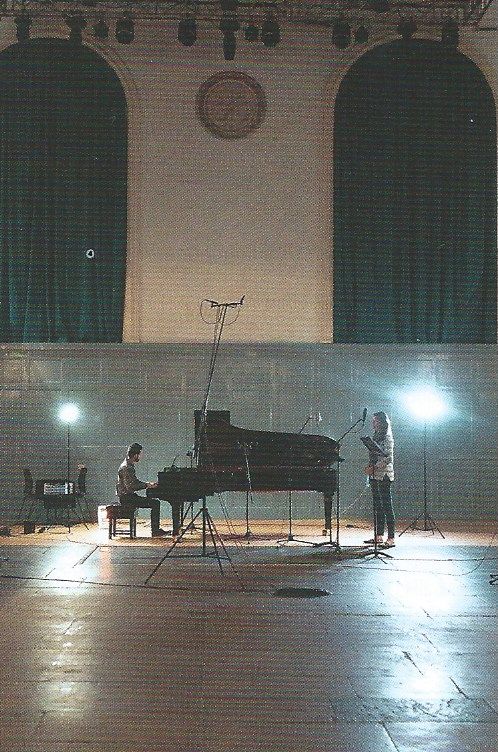 Humour meets introversion in Gerda Blok-Wilson's setting of Emily Dickinson in I'm Nobody! (Who are you?, continues the text). Two introverst rejoiice at finding each other, alike in their Weltanschauungen; pertinent indeed in times of isolation. The final song, On His Blindness, has the piano playing "Quasi luto" (liek a lute). Composer Stephen Bick sets a sonnet by Milton while referring to Tallis' "Third Mode Melody"
The  songbook was performed live at St Pancras and is available at this Facebook link (on the page of the City Music Foundation). Helen Charlston has impressed on a number of occasions, not least in the Paul McCreesh performance of Bach's Chistmas Oratorio that was part of the VOCES8 Live from London Christmas celebration (see also here for a Classical Explorer post on the Christmas Oratorio). Her rich, expressive mezzo voice is a joy in and of itself; that it is put to the service of such an important project is magnificence indeed.  It is wonderful to hear Michael Craddock in his own right, shoen of the other five Gesualdi, as it were; and Alexander Soares is himself a rising star, his credits including a critically-praised Rubicon disc of solo piano music by Messiaen, Boulez and Dutilleux (link below).
Do think about purchasing this  beautiful document of our recent times: it casts quite a spell!