Vivaldi's Stabat Mater on Erato: performance and film
I like the format - instead of a full 80-minute compact disc, the focus is on one piece of short duration but which, such is its power, needs no sonic bedfellows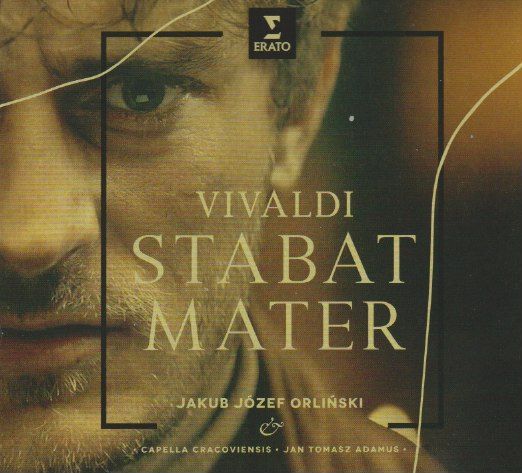 Vivaldi's Stabat Mater, RV 621 is one of his greatest, most compact works. In the space of a mere 18 minutes, the work encompasses such tragedy and beauty. the text, of course, concerns the Virgin Mary during the corcufiction of her son and has inspired composers to some of their finest music (think of our previous post on Pergolesi's Stabat Mater).
Premiered in Brescia, Italy, in 1712, Vivaldi's Stabat Mater conveys Mary's pain in the starkest - and often most tender - terms. It requires an eloquent soloist, and finds it here in Jakub Jösef Orliński, who is matched in intensity by the Capella Crocoviensis directed by Jan Tomasz  Adamus, and captured in a superb recording from Erato.
Listen to the pain expressed in thsi beautiful performance in the first movement, "Stabat Mater dolorosa":
Jakub Józef Orliński is the perfect counter-tenor soloist - his voice is at once beautiful and shot through with pain, agile and yet capable of the most liquid legato. Listen to the melismas in the fourth movement, "Quis est homo":
Perhaps it is the seventh movement, "Eia Mater, fons amoris," that is the most heartbreaking:
The film, which comes on a seperate DVD, by Polish director Sebastian Pańczyk, is remarkable. Here's the trailer to give you a flavour:
Here, Vivaldi's Baroque music is counterpointed by a contemporary story of murder, with a blood-splattered Virgin Mary pointing to the way to potential redemption. A maypole suggests the baseline emotions may not be limited to Christianity.
Sebastian Pańczyk's film begins with a group of young people in a Polish forest - Orliński is among them. One by one, they are shot with only Orliński remaining, who has to observe his friends' bodies removal by the murderer. Eventually, Orliński meets the murderer.
Now Orliński bears the brunt of grief, just as the Virgin Mary does in Vivaldi's piece, and it is of this he sings as we see a variety of scenes, including Orliński walking past a couple making love, a scene itself juxtaposed with scenes from a funeral. The cycle of love and death and birth continues. Filmed around Warsaw and Cracow,  this is a fascinating, thought-provoking take on Vivadli's masterpiece. The film is 100% worth returning to, as I have already done several times - but the sound-only experience, Vivaldi in his purest form, is what gives this release lasting value.
I like the format - instead of a full 80-minute compact disc, the focus is on one piece of short duration but which, such is its power, needs no sonic bedfellows.
Orliński's name might be familiar to London audiences because of his recent participation in the Royal Opera House Theodora. He sings at the Wigmore Hall on May 1 - that should be well worth catching!.
Vivaldi Stabat Mater (Orlinksi)