Presteigne Premieres
A superbly recorded and performed release: all lovers of English music should get this disc!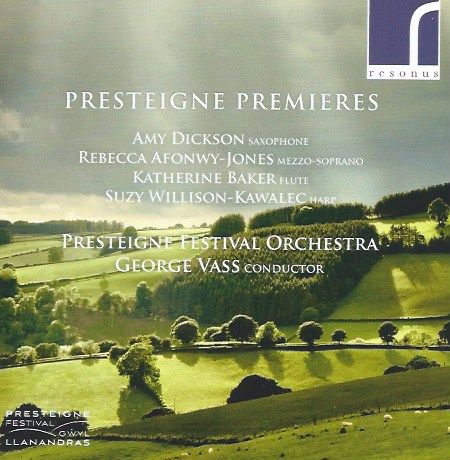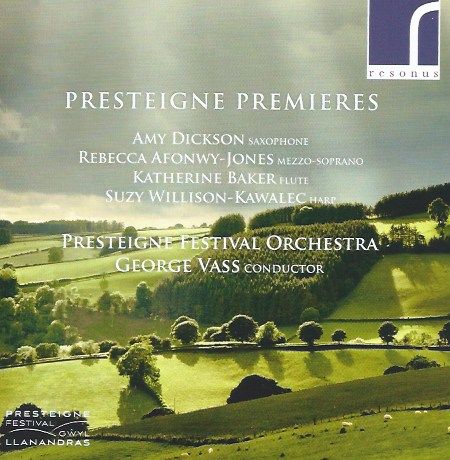 It's been quite a bonanza for the music of Hugh Wood (born 1932): first, the release of his Ithaka for string trio on the Woodhayne label by the excellent Eblana Trio (a disc most recently supplemented by a beautiful album launch in the Great Chamber of the Charterhouse in London).
Now we have Wood's Beginnings: Three Early Songs, Op. 54, plus his Divertimento, Op. 51, on this  disc inspired by the work of the Presteigne Festival in Wales. Founded in 1982, this festival has built to one of significant cultural importance for Wales with its fine tradition of commissioning new compositions, supporting loving composers and encouraging young artists. Although founded recently, the Festival's tally of new works already numbers over 200. In 1989 the Festival founded its own chamber orchestra - the one featured on this disc; since 1992, Geroge Vass, the conductor here, has led that orchestra.
In 2020 COVID forced the cancellation of the in-person festival and led to a digital event - this disc is a happy offshoot of that. Back in 2010, the festival asked for a contribution from Hugh Wood, and what was produced was the reworking and completion of some earlier songs: hence Beginnings: Three Early Songs. Mezzo Rebecca Afonwy-Jones is the beautifully expressive soloist in these songs connected by "mystery, magic, innocence, childhood" to texts by W. H Auden and Dylan Thomas. Poignant, beautiful and wise, the music is ravishing, as are the performances. Here is the first, "Tom O'Bedlam's Song":
There's also Hugh Wood's Divertimento, Op. 31, as impeccably English a piece of string orchestra music as one could find, with its radiant haronies and its sense of effortless melody. Listen to the hramonies of the first movement (and how lovely the tempo indication of the first movement, Andante calmo ma con moto" - don't we all need a bit of Andante calmo in our lives these days?):
There's a luscious, expressive slow movement (Adagietto) that goes on to house a surprising angularity before a "feroce" Allegro molto, full of life in this performance, ronds off the performance.
Fascinating to have a multi-composer set of variations on the theme "Lovely Joan": a Prelude (which also states the well-known theme)  is provided by Thimas Hyde  (born 1972) before variations by, in order, David Matthews, Adrian Williams, Michael Berkeley, Christopher Gunning, Sally Beamish (another link with the Eblana disc!) and Matthew Taylor. Let's hear the Prelude so you'll know the tune:
David Matthews takes the tune on some surprising detours:
I was quite surprised at how "traditional" Michael Berkeley's variation was; just as I was bowled over by the beauty of Christopher Gunning's variation:
Sally Beamish's take is ultra-still:
As befits a major work, the piece ends with a complex finale, composed by Matthew Taylor. It is beautifully realised by the players (and clearly fully understood by the conductor).
A saxophone concerto is perhaps an unlikely bedfellow but one moment of the motoric, pulsating rhythms that open Martin Butler's Concerto for Soprano Saxophone and Strings and we know we're in the right place:
A 2009 Presteigne commission, the work is beautifully constructed - and Amy Dickson is the truly ideal interpreter. The central Cantilena is a truly beautiful song, the sax singing after a string opening of translucent delicacy:
Joe Duddell (born 1972) is a name new to me; his Mnemonic for flute, harp and string orchestra uses four related tempos and motivic connections to create a sense of cohesion. Composed for the 2004 Presteigne Festival, it is often playful, and is certainly skilfully written. The excellent soloists are Katherine Baker, flute and Suzy Willison-Kawalec, harp:
A superbly recorded and performed release: all lovers of English music should get this disc!