The King's Alchemist: British Works for String Trio
Both the Hugh Wood and the Beamish are World Premiere recordings - the catalogue is now all the richer for them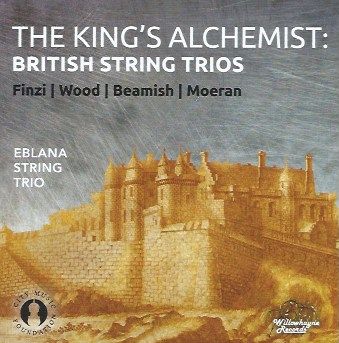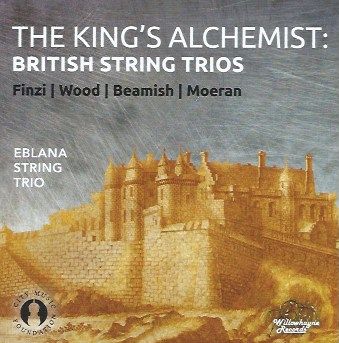 Another post this week for a disc released this very day! And beautifully adventurous repertoire iit holds, too: plus it constitutes an ideal complement to the Chandos Beach/Barber/Price chamber disc of yesterday!
We begin with Gerald Finzi's only piece of chamber music for strings alone, his Prelude and Fugue for string trio, Op. 24 (1938). It was written as a tribute to Finzi's counterpont teacher, the (in)famous R. I. Morris (whose textbooks I remember all too well!). The Prelude is performed muted, wonderfully hushed here. The Fugue (unmuted) is surely the most English sounding of all fugues. Let's hear that Fugue (its subject is extracted from the second idea in the Prelude). This really is glorious writing, and the performance is absolutely glowing:
The composer Hugh Wood describes his piece Ithaka, Op. 39 - inspired by Cavafy's poem Ithaka (here, in a translation by Edmund Keeley) itself after Greek legend, Ulysses exploits on his way home to Ithaka - as a "mini symphonic poem". There is a link to the Finzi in Wood's fugal passages - representing the long journey home in two fugal contrasting expositions. There is much beauty in Wood's score. Harmonically, it is beautifully thought-through; the harmonies just feel right:
Lancashire born in 1932, Hugh Wood is one of the UK's most respected composers: his Scenes from Comus (1961) was a highlight of the. 2019 Proms season.
The disc takes its name from Sally Beamish's Op. 61, The King's Alchemist. This piece takes inspiration from John Damian, alchemist to the Scottish King James IV, a colourful figure whose attempts at flying were sadly as doomed to failure as his alchemical experiments. Damian is unsurprisingly marked in the history of alchemy (he's not even mentioned in this astonishing resource) but Beamish's response brings him back to life magically (if not magickally!). Her piece is in four movements: the quiet, sustained "Cantus". of haunting beauty, an angular, somewhat spectral dance "Acqua vitae," a stunningly beautiful "Pavana" - performed with the utmost control by the Eblana String Trio and an active finale. Here's that Pavana:
Sally Beamish's works have been much recorded (the BIS catalogue furnishes a particular harvest). A violist herself (she studied that instriment at the Royal Northerrn College of Music in Manchester; in 1990, she moved to Scotland to concentrate on composition.
This fine disc closes with a piece by Ernest John Moeran (1894-1950), whose dates sapproximately mirror those of Finzi. Moeran's String Trio in G dates from 1931. The advantage of writing for string trio is a kind of daylight translucency t o the texture, and Moeran - and the Eblana Tio - revel in this. With some humour, Moeran described work on his Trio has having a "purgative" effect:
It's an excellent discipline in trying to break away from the mush of Delius-like chords ...
The use of polyphony, multiple voices operating individually at once, is striking, as is the use of harmony: astringent sometimes, but never harsh. The above quote incidentally was written to Moeran's friend, the composer Peter Warlock. Soon after, Warlock sadly passed away, and it is easy to imagine the slow movement as a lament for his friend:
This is a superb piece of music and performed with real intensity and devotion by the Eblana Trio.
Both the Hugh Wood and the Beamish are World Premiere recordings - the catalogue is now all the richer for them.
Here's the promo video for the disc: