Orchestra of the Swan: Echoes
Echoes is a vibrant journey, its contents perfectly considered, the superb performances beautifully delivered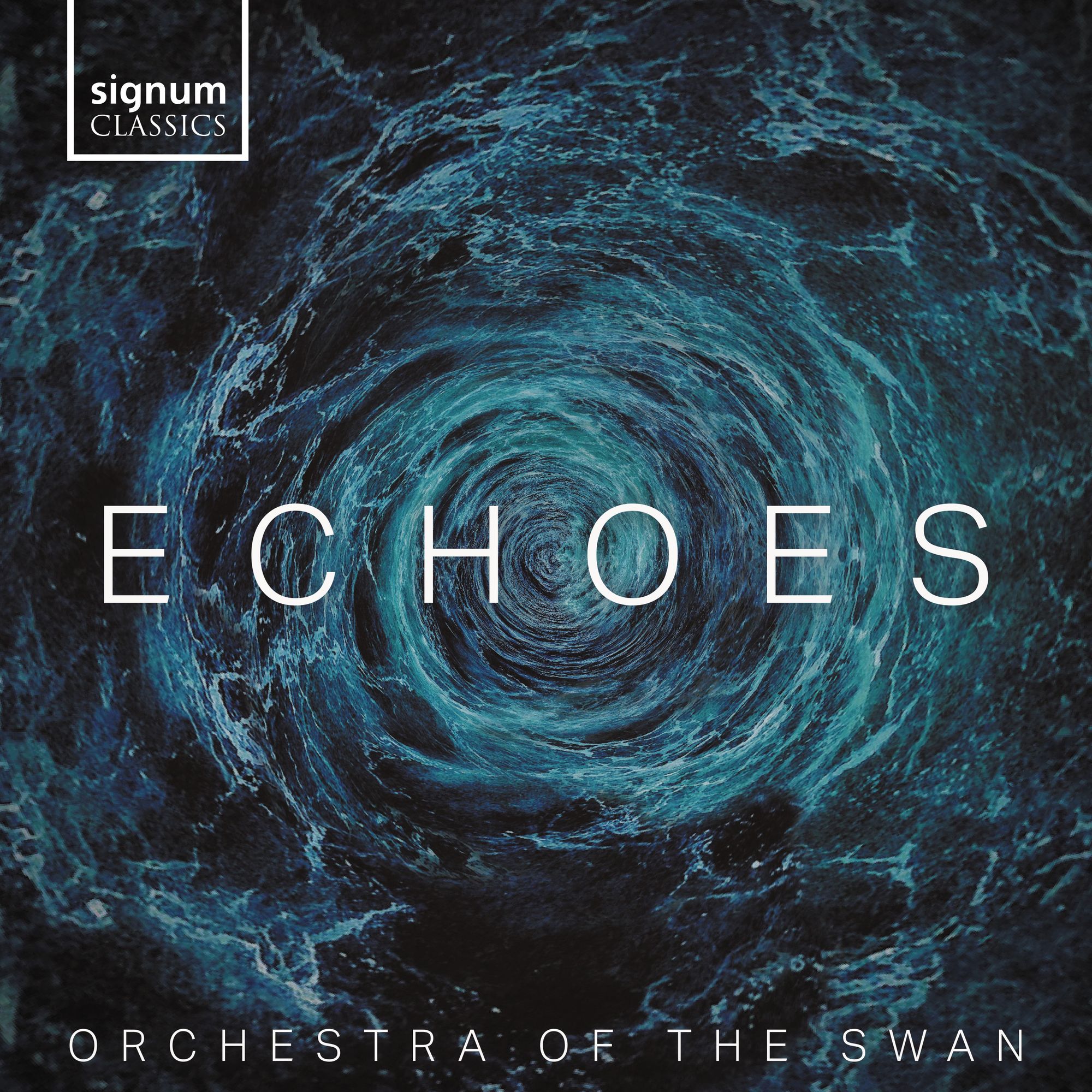 The Orchestra of the Swan's 'mixtape' releases on the ever-excellent Signum Classics label are characterised by one core trait: they are always far more than the sum of their parts. They constitute a listening experience best heard as a whole. While they work best in concert situation (not just the live vibe, but the carefully-considered lighting there always helps), the programming is exemplary and emnently satisfying - and see my comments at the end about Atmos. We have, of course, met the OotS before: Earthcycle, Labyrinths, Timelapse, Wind, Sand & Stars, and LUNA.
Both Timelapse and Labyrinths have enjoyed massive success (over 8 million audio streams; Labyrinths was shortlisted for the Gramophone Spatial Audio category in their awards).
This particular journey, Echoes, begins with the preternatural calm of David Le Page's luminous arrangement of Bach/Siloti Prelude in B-Minor for strings and (high!) solo violin (the link is to a video performance) before we hear a "recomposed" Vivaldi Four Seasons "Spring" via Max Richter. Although not core Classical Explorer territory, we have posted on Richter's Voices before now; this particular recomposition is a mix of sampled "birdsong" from Vivaldi's Four Seasons that is simply structured: the opening violin repetitions (almost Minimalist) expand outwards over a slow-moving bass. Here is the official video for that track, too.
David Le Page explains the concept behind Echoes:
Although you can listen to each track in isolation, "Echoes" is, first and foremost, a complete journey; the way a work ends and another begins is designeed to create a frisson, a jolt of recognition or a feeling of surprise and satisfaction. "Echoes" explores landscape, light, water, dreams, birth and the slowly changing rhythm of the seasons; it also represents a callback to the days of vinyl when the act of listening to recordings was necessarily more involved and required all of your attention. The way we listen to recorded music is constantly evolving but sometimes it is hard to imagine where we can go from here. Despite the ongoing march of music technology and the death of various beloved formats the mixtape has somehow survived and adapted. It is unaccountably more popular than it has ever been.
It is the sheer eclecticism of the disc that is so appealing. from that re-imagined Vivaldi straight to the fierce energy of Philip Sheppard's Buffalo Jump in a performance ie magnificent, fiery energy from the Orchestra of the Swan; and then, the jarring contrast to the madcap Peaches En Regalia by Frank Zappa, a phenomenal four minutes of fun.
It is fascinating how the OotS captures the atmosphere of Falla's Nana, Sally Harrop's clarinet beautifully liquid of tone and piercingly expressive. And one should not forget David Le Page's own compositions: his The Sea of Time and Space is perfectly judged, quietly powerful, and morphs perfectly into Toby Young's The Art of Dancing: Trance, wherein a plateau of calm forms the bed for the most lovely (muted) trumpet solo from Simon Desbruslais. You can also watch the video of this last track here.
We hear Le Page's music again in the fascinating Venus in Furs, which slowly intensifies over its timespan (Le Page is miraculously secure in the violin's upper register). But one ofthe highlights of the album is Glory Box (Gibbons/Utley/Barrow/Hayes, arr. Le Page), featuring the spectacularly expressive vocals of Clara Sanabras (a voice surely in the tradition of Billie Holiday).
The interior calm of We Played Some Open Chords And Rejoiced, For The Earth Had Circled The Sun Yet Another Year (Dustin O'Halloran/Adam Wiltzie, arranged Le Page) has something of an interior glow about it. A different, more vibrant glow is found in Jessie Montgomery's Starburst,
Hoe lovely to hear some Delius here, his Aquarelle No. 1 (of two) in an arrangement by Eric Fenby. Nice how the leanness of the Orchestra of the Swan stops this from being too soporific and instead allows the listener to dwell on the sheer beauty of Delius' harmonies. It is the emotional twist one encounters when Glass' Mishima / Closing enters the fray thet is so unutterably powerful. There is something timeless about Glass' music, something utterly individual, and heard in the context of this playlist it takes us to a perfectly timeless, slowly shifting world. This is incidentally, the sixth movement of Glass' Third String Quartet.
Finally, singer Mark Le Brocq joins the OotS in the impeccably English  "The Salutation," the fifth movement from Gerald Finzi's Dies Natalis. A superb way to close - Le Brocq's voice is beautifully pure and perfect for this most lovely of songs. Which reminds me, we really must have a post here on Classical Explorer on Finzi's wondrous Clarinet Concerto ...
Echoes is a vibrant journey, its contents perfectly considered, the superb performances beautifully delivered.
Do, incidentally, try to hear this in Dolby Atmos and Hi-Res Lossless if you can via Apple Music. It is the first recording I have heard that really works in Spatial Audio: the immersive spatial element to the Max Richter in particular elevates the experience.