Timelapse: Orchestra of the Swan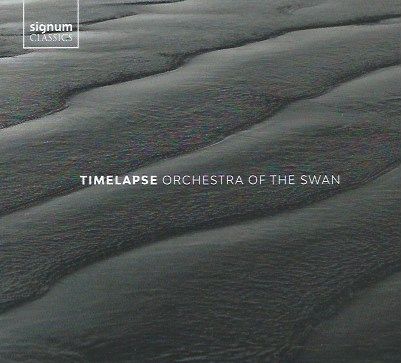 Based in Stratford-upon-Avon and founded in 2005, the Orchestra of the Swan has an adventurous approach to programming and the dissemination of its music. When I heard the ensemble in Stratford-upon-Avon, the programme consisted of a heady mix of Max Richter, Undine Smith-Moore, Rameau and Copland; Classical Explorer also covered their recent online event celebrating Antoine de Saint-Exupéry, Wind, Sand & Stars.
Now, on the day of its release, we have Timelapse, on Signum Records. As David LePage says in this video, the various pieces are brought together by shared soundscapes, no matter what era the music dates from. From Rameau to Radiohead, from Schubert to The Smiths, this disc shines light on old favouries; and introduces new ones.
As LePage says in that video, the Vivaldi led to the OOTS's Sleep Project. The track on Timelapse uses the string parts from Autumn from Vivaldi's Four Seasons, while saxophonist Trish Clowes and jazz pianist David Gordon improvise freely in "Sleep 1" and "Sleep 2" respectively. Nine more artists will be invited to improvise in time, which of course they can do from their own homes in lockdown, including the kletzmer clarniettist Julie Evans, bandoneonist Eduardo Garcia and koto player Yumi Kurosawa. As a taster - and if you don't know what a Japanese koto sounds like - here's Kurosawa:
... and here is Eduardo Garcia in collaboration with David LePage's ensemble.
As David La Page says,
The works on the album exist oblivious of time and it is irrelevant whether they were composed in the 17th century or the 21st. Rameau and Vivaldi sound as fresh and contemporary as Adès or Radiohead. Conversely, Bowie and The Smiths, in the context of Timelapse, seem to have more in common with Mahler and Vaughan Williams. Just as with time-lapse photography, the album enables us to gain some perspective about the passage of musical history through the centuries.
This concept of reinvention is key - as LePage points out, David Bowie was continally reinventing himself. It is perhaps no accident that Thomas Adès, himself a master of the sonic sleight-of-hand, alppears here: his absoltely ravishing "O Albion" , the penultimate movement of his Arcadiana, Op. 12 (1994). One of the most impressive shifts of perspective is LePage's arrangement of Johnny Marr's There is a Light that Never Goes Out, its energy becalmed by the disc's final offering, the second of Gorecki's Three Pieces in the Old Style, itself a perfect melding of old and new.
Conductor Bruce O'Neil steers the orchestra through this reperspectivising labyrinth with confidence. As beautifully recorded as it is played, this is a ravishing 66 minutes of music.