Der Rosenband: Richard Strauss meets Latvia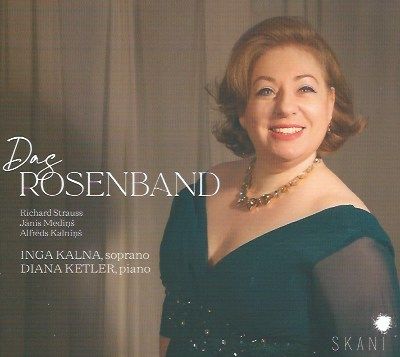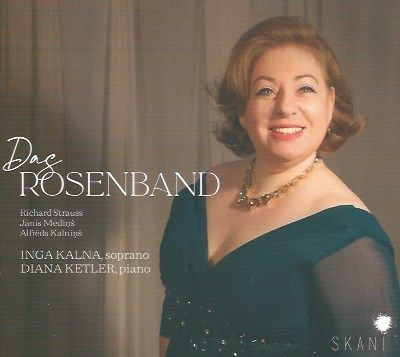 A new disc from the Latvian label Skani (itself a division of the Latvian Music Information Centre) concentrates on fin-de-siècle, Art nouveau songs by Richard Strauss and two Latvian composers, Alfrēds Kalninš (1879-1951) and Jānis Medinš (1890-1966). Recorded at the Great Amber Concert Hall in Liepāja, Lavtia, Der Rosenband was released on January 15, 2021.
Here's a terrific introduction to the album by the featured soprano, Inga Kalna, and pianist Diana Ketler:
The mix of songs is the perfect balance between the well-known (Richard Strauss' Morgen, Zueignung) and an investigative spirit that informs the songs of Kalna's homeland. Understandably perhaps, when the pair performed the recital live at the Dzintani Concertt Hall as part of the Autumn Chamber Music Festival there, they received the Latvian Grand Music Award for "Best Chamber Music Performance".
Given Kalna's participation in several opera recordings and the excellence on display here, it is staggering to think that this is her debut solo recording. In addition to studies in Latvia and at London's Royal Academy of Music in performance, Kalna has also studied musicology at the Latvian Academy of Music, somthing which clearly informs her repertorie choices and contributes to the depth of her interpretations. Her opera recordings include Armida in Handel Rinaldo with René Jacobs on Harmonia Mundi, one of the Ladies in Zauberflöte with Muti. on DVD (Vienna, Decca) and Asprano in Vivaldi's opera Montezuma with Alan Curtis and Il Complesso Barocco on Archiv and she excels in the role of Lucio Cinna in the DVD of  Mozart's cruelly under-rated Lucio Silla at La Scala with Minkowski (C Major). Other forays into later music have included Hindemith Mathis der Maler and Franz Schmidt's oratorio Das Buch mit sieben Siegeln, both from Hamburg. When she took over at short notice from Anja Harteros in Marc Minkowski's Alcina at the Barbican in December 2010, citics sat up and took notice; as you will, surely, on hearing this beautiful and brilliant disc.
Diana Ketler's excellence (her virtuosity is much called upon on this disc) seems perhaps unsurprising when one considers she was soloist with the Latvian National Symphony Orchestra under the familiar name of Vassily Sinaisky at the tender age of eleven; she went on to study not only in Latvia but also the Salzburg Mozarteum.
This combination of musical excellence cemented by a lifelong friendship - and similarly longtime collaboration -  is what defines the performances of this disc. Lieder, and chamber music, is all about interpersonal give and take in performance. To hear voice and pianist as such equals is refreshing (it is also a major element in Marta Fontanals-Simmons and Lana Bode's excellent I and Silence featured on Classical Explorer here).
This is not Classical Explorer's first journey to Latvia, if you remember: the Latvian Radio Choir was the star of this disc of Bruckner Latin Motets. It is though another memorable (virtual, COVID-safe) trip. But here it is specifically Lieder under the microscope. Let's hear a song by Jānis Medinš, entitled Uz brītiņu, which translates as "For a moment," and just enjoy the melody that Kalna spins over the gentle accompaniment. "Give me your love for a moment," she sings, "Let the numb light become warm":
Riga-born Medinš (1890-1966) is a central figure in Latvian music; it is testament to the strength of his music that we don't feel him diminished by that song's proximity to Kalna and Ketler's radiant rendition of Richard Strauss' delectable Morgen!; listen to how Ketler's line speaks as eloqiently as any solo violin (the instrument Strauss chose in his orchestration):
I'm guessing here, but if any Latvian composer represented here is to be known to non-Latvians, it would be Alfrēds Kalninš (1879-1951). I'd like to play his Efeja vija (The Ivy) as an example, not only. because the arpepggio pigures in the piano seem to link to Strauss' Morgen!, nor because of the cleverness of how the opening gesture morphs into a closing gesture at the end, but because it allows Diana Ketler's sensitive playing to shine:
Song was central to Kalninš' output - he wrote hundreds of them - and his assured compositional voice is evident throughout. His expressive pallette is huge: Jūras vaidi (The Meaning of the Sea) is like a cross between Schubert and Hugo Wolf:
And so on the eve of Valentine's Day, we have the titular track: Strauss' "Der Rosenband" from a set of four Lieder, Op. 36. This is a smply gorgeous song, a setting of Klopstock (you might find the odd melodic gesture reminds you of Strauss' later Vier letzte Lieder):
One of the most famous of set song texts is the so-called Mignon's Song ("Kennst du das Land"). Kalninš' take, called Minjona, is adventurous and dramatic:
Kalna sings with innate musicality and beauty throughout. Her Strauss Zueignung is less extrovert than some (Jessye Norman, I'm looking at you) but it is a heartfelt outpouring. Most importantly, though, it is the intelligence of the programming that allows Strauss and the Latvians to nestle so successfully together, offering differing differing takes on late Romanticism. And surely one of the crowning jewels of late Romanticism is Strauss' Cäcilie; and a great way to round off this fine recital: