I And Silence ... Women's Voices in American Song
There's a certain bravery involved from the performers in this programme but it pays off in spades. Believe me, you won't forget this disc in a hurry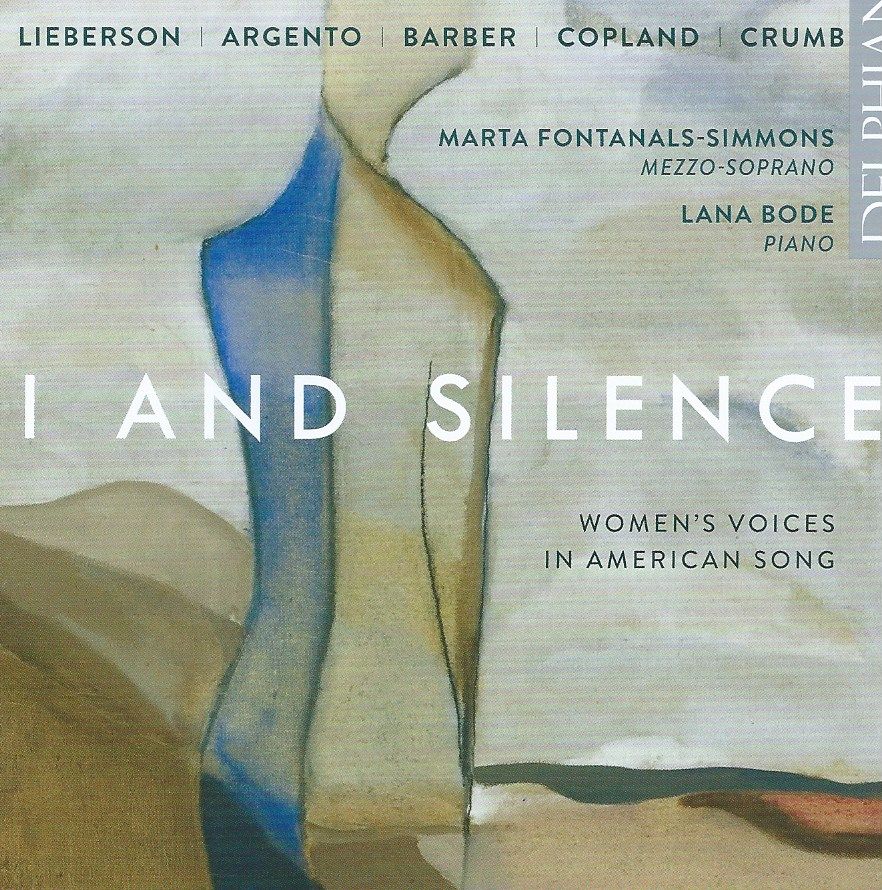 As a writer/reviewer, many discs pass through my hands. The ones I return to on a regular or even semi-regular basis once the assignment is over, to be honest, are few. One which has cast a lasting shadow, though, is a disc of "Women's Voices in American Song" by the fabulous pairing of the mezzo Marta Fontanals-Simmons and the pianist Lana Bode.
This is far, far more than a collection of songs: this is a deep voyage of discovery through music by Copland (some of the 12 Dickinson Poems), Dominick Argento's From the Diary of Virginia Woolf, Samuel Barber's hyper-beautiful Nocturne, Peter Lieberson's Rilke Songs and George Crumb's Let it be forgotten. The music tackles some of the most difficult human emotions, unforgettably.
The composers are all male, but the "voices" are female: the poets they set (Emily Dickinson, Virginia Woolf and, for the George Crumb, Sara Teasdale), or the muse that inspired them (Lorraine Hunt Lieberson for Peter Lieberson's Rilke Songs); not to forget the voice of the singer here, Marta Fontanals-Simmons and the "voice of the piano," Lana Bode. This pairing of musicians is the perfect meeting of singer and pianists, absolute equals musically, with Bode capable of miraculous subtleties - another element that keeps on revealing more and more as time passes.  It's worth noting that this is a true partnership, with Bode offering both impeccable musicality and musical insight in a way few contemporary song pianists do (let's try to avoid the word "accompanist" as it implies some sort of second-tierism that does not apply here).
There's more: Marta told me once that what these days we call "mindfulness" (a clinically-approved system of mind calming that is related to, and includes but is not limted to, meditation) is of vital importance to her. I and Silence invites this sort of contemplation. To laud a disc's bravery isn't an everyday occurence in critical thought, but it applies here, as the emotions confronted are not easy ones. When we look at the disc cover, Christine Seddon's Standing Figure and Landscape No. 4, we see an androgene with one side painted blue: depression is blue, and it's on your back. Before a note is struck, the uncompromising nature of the disc is before us.
The Copland/Dickinson songs (they perform three of the twelve) are possibly the best-known pieces here. It begins with "Why do they shut me out of Heaven?" - and the protagonist immediately asks "Did I sing too loud?". Of course, on the page, Dickinson explodes the text with her characteristic dashes and capitalisation:
Why ― do they shut Me out of Heaven?
Did I sing ― too loud?
... and has the growling of the piano ever spoken quite so viscerally as here in the performance of "I felt a funeral in my brain"?
Dominick Argento's From the Diary of Virginia Woolf actually has not one but two females in the background: there, alongside Woolf, there is also the shade of Dame Janet Baker, one of the most beloved singers of all time, for whom the cycle was composed. Argento is a composer who himself needs a wider public: here's the final song, "Last Entry (March 1941)" in a video with memorable use of black-and-white:
The Rilke poems of Peter Lieberson's cycle are taken from the poet's 55 Sonnets. Lieberson has a very individual soundworld, a bit like a sort of softened Schoenberg. It's complete personal choice as to where we go here, but I find "Atmen, du unsichtbares Gedicht" (Breathing, you invisible poem) the most touching. Here's the dedicatee, Lorraine Hunt Lieberson, in that song, with Peter Serkin on piano:
When it comes to Crumb, don't get me started!. Bridge Records' recent disc of piano pieces inspired by  famous pieces of art in momentous performances by Marcantonio Bottone had me in paroxysms of joy (Metamosphoses Book II). Here, it is "Let it be forgotten" from Three Early Songs of 1947. And the wonders of the internet can help us once more, for here we can hear all three of those Early Songs courtesy of soprano Christine Schäfer and pianist Eric Schneider:
[After the first song, "Night," our song - the one on I and Silence - "Let it be forgotten," - begins at 2:58, while the third, "Wind Elegy," begins at 6:17]
So where is the "silence" of the title? in the dashes in Emily Dickinson? Or in what is unspoken in the text?  Or is it in the "silence" of breathing itself? Whichever (or all, and more) this recital bravely confronts loss, grief and, in Copland's "I felt a funeral in my brain," anguish and torment.  This is not designed as an easy listen; we should remember that both Rilke and Woolf experienced depression in their lives. But it is a rewarding one. There's a certain bravery involved from the performers (not to mention the issuing record company, Delphian), but it pays off  in spades. Believe me, you won't forget this disc in a hurry.