David Oistrakh Melodiya Rarities
A fabulous disc: I should emphasise this is not for historical recording specialists: the power of the performances coupled with Biddulph's trimphant transfers makes this an essential listen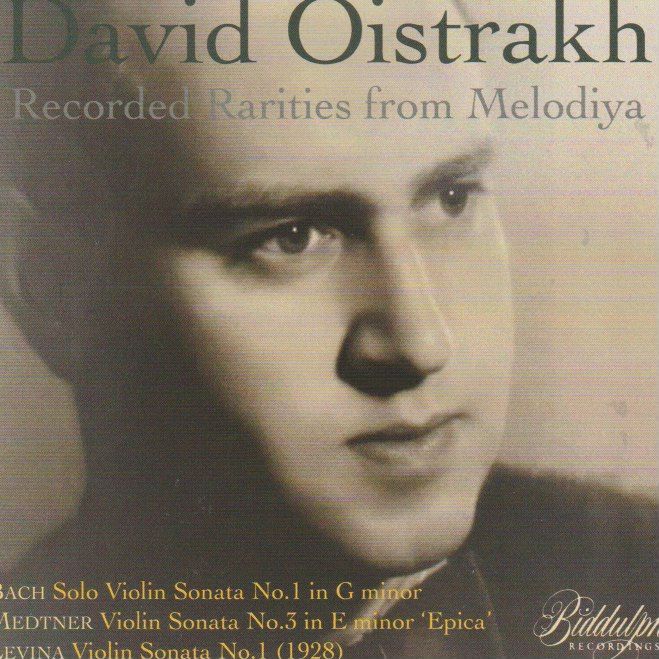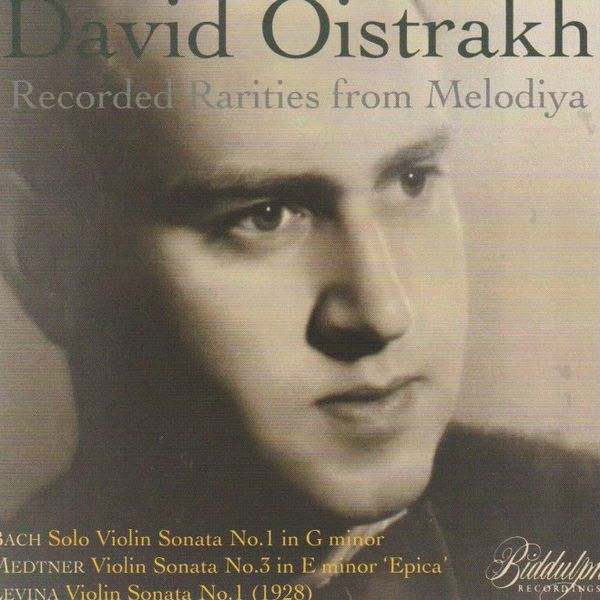 Rare, and cherishable, David Oistrakh performances here from Biddulph, a company that does sterling work in the historical category (see this post on the American Art Quartet in Haydn, Mozart and Beethoven). Here we have three rare recorfdings, one (theMedtner) receiving its first CD reliease. A rare piece by Crimean composer Zara Levina (whom Oistrakh knew from his hometown of Odessa) receives its first digital CD release.
But the disc starts with a mermerising performance of Bach's Solo Violin Sonata No. 1 in G minor, BWv 1001, recorded on October 1, 1947 and relased originally on Mezhdunarodnaya Kniga D040044 (Melodiya recordings sold abroad often appeared under this name, which means "International Book"). The opening Adagio finds Oistrakh spinning Bach's lines with a compelling intensity I have not heard anywhere else. This would have been recorded on Oistrakh's 1690 "Yussupov" Strad.
The Fuga, paced second, is robust;
... how calming, then, the song ofthe Siciliano (mistyped as "Sciliana" on YouTube):
.. before the final Presto, taken at a pace where velocity is clear, but each note speaks perfectly.
The Six Sonatas and Partitas BWv 1001-6 date from Bach's years of service for the Prince Leopold of Anhalt-Cöthen. Each of the Sonatas are structured as a four movement slow-fast-slow-fast sonata da chiesa (church sonata, as opposed to sonata da camera). Oistrakh offers one of the finest available performances; Grimaux's famous set of course vies for our attention. And in a triumph of the old over the new, And to cut to the present, David Oistrakh's performance remains umtimately infinitely more convincing than Leonidas Kavakos' new set on Sony Classical (recorded in 2020 in Berlin). For all of Kavakos' clear technical excellence, it is Oistrakh who finds the spirituality behind the notes. Ironically, Kavakos' recording is over-reverberent whle Biddulph's transfer of the Oistrakh feels just right. Listen to how, for example, Kavakos makes the Fuga sound too laboured in comparison:
Arthur Grumiax's classic set of all six Sonatas and Partitas offers performances that complement Oistrakh's approach: his G-Minor Sonata is magnificent and desetrves to be spoken of in the same breath: perhaps Oistrakh's sense of imagination and of flight in the opening movekent is just that bit more, but how the rhythms of the Fuga speak. Arguably Grumiax brings more of the spirit of teh dance to his Siciliano, but honours are evenly split in the final Presto. As a massive bonus to this post, here is Grumiax in that 1960/1 recording of all six pieces, with score. A guide to how to locate individual movements is shown underneath the video on the YouTube site, or you could just close your eyes and be transported Heavenwards for just under two hours:
This Biddulph performance is Oistrakh's only recording of the Bach solo Sonatas and Partitas (it has previously appeared on a Decca LP, and on compact disc as part of a large Brilliant Classics box and on the Doremi label). So to have it here is a joy.
The next sonata seems to be another cry as to why we don't appreciate the music of Nikolai Medtner (1880-1951) as much as we should. Medtner's name is frequently linked with Rachmaninov's, but he has a clear voice of his own (his own recordings of his own music are well worth seeking out). Medtner recorded No. 1 with Cecilia Hansen, while Oistrakh is partnered here in the Violin Sonata No. 3, "Epica," by the great Alexander Goldenweiser (1875-1961, Siloti pupil and close friend of one Leo Tolstoy!). There is a complexity to Medtner's music which for me makes it more appealing than Rachmaninnov, and Oistrakh and Goldenweiser revel in the first movement's sense of space. And those double stoppings are incredibly powerful emotionally!:
The Scherzo is delightful, it needs a light touch, which Oistrakh and Goldenweiser have in spades:
But it is in the high Russian melancholy of the Andante con moto where the music finds its true depth (and what depth of sound to Oistrakh's G-string, too!). The melodies actally feel folk-derived in some way. There's certainly a modal element, too, which becomes relevant to the finale. Here's the slow movement:

The finale does actually quote from Russian Orthodox chant, that for Christ is Risen (it's difficult to miss its triumphant arrival!):
A staggering performance of a great piece. Stay tuned for more Medtner in future posts, for sure ....
Some readers might remember a series of discs called "The Russian Piano Tradition that featured Goldenweiser and his pupils (Grigory Ginsburg, Victor Merzhanov, and so on): well worth digging out!
The Medtner was recorded in 1959. Oistrakh is joined by the composer of the next piece, the Crimean pianist/composer Zara Aleksandrovna Levina (1906-76), in her Voilin Sonata No. 1 of 1928. This is a 1948 recording, and although 11 years earlier than the Medtner holds out with real fullness of sound in Biddulph's transfer.
Levina's music is lyrical, impassioned and of no small difficulty. The expansive melodies of the slow movement are exquisite, but I wonder if the shorter finale isn't the more impressive musical feat, it seems perfectly proportioned, and Oistrailh/Levina's performance is brim full with vim. You decide, as here's both:
This site gives information about Levina: I note some of her songs have been recorded by the great Zara Dolukhanova although they seem not be included in Guild's famous 4-CD set of this singer. Would it be too much to hope for one of the specialist companies to do the honours? Zara Levina seems to be quite the discovery.
A fabulous disc. reissue producer Eric Wen and transfer engineer David Hermann have produced a minor miracle. I should emphasise this is not for historical recording specialists: the power of the performances coupled with Biddulph's trimphant transfers makes this an essential listen.
Oistrakh Melodiye Rarities