C. P. E. Bach: Der Auferstehung und Himmelfahrt Jesu
The music is truly revelatory. Don't miss this one!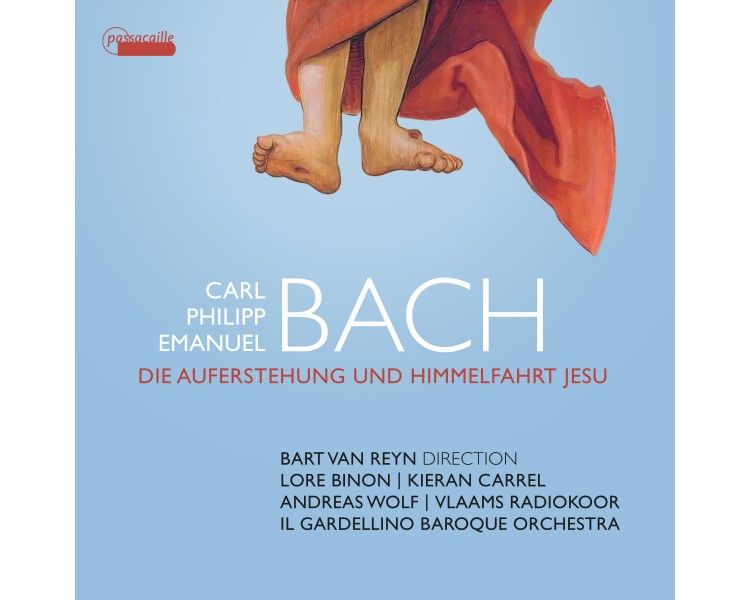 Here on Classical Explorer, the strange, wonderful work of Carl Philipo Emanuel Bach has cast its spell twice previously: String Symphonies on Harmonia Mundi (The Curious World of C. P. E. Bach) and a cello concerto on a disc shared with Haydn's cello concertos on Naxos here. Time for some vocal/choral music - an Easter piece, Die Auferstehung und Himmelfahrt Jesu, H 777 / Wq 240, released on the Passacaille label on Friday, April 22, 2022 (just two days ago).
This is a work of which C. P. E. said would "bring me much honour even after my death and much profit to lovers of art". Written in Hamburg in 1774 (six years after his arrival there), Die Auferstehung und Himmelfahrt Jesu is a large-scale "Passion-Oratorio," using a poetic text by Karl Wilhelm Ramier which incorporates parts of both Old and New Testaments as basis and designed for concert use. There are no fewer than 22 movements: no chorales, but with much dramatic use of the chorus.
Jan de Winne, founder of Il Giardinello and Passacaille records, says that
"Die Auferstehung und Himmelfahrt Jesu" is first and foremost a beautiful yet forgotten masterpiece. With a profound experience, a unique symphonic language and a gripping storyline, the son of the great Baroque master leads us through teh Resurrection and Ascension of Jesus Christ. Secondy, this oratorio demonstrates the composer's mastery of leaving emotions to music - a talent that Mozart deeply admired. Carl Philipp Emanuel Bach was trained by his father in the Baroque style, but his work, fll of refined colours and sensitive expression, marked the beginning of the Classical period. "Die Auferstehung und Himmelfahrt Jesu" also breaks with the Baroque tradition, and lets the emotions of the story take shape with great sensitivity. Thirdly, iut has been about 20 years since the work was last recorded. The new insights into performance practice that Il Gardellino gathered in recent years, teh specialisation in the unknown repertoire and the urge to share the sound of Il Gardellino with the wold have led to this breathtaking recording.
As to the work itself, conductor Bart Van Reyn sums it up by saying:
One of the biggest merits of C. P. E. Bach is that he transforms the oratorio, taking it out of the church and brings it to the concert hall, which is a totally different approach. He expects his audience to know the content: it's not telling the story in a literal way but paraphrasing it in a more modern style
There is huge beauty here, and it is of a reverential, devotional kind. Listen to the first chorus, 'Gott, du wirst seine Seelenicht in der Hölle lassen' (God, you will not leave his soul in Hell):
The contrasting drama of the ensuing recitative (Kieran Carrel the fine tenor) is typical of C. P E.; as is the contrast with the chorus above. This is "Judas zittert!" (Judas trembles):
.
And if you think C. P E. Bach can't do graceful, try the first aria of the second part, the baritone "Willkommen, Heiland freut euch, Vater". Typical of C. P. E. Bach to take this and run with it; a bassoon obbligato has a mind of its own, active in a way the surrounding musci isn't. Andreas Wolf is the strong baritone; Eyal Streett is the agile bassoonist:
Virtuosity is a clear part of C. P. E. Bach's expressive armoury, as we can hear in this  tenor aria with trumpet (Sander Kintaert):
It would be unfair to omit soprano Lore Binon from the exerpts (the soprano does only have one aria and one duet with the tenor). Here's that aria, "Wie bang hat dich mein Lied beweint!" (How anxiously my song has nourned you). In some ways this aria sounds more like an arioso, somewhere between aria and recitative; Binon handles its warp and weft with ultimate sensitivity; and how pure her voice is:
The best person to introduce this piece is the director Bart Van Reyn himself. Here's a just shy of ten minute video  (this is for German-speakers only as there are no subtitles, unfortunately):
Finally, I have to say I love the cover of this disc. A pair of feet (or is that Feet?) disappearing off the top: Jesus en ascendant, robe aflutter. A bit of photoshopping (other programs are available) has removed the clouds from behind the Holy Feet. A second close-up  is shown on the booklet cover (including clouds and showing a crowd), but here's the full version, with some accompanying text for the interested reader. It is The Ascension of Christ by Hans Süss von Kulmbach, painted in 1513.
But it is the music that is truly revelatory. Don't miss this one!
CPE Bach Auferstehung