A Creative Collision, A Bag of Bagatelles
Hodges' disc holds a definite authority, given his working relationship to Birtwistle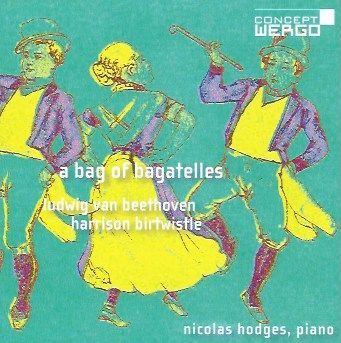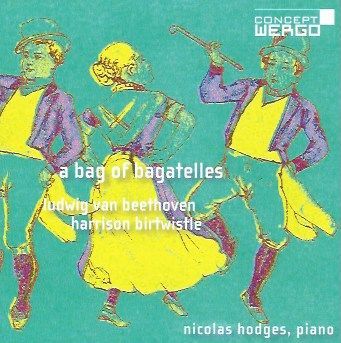 The British pianist Nicolas Hodges has made a name for himself in contemporary music (he himself has commissioned over 25 piano concertos); here, on the Wergo label, he explores what Tom Service in his booklet notes calls "a creative collision" between two musical giants, Ludwig van Beethoven and Sir Harrison Birtwistle,
I caught up with Hodges in Munich in June last year when composer Rebecca Saunders was receiving the Siemens Prize. I was there to talk to Hodges about Rebecca Saunders' Piano Concerto (they met in Darmstadt, some 20 years ago), a premiere that was due to occur in August 2020 in Lucerne, but which was another Co-VID casualty. Saunders had already written five pieces for Hodges; her way of working is in "pools of possibility" of material that she "dips into" over the course of a few years. We await its premiere, when it is safe to do so, with bated breath. Her writing is magisterial - keep an eye out for a forthcoming post of her new release of Still, Aether and Alba on the BR-Classik Musica Viva label.
We met Beethoven's zany, deliberately deconstructive Fantasia in G minor, Op. 77 before in Martino Tirimi's superb and rediculously cheap set earlier.  If anything Hodges brings out its individuality even more; the point being here it rubs shoulders with Birtwistle's Variations from the Golden Mountain, a piece premiered by Hodges in 2014  over which twin shadows fall: Bach's Goldberg Variations (see my recent comparative post of Kolesnikov and Lang Lang, A Tale of Two Goldbergs; or, a Tale of Two Opposites) and Beethoven's Bagatelles. It begins with a fanfare-like figure that Birtwistle links to Monteverdi before embarking on a huge traversal of territory, from incredibly sparse and beautiful to a piano "earth dance" (one should not forget that the World Premiere of the massive orchestral Earth Dances - Birtwistle's Rite of Spring, perhaps -  was one of those concerts the import of which that can change lives).
The love Hodges lavishes on the Op. 126 set of Beethoven Bagatelles is palpable; the first is fashioned like an artist shaping clay. All of the contrasts Beethoven surely wanted are here (you hear the allegro of the second and thins "that's a presto, surely"; then you hear the presto of the final Bagatelle and it becomes clear it was an allegro after all!). Both late period Beethoven and Birtwistle hold their secrets close to their chests. Both are characterised by a certain unpredictability, too, nowhere more so than in the crazy, relentless Gigue Machine, written for Hodges:
After that, we need a postcriptum of some sort. And we get it in one short piece by each composer. Beethoven's Allegretto (sometimes referred to as Klavierstück) WoO 61 of 1821 revels in counterpoint, but in the most teasing way (Tirimo in his set appended it to Op. 111). Hodges takes just a little more time than Tirimo. Let's hear them next to each other:
Finally, the Dance of the metro-gnome (you hear the ticking before you hear the piano), an angular, fun piece for children to play that includes sounds the player must him or herself make. Have a listen, it's less than two minutes long:
Hodges' disc holds a definite authority, given his working relationship to Birtwistle and that the recording was overseen by the composer. It also raises questions and stimulates - who could ask for more of a record?