More Weinberg: the Piano Quintet on Oehms Classics
A fine addition to the Weinberg catalogue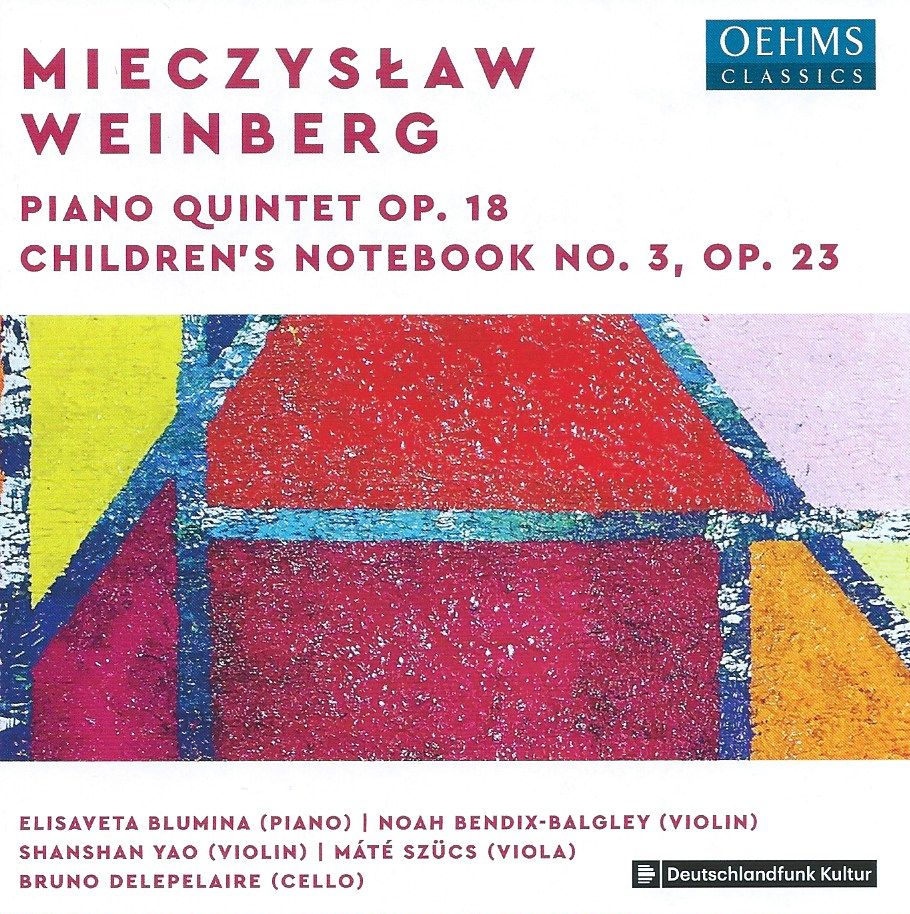 A while back, Classical Explorer reported on a Chandos disc of Mieczysław Weinberg's Second, Fifth and Eight String Quartets. Now, its the turn of the 1944 Piano Quintet, Op. 18 over on Oehms Classics, coupled with the solo piano Children's Notebook (Kinderheft) No. 3, Op. 25.
Elisaveta Blumina is no stranger to Weinberg's Piano Quintet: she recorded the version for piano and strings on Capriccio in an arrangement by Matthias Bauer. On that disc, she presented the first two sets of Children's Notebooks (Opp. 16 and 19), so this disc is the ideal complement!
Blumina has immersed herself in Weinberg's music, and it shows. While a relatively early work, the Piano Quintet is masterly. Written just after the First Symphony, it is emotionally powerful, riven with the anguish brought by war. The great surprise is that Weinberg includes an Irish theme as part of his melodic armoury: accroding to the composer's daughter Victoria, her father had seen the British and Irish as liberators.
Here's the first movement, highly melodic (its many melodies with a Jewish flavour), constructed with an iron structural grip, and utterly brilliant:
... and here's the version for piano and strings. Interesting how the dynamic changes as we move more into concertino territory:
Personally, I prefer the grittiness of the chamber original, especially the scrunchy harmonies of the second movement Allegretto and its later spectral contrasts:
The piece requires the full gamut of chamber expertise from its performers, from tender exchanges to the quicksilver responses of the third movement Presto. And what an enxemble of string players Blumina is joined by: lovely to see the excellent Noah Bendix-Balgley on violin along with Shanshan Yao, Máté Szücz on viola and Bruno Delepelaire on cello. The dancing elements of the Presto find their reposte in the dark spaces of the largo, at a quarter of an hour the still centre of the work, a place of desolation and, to quote Blumina, "profound grief". It is a remarkable movement; it shows just how deep Weinberg can go:
There is something about the chamber scoring that makes the emotions even more powerful. Release  comes after the machinations of the finale, an Allegro agitato that ends peacefully, as Bluminaputs it, "withouthatred, without thoughts of revenge".
The balance of the disc is Blumina seule.  The third book of the Children's Notebooks is far more wide-ranging than its title might suggest. Two examples: the Prokofiev-spiky Prestissimo, brilliantly performed by Blumina:
.. directly followed by the almost pastoral Allegretto quasi andantino:
The Lento funèbre is remarkable, Weinberg finding huge depth with minimal means, but for me it is the deceptive harmonic simplicity of the final Andantino semplicMore Wee which, like Schumann in his Kinderszenen, includes within it an eternity of maturity and wisdom:
A fine addition to the Weinberg catalogue.