Víkingur Olafsson plays Mozart and his Contemporaries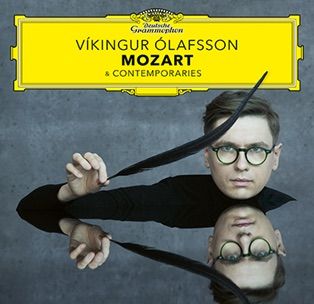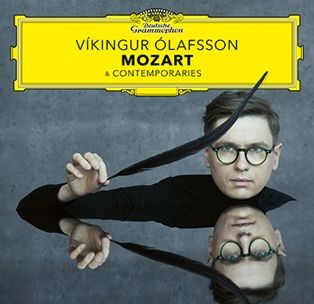 The release of this disc chimes in well with Víkingur Olafsson's recent performance of Mozart's Piano Concerto No. 24 in C minor, K 491 at the Proms with the Philarmonia under Paavo Järvi. this disc seems the natural successor. And if either you didn't hear the Mozart  concerto or you'd like to relinve the wonderment of Olafsson's Prom debut, here it is:
This disc, Olafsson's fourth for DG,  complements that event perfectly, enshiring forever Olafsson's (current) thoughts on music dating mainly from the 1780's (it closes with a piece from Mozart's final year though, Liszt's arrangement of the Ave verum corpus), with the focus on Mozart. As Olafsson himself says:
I find this decade of Mozart's life and art endlessly fascintaing. Mozart was not just a composer, and I feel that when he was writing for himself as a virtuoso pianist he indulged more than ever in the sublime playfulness that lay at the core of hisoriginality and inventiveness. This is the period when mozart was not just perfecting the Classical tradition but subtly subverting it ... the shadows are darker, the nuances and ambiguities more profound.
... and so it is that we find Mozart in the company of C. P. E. Bach (1714-1788), Haydn (179201809), Baldassare Galuppi (1706-1785) and Domenico Cimarosa (1749-1801). In doing so, Olafsson hopes to loosen some of the accumulated baggage we carry when listening to Mozart, to "slightly alter our psychological attunement".
Here's a video in which Olafsson explains his discovery of the music of Cimarosa, and how one of the Sonatas he plays was arranged by himself in the studio on the actual day of recording!:
The procession of Mozart pieces characteristically for Olafsson includes the unexpected justaposed with the familiar: the wonderfully jumpy Kleine Gigue in G, K 574 precedes the so-called "Sonata facile," the Piano Sonata No. 16 in C, K 545, the one we've all had a go at, surely, some time or other. Here is Olafsson in the sublime Andante from that Sonata:
After the sprightly, Haydnesque finale (that opening always sounds as if it is from a string quartet original, with its pairs of dyads piitted agains each other). Olafsson then offers an actual String Quintet movement in his own arrangement for piano - I wonder if I'm making up that connection of piano to string quartet in that finale? Does it matter if I am?! Here's Olafsson's simply gorgeous arrangement of the Adagio from Mozart's String Quintet in G minor, K 516, which appears ina crystelline, crepuscular light - and how well Olafsson projects the duo of two lines (which would have been two independeht instriments in the original) towards the end:
... and to complement that, here's the original courtesy of the Amadeus String Quartet joined by Cecil Aronowitz:
To have this glory followed by the Galuppi Larghetto (from that composer's Keyboard Sonata No. 34 in C minor) is genius programming. Olafsson is most definitely someone you want to create a playlist for you! - out of that soft-grained Galuppi comes the hard edges of the opening arpeggiation of the famous C-Minor Sonata of Mozart (K 457 - for what it's worth, which is precisely zero, it's my favorite Mozart Piano Sonata). The old chestnut of Mozart's slow movements being  opera arias in keyboard disguise is certainly true here: how Olafsson's melodies glow with cantabile!.
The final two pieces make a perfect valedictory pairing: the sublimities of the Adagio in B minor against that Mozart/Liszt Ave verum corpus. These are no mere addendum, or "encores" - they function as a shift into Mozart's most interior space, a world away from the famous trick-playing buffoon (think of the pranks he played on the poor horn player who premiered his horn concertos, the horn player - and alleged cheesemonger!-  Joseph Ignaz Leutgeb). Over the course of seven and a half minutes, Olafsson takes us out of the stream of time in the Adagio in B minor, K 540
A stuningly beautiful disc that delvers illumination on an ongoing basis; and one that will, one hopes, introduce many to the delights of thr music of Mozart's contemporaries as well as reminding us of the utter genius of the man himself.