Venus and Dido: Two British Operas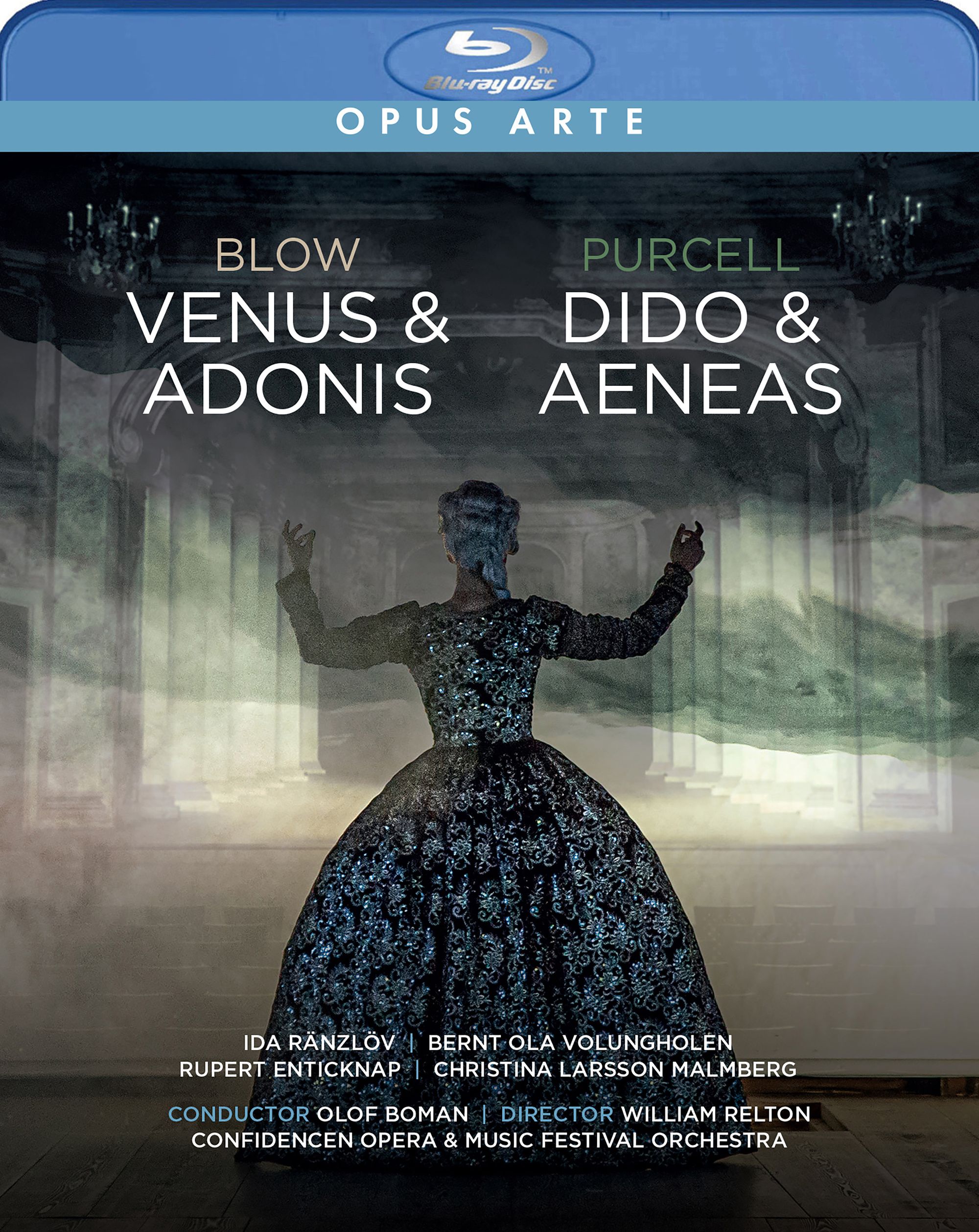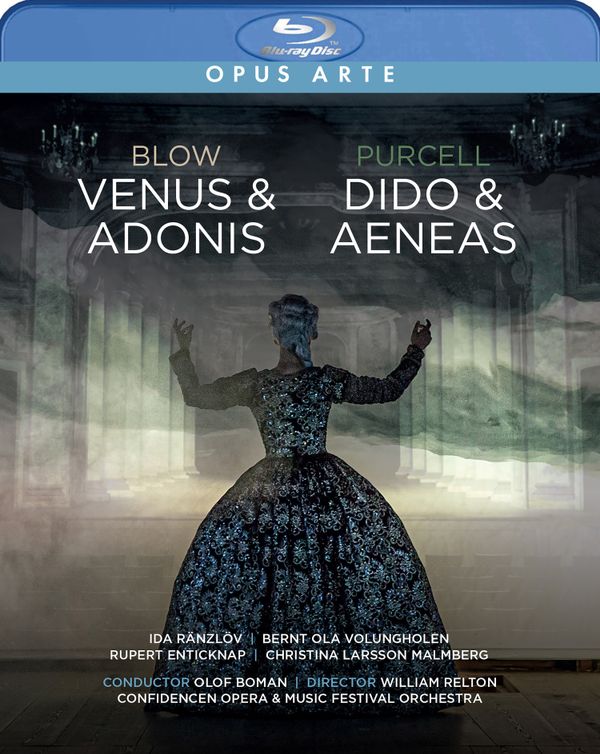 The relationship between Blow's Venus and Adonis and Purcell's Dido and Aeneas is well-documented, particularly as regards their final choruses (with Purcell modelling his finale on Blow's), but to hear the two together is rare. And, it turn out, a delight.
Blow's Venus and Adonis was written for one ofthe mistresses of King Charles II in around 1682. Blow actually called this a 'masque' and it is the only court opera oposed by an Englsh musiian (bear in mind Purcell's Dido was composed for amateurs).
Two classic English operas are brought together to tell the stories of love, be it between gods or royalty in the historic Confidencen Theatre, Sweden. Venus and Adonis, composed in 1683 by John Blow, tells the enchanting story of two mythical lovers and their cruel fate in scenes reaching from light-hearted comedy to heartfelt despair; the piece comes directly from the English Masque, as exemplified by Locke's Cupid and Death (memorably performed at Versailles in a recent season).
Here's a taster:
As you can see form the video, the stagings are very much of the period. No directorial sleights here - instead, clouds physically moved by children and painted scenery.  
The initial meeting of Venus and Adonis is beautifully managed; and the initial chemistry between Ida Räntzlöv and Bernt Ola Volingholen is palpable; and sustained throughout. Conter-tenor Robert Enticknap is a beautifully camp Cupid. Venus seems to be dressed in homage to Elisabeth Schwarzkopf's Feldmarschallin, while Cupid is  in bright blue knee-length shorts and red braces.  The interactions between Venus and Cupid work supremely well - both voices occupy the same pitch space but are completely differentiated.  Enticknap has a great time with a megaphone when he calls the Graces, too; nothing though can prepare one for the beauty of their Trio (Lisa Carlioth, Christina Larsson Malmberg and Mathilda Sidén Sifver, all of which sing at least two parts in the opera).
Venus' solo scene prior to the arrival of the injured Adonis (he has been fatally wounded by a boar) is highly affecting, as is the exchange between them. The influence of the final chorus on Purcell is well-documented, but there are may be other melodic points of contact - one melodic shape in this potent scene seems to map on to 'by all that's good' in Dido.
The finale is incredibly moving, with Venus' flowing black veil of mourning in stark contrast to the fiery, passionate red of her dress and Adonis laid out, dead with the final chorus as poignant commentary.
It has been believably suggested that the 'spelling lesson' interlude in Venus is analagous to the scene by the fountain in Dido (Belinda's "Oft she visits"). From the French Overture (the Overture and Prologue are predominantly French influences, but there are Italian influences later) to the dances, the Confidencen Opera & Music Festival Orchestra is superb in both its period style and its bite - there is real emotional involvement in the pit as well as on-stage.
There are a number of superb sound-only versions of the Blow, starting from Anthony Lewis' early recording through a Wigmore Hall Live and René Jacobs with the Orchestra of the Age of Enlightenment on Harmonia Mundi.
Samples are difficult to come by of both this production and the main siungers, but here's an 'Ombra cara' from Handel's Radamisto from the Theater an der Wien: Rupert Enticknap with the Freiburg Baroque Orchestra and René Jacobs:
---
Previously, we looked at William Christie's version of Henry Purcell's Dido directed by Deborah Warner, a stand-alone DVD/bluray. That was set in the neutral tones of a boarding school (it was after all written for one); those that prefer a more traditionally Baroque setting may well head for the present production by William Relton. First an apprecuation of the Overture, in which Boman finds fresh counterpoint in the slow introduction and a Mozart Figaro-like bustle in the Overture proper - and, indeed, we see rapid-fire intrigue onstage as the allegro is being played. Boman later gives the music the ability to stretch - Aeneas' pained monologue is a prime example of this, as Volungholen's Aeneas rails against fate.
The same singers take the principal roles, with Christina Larsson Malmberg a fine Belinda (a lovely, well judged 'Shake that cloud off your brow') and Ränzlöw as a more demurely-garbed Dido, appropriately 'Press's with torment'. Boman keeps the opening ground - a piece on a repeated bass ostinato - moving (no unnecessary dwelling on 'I languish till my grief is known'). Costumes are clearly chosen for maximal contrast: Volungholen's far more distinguished apparel takes him into the realm of nobility.
And as for Enticknap's Sorceress, she is seen in terrifying close-up in blue light. There is no attempt for the chorus to sound 'witchy' - the drama comes from the music and the orchestra's contribution (the stab at 'hate' in 'The Queen of Carthage, whom we hate').
One thing throughout is that the English is so good, as is the diction. Apart from the odd vowel ('Her eyes confess the flame,' Belinda, for example), this is superb.
As for the staging, one has to admire the great drunken sailors against a background of drawings of ships. There is some amazing phrasinng and dynamics from the orchestra; and how Boman allows for a positively slithery 'To mar their hunting sport' seems perfect in context. The 'voodoo doll' of Dido used by the Sorceress is somehwre between hilarious and spooky - and not that fanciful either. Not voodoo here, but surely a reference to the English 'cunning folk' and their use of poppets (dolls and needles, usually used for healing in their case).  
Ränzlöw is stunning in the final pages - right from 'Thy hand, Belinda,' it is clear we are in the presence of musical greatness. The bare ground bass immediately before 'When I am laid in Earth' (Dido's Lament) speaks of unbearable anguish (an anguish reflected in the look on Belinda's face here!). As she sings, Dido slowly divests herself of her earrings, as if to move from an earthly state to one more elevated. Her entreaty 'Remember me' is greeted with a sudden swelling in the strings.
The final chorus, 'With drooping wings' is performed one voice to a part, gaiving it a real fragility as Dido slowly walks off into a painted blue distance that morphs into sunset reds as her figure becomes ever less palpable, until she, too, seems like a drawing.
The subsidary roles are cast from strength (Lisa Carlioth particularly strong, with Mikael Stenbaek a superb Sailor). There is only one moment that things don't quite cohere (the chorus of 'Haste, haste to town').
This is about the finest advert the Confidencen Music Festival can have. The festival seems to feature an opera a year and has multiple events (including outings, from what i can see) around that. The opera for 2022 was Proserpin by Joseph Martin Kraus - and maybe that will turn up on Naxos, too?