The Mozart Concerto you really should know ...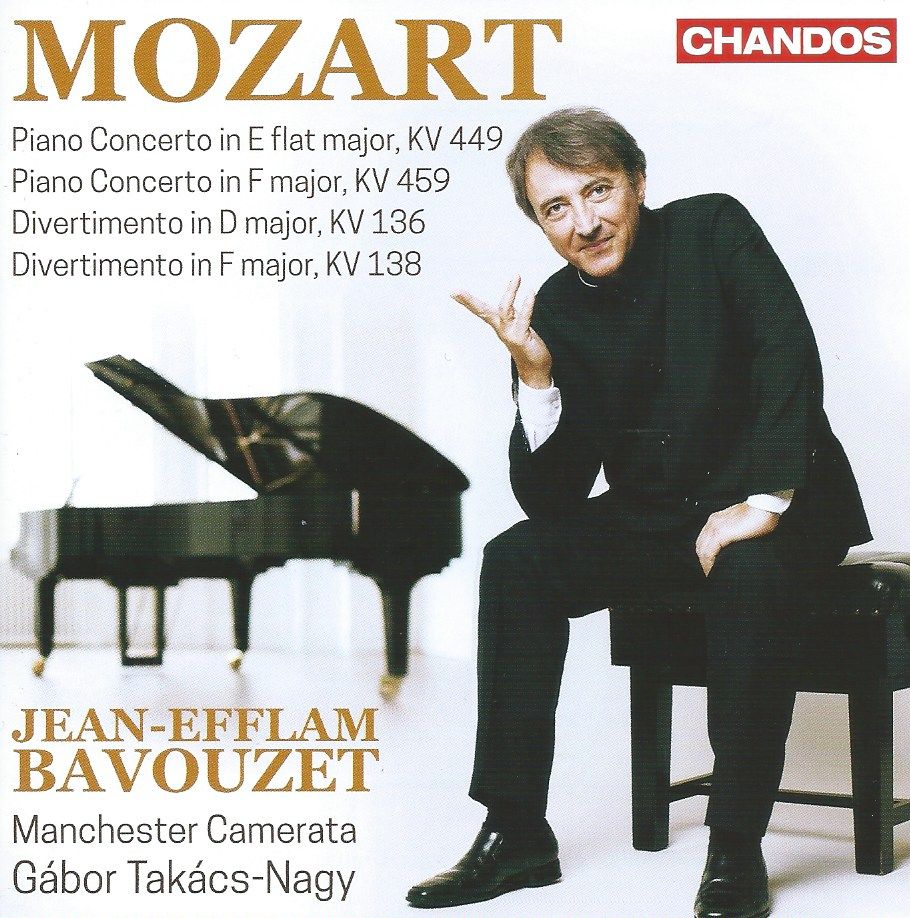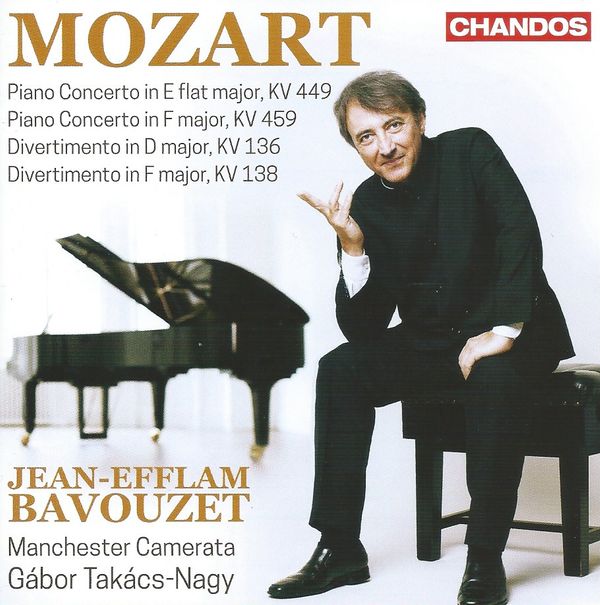 Picking a Mozart Piano Concerto to feature isn't an easy task, especially if one is out to explore, so most of Nos. 20-27 are off-limits.  I was bowled over with the Piano Concerto No. 14 in E flat, K 449 many years ago, when a then-young Maurizio Pollini took it on tour with the English Chamber Orchestra (with No. 17; he also conducted a Mozart symphony) and I caught them in Manchester's Free Trade Hall. That was in the very early 1980s. Now Jean-Efflam Bavouzet brings it to our attention - ironically with a Manc band, the Manchester Camerata. Kudos to Chandos Records for using them - they are a fine chamber orchestra and have sat in the shadow of the Hallé and the BBC Philharmonic for far too long.
The Piano Concerto No. 14 begins with a vigorous first movement, somewhat unusually in 3/4 time. It bursts with life - as does this performance:
Here, too, is a perfect example of why the "Classical Sampler" album, taking a movement from one work then another movement from something else, doesn't work. Excerpted, the peace of the slow movement might provide a moment of segmented solace - but heard after the vigour of the first movement, its twilight shades seem the perfect complement:
This, along wth the rigour of the finale (which itself includes a sudden moment of magic) makes this piece an absolute gem. If your knowledge of the earlier Mozart concertos is limited to No. 9, the so-called "Jeunehomme," this concerto is a loogical next step - not least because the two finales seem to be related in spirit. The rapport between the Manchester Camerata, Bavouzet and the conductor, Gábor Takács-Nagy, is impeccable.
A nice idea to separate No. 14 from the more famous No. 19 with two Divertimenti from 1772. Not even 16 at the time of composing these two mini-gems, Mozart crafts loveliness. They are scored for strings only and might have been originally played by string quartet, but hearing them fresh with the Manchester Camerata's string section is bracing. The first, K 136 (K 125a) is a piece of great freshness. Contrasting the Manchester Camerata with a period band, the Amsterdam Baroque Orchestra with Ton Koopman, is revealing (Koopman more energy and pinpoints Mozart's invention more clearly). Let's hear them both in the first movement, Koopman first:
now the Chandos:
When it comes to the Divertimento, K 138 (K 125c), there's another breath of fresh air, but maybe with an extra layer of underlying pathos despite the major key. This is, if you like, one flavour of F major; quite another is the first movement of the Piano Concerto No. 19 (also in F major) - bushy-tailed hardly seems to cover it. That's a concerto for another day, perhaps; today has been to take a Sunday stroll into lesser-known Mozart. The whole disc is carefully planned and immaculately recorded.
This is a timely article, as Bazouzet is the cover artist for the latest, September-October issue of International Piano magazine and is interviewed there by Claire Jackson. I remember interviewing him back in the day for an American magazine - he was the epitome of charm, and completely open in his wide-ranging responses (his knowledge of contemporary music was particularly impressive). he spoke at the time of hs many planned projects with Chandos, including his superb series of Haydn Piano Sonatas. But for the moment, enjoy the samples above  - and there's an Amazon link below for purchase of the disc itself.
https://open.spotify.com/album/0wJTz0XZYcF43ZTtGETmRM?si=4G5UDZx8RKGdLyI1e5D5eA