Surprising Royer: Christophe Rousset & Les Talens Lyriques excel
A wonderful disc, and Rousset's keyboard discs act as a perfect complement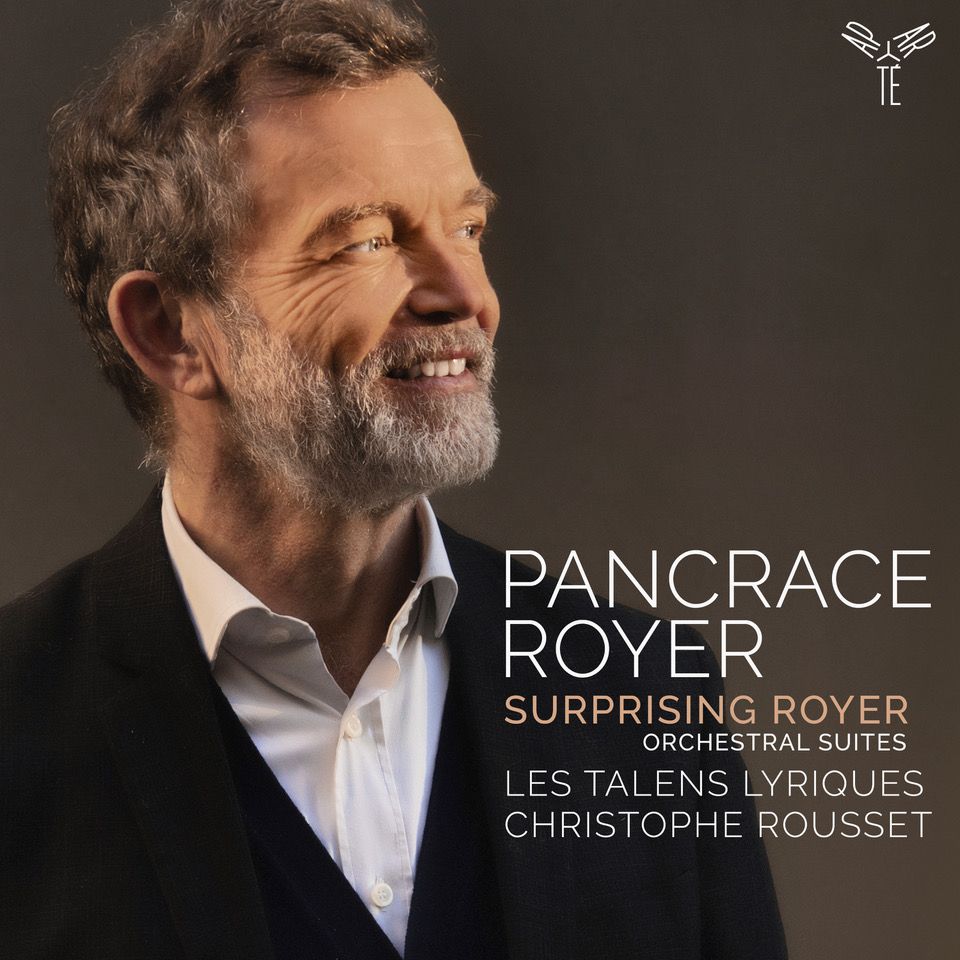 In this fascinating release, Christophe Rousset and his ensemble Les Talens Lyriques feauture music from five of Pancrace Royer's pieces:
Le Pouvoir de l'Amour (1743)
Zaïde, Reine de Grenade (1739)
Almasis (1748)
Pyrrhus (1730)
Zaïde, Reine de Grenade (alternative versions)
First. a little information on the composer. Joseph-Nicolas-Pancrace Royer (1703-1755; to give him his full name) was born in Turin, son of a French hydraulic engineer, who had been sent by Louis XIV to assist the house of Savoy. The family moved back to Paris when Royer was still an infant, although he did not become a French citizen until 1751. Royer has long been remembered as a significant composer for the harpsichord - indeed, Rousset has recorded the Pièces de clavecin of 1746);  but Royer also had a distinguished career as an organist, teacher and then composer for the royal family, and for the theatre and concert hall.
In this (subtitled) video, Christophe Rousset introduces Pancrace Royer and describes how, with Talens Lyriques, musicians and conductor came to an understanding of Royer's individual world:

Almost from the start, the individuality of Royer's music is clear. Listen to the very gestural "Air pour les jeux et les plaisirs," from the fourth scene of the Prologue to Le Pouvoir de l'Amour:
.. or, indeed, the Handelian, celebrational grandeur of the Rondeau from the second scene of the "Deuxième entrée" - it made me think, in spirit at least, of Handel's Royal Fireworks Music. A positive explosion of pomp (there is a touch of this to the Menuets from Zaide heard later in the idsc, also):
It is amazing to think that Le Pouvoir de l'Amour did not achieve success as a stage work, and was abandoned after only eleven performances. Contrasts are most winning: listem to the brusque, staccato "Entrée des sauvages" against  the soothing "Air":
---
Next, Zaïde, reine de Grenade (1739), a piece which became the most performed opera of the eighteenth century on royal occasions, and held a place in the Paris Opéra programmes after Royer's death. The piece is full to bursting with melodic invention - and joy. Try this pair of Bourées ferom the first act (Scene 5):
---
Zaïde was composed for the wedding of the King's daughter Louise Elizabeth to Felipe, Infante of Spain. There is a light-hearted Prologue which gives little hint of the drama to follow. Here are is the entry of the hunters - listen to the excellence of Les Talens Lyriques' natural horn players:
Rousset recorded the harpsichord version of this on his L'Oiseau Lyre disc of Royer's harpsichord music (YouTube link). In terms ofteh piece itself, you can hear something similar in the later "Air des Chasseurs," a piece full of colourful contrasts.
Talking of contrasts, listen to the pronounced gentility of this absolutely beautiful "Aur tendrement" form the fifth scene of the third act. Royer's magical and imaginative use of trills is brilliantly done by Rousset and his players. This is a fairly extended piece, so it is something to wallow in!:
It is followed by a remarkable Turkish piece, "Air pour les Turcs en rondeau"; something of a precursor to Mozart"s Entführung, perhaps! (or perhaps more accurately, part of a general trend?). Rousset has his players really dig in, and tehre's some Turkish percussion in the mix, too … :
The final offering from Zaïde, "Premier et deuxième tambourins" would be the perfect encore to any concert of Baroque music: it bustles, it scampers, always with a splendid mix of cheekiness and conspiratoriality. This particular video had zero likes on YouTube when I listened to it there, so go on, head over there and give it some love, it deserves it:
---
Dating from 1748, Almasis contains the most grogeously sophisticated "Air, mouvement de chaconne". A mere two minutes long, this air exudes compositional perfection, and Rousset"s performance could hardly be bettered in terms of honouring the music"s sense of exquisite rightness:
There is an airy lightness to the "Passepieds" that is most appealing before another of those entirely encore-worthy finales. Here's the "Passepieds":
---
Despite its sumptuous setting by Servandoni, Royer's Pyrrhus only enjoyed a short run of seven performances, perhaps because the public's taste for tragédie was turning in favour of the opéra-ballet (Royer even labelled his next opera, Zaïde, reine de Grenade a ballet héroïque, despite it being a through-composed opera in three acts preceded by an allegorical prologue).
Dating from 1730, the Ritournelle from the first scene of the third act of Pyrrhus seems more sophisticated harmonically that much of what has been heard before:
… although I have to say that Royer"s demons seem very civilised as occupants of Hades go! (or perhaps we have demons all wrong). They have their own "air":
In fairmness, those demons are not quite as civilised as Royer's Nymphs - a pair of "airs" closes the main body of the disc ...
.. But there are two addenda, both alternative versions from L. Hue's edition of 1739 of two movements from Zaïde, act III scene 5: the Menuets and the Tambourins.  
A wonderful disc, and Rousset's keyboard discs act as a perfect complement. The one quoted below is the earlier of the two: he re-recorded the 1746 pieces on Ambroisie in 2008.

The new Aparté disc is currently available at the massive discount of 9% at Amazon. Although the harpsichord performances on L'Oiseau Lyre  seems to unavailable there, here is a Spotify link below: