Schubert Winterreise with John Carol Case
John Carol Case's voice carries all of the Wanderer's world-weariness ...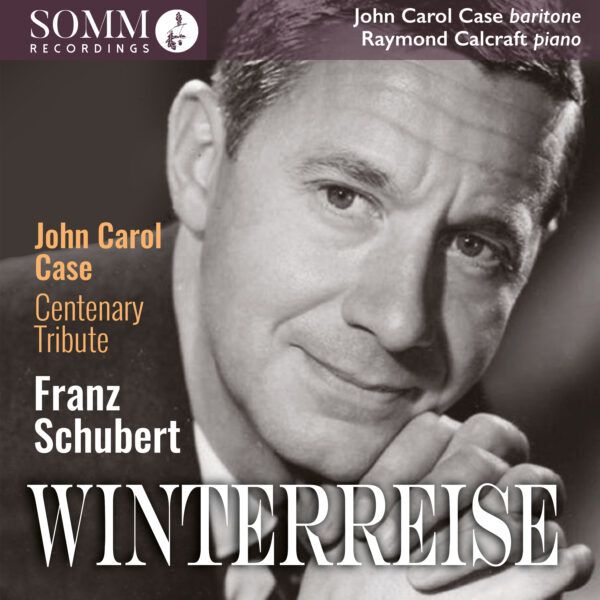 I first came across the name of John Carol Case in conjunction with soprano Sheila Armstrong and conductor Sir Adrian Boult: an HMV Greensleeves LP of Vaughan Williams' A Sea Symphony (Symphony No. 1). Apart from the sheer majesty of Boult's conception, Case's contribution is of stellar beauty.
Case was born in 1923, so this release is a centenary offering. Somm Recordings' release is incredibly valuable, and given the number of cherishable recordings by Case, one hopes for more. But perhaps that's greedy.
This might not be the most sonically perfect Winterreise, but the sound is more than adequate for purpose - one can hear how the pianist Raymond Calcraft, varies his tone, for example, for the posthorn imitations in "Die Post":
.. or, indeed, the quality of his trills in the second song, "Die Wetterfahne":
Yes, the bass is somewhat muffled in "Der Lindenbaum," but with playing of this sensitivity it remains a price worth paying. And the recording, importantly, preserves the quality and timbre of John Carol Case's voice.
Most of all, though, it is the singing that remains so impressive. John Carol Case somehow manages to lavish care on every line and yet keep the totality of this winter journey in mind. Listen to the desolation of "Wasserflut" (the sixth song) and how Carol Case and Calcraft work in supreme co-operation. This is two musicians, but absolutely only one concept:
Another example of the two of them in perfect harmony, realising Schubert's vision perfectly, is "Im Dorfe," with its absolutely obsessive piano part. Here Calcraft seems to niggle away at the listener, over which John Carol Case delivers the most silky legato lines:
"Tauschung" offers a beautiful sense of ease and of depth in simplicity:
... and it appears in maximal contrast to the heart-heavy "Der Wegweiser".
It is in the final songs that Carol Case and Calcraft's interpretation reaches its heights. The stunningly unrushed, perfectly sustained (especially in the vocalist's case) performance is remarkable:
By the time we reach"Der Leiermann," there is a proper sense of ultimate resignation. The wheel of time turns in the piano's repeated hurdy-gurdy theme (the final chord perfectly placed every time by Calcraft). Carol Case's voice carries all of the Wanderer's world-weariness. There is no doubt this Romantic archetype is ready to go ....
John Carol Case was one of the leading baritones of his time, and enjoyed a repertoire from Bach to G & S. He also was known foe his performances of Elgar's The Apostles, Vaughan Williams's Dona Nobis Pacem and The Pilgrim's Progress, and Finzi songs.
This performance is itself half a century old. Recorded in Wesley Central Hall, Portsmouth, it is restored from reel-to-reel tape by Oscar Torres, Andrew Keener and Paul Baily (also responsible for the Mastering). This is its first release, which makes it a hugely valuable document.
Finally, a bit of biography for the pianist. Raymond Calcraft studied conducting with Sir Adrian Boult and has worked with choirs and orchestras in the UK and internationally. He enjoyed a long relationship with the Bournemouth Sinfonietta, conducted and recorded with the Royal Philharmonic Orchestra, and has collaborated with Pepe Romero, Patricia Rozario, Janice Watson, Julian Lloyd Webber and others.
This fine Winterreise joins Classical Explorer's ongoing survey of performances: Christof Loy's staging was discussed in this post; Benjamin Appl and James Baillieu's performance is here; James Rutherford and Eugene Asti's BIS recording is here; while a live performance by Roderick Williams and pianist Ella O'Neill at London's Holland Park is viewed here. John Carol Case and Raymond Calcraft offers then our sixth Winterreise, and our first 'historical' one (it hurts to say that as the recording date is 1973 and I was born in 1965, so that makes me historical also). Out of all the performances above, it is John Carol Case and Raymond Calcraft I shall return to the most, almost certainly.
At the time of writing, Amazon are having issues with the link below (although it's the right disc, the title is "Zara Dolukhanova" and it's almost unsearchable) so you can stream from this link, or via Amazon here. And there's always Somm's own site.