Rameau: Nouvelle Symphonie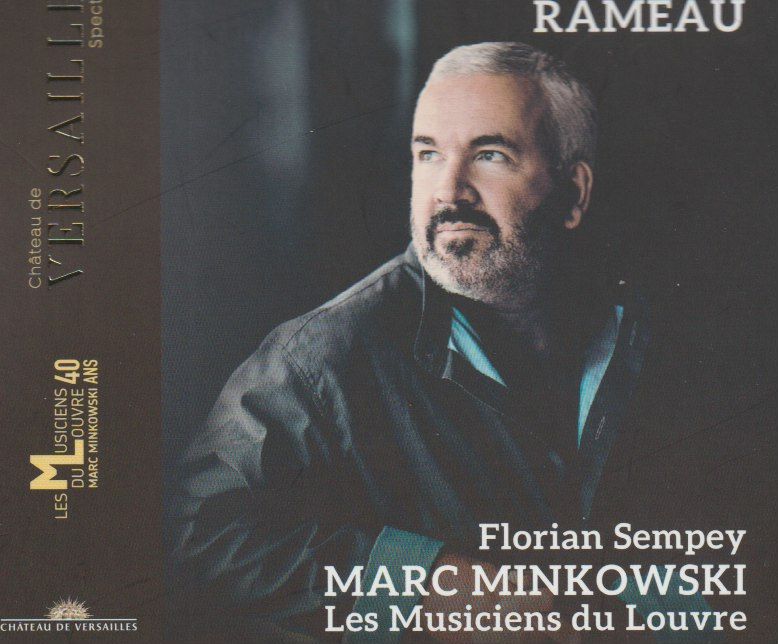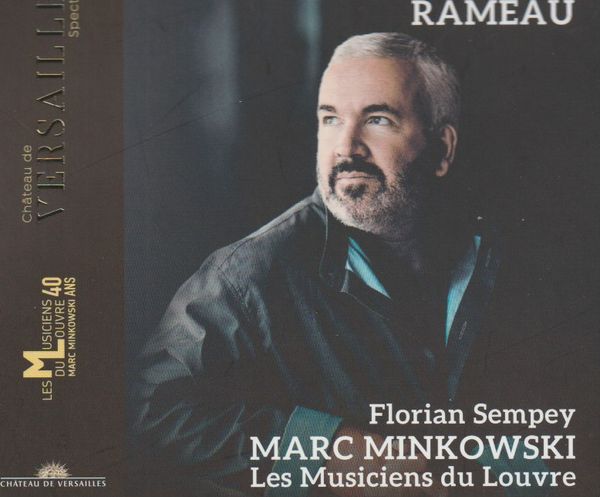 This is a vibrant release from the Château de Versailles Spectacles label, with Minkowski and his Musiciens du Louvre on top form, with the added bonus of the singer Florien Sempey.
Here's a sample:
The disc comprises 20 tracks of excerpts from Castor et Pollux, Zoroastre (a delicisious "Air tendre en rondeau"), Les Paladins, Les indes Galantes, Acanthe et Céphise, La naissance d'Osiris, and Pygmalion.  This is Minkowski's "very personal" selection of overtures, preludes and dances, an idea born in 2002 (a "Rameau gala") and brought to new commercial fruition here: a "lost week" due to covid was reassigned to the present recording sessions. It is not Minkowski's first foray into a venture such as this: his "Une Symphinie imaginaire" was released in 2005 by Arkiv, sadly listed as inavailable currently at Amazon.
Florien Sempey is a superb baritone, his voice perfectly matched to Rameau, as we can hear in "je pous donc me venger moi-même" from Les Paladins, for example. His performance of Act IV, Scene 4 of Dardanus (1739) is magnificent. Minkowski nails the spirit of the dance, from the delicacy of "Les Fleurs" from Les Indes galantes to the sudden dramatic gestures of the Ouverture to Acanthe et Céphise (this last a true demonstration of Les Musiciens du Louvre's stunning virtuosity).
Here's a real treat:  here's a concert for Rameau celebrating the group's 20th anniversary: (the works and timings are listed below):
(1:10 Zaïs "Ouverture", 7:06 Castor & Pollux "Que tout gémesse", 10:09 Castor & Pollux "Tristes apprêts, pâles flambeaux", 15:25 Les fêtes ďHébé "Air tendre", 17:30 Hippolyte & Aricie, 23:09 Dardanus "Premier Tambourin / Deuxième Tambourin", 24:58 La Princesse de Navarre "Vents furieux, tristes tempétes", 28:02 Les Boréades "Contredanse en rondeau", 31:31 Hippolyte & Aricie "Cruelle mére des amours", 38:05 Anacréon "Qui m'éveille? J'entends le tonnerre qui gronde", 41:03 Les Boréades "Gavotte pour les fleures et les zephirs", 43:50 Dardanus "Lieux funestes", 49:57 Les Paladins "Air de furie", 51:55 Hippolyte & Aricie "Vous, qui de l'avenir percez la nuit profonde", 56:25 Hippolyte & Aricie "Quelle plainte en ces lieux m'appelle?", 1:13:30 Les fêtes d'Hébé "Musette tendre en rondeau, tambourin en rondeau", 1:16:50 Les Indes Galantes "Soleil, on a détruit tes superbes asiles", 1:19:05 Les Indes Galantes "Brillant soleil", 1:24:01 Les Indes Galantes "Clair flambeau du monde", 1:27:39 Platée "Soleil, fuis de ces lieux", 1:29:52 Dardanus "Chaconne", 1:35:44 Les Boréades "Jouissons de nos beaux ans", 1:39:00 Hippolyte & Aricie "Ritournelle", 1:40:58 Les Indes Galantes "La nuit couvre les cieux", 1:45:10 Dardanus "Voici les tristes lieux", 1:45:55 Dardanus "Monstre affreux, monstre redoutable", 1:51:40 Les Indes Galantes "Viens, Hymen", 1:55:04 Les Indes Galantes "Forêts paisibles", 1:58:54 Les Indes Galantes "Tendre amour", 2:01:40 Les Boréades "Entrée de Polymnie", 2:07:33 Platée "Air de la Folie- Aux langueurs d'Apollon", 2:15:06 Platée "Hymen, hymen, l'Amour t'appelle".)
Rameau Minkowski Amazon link