Prometheus Unbound: Parry on Chandos
This is a major release and one that I hope will received the aclclaim - and indeed awards - it deserves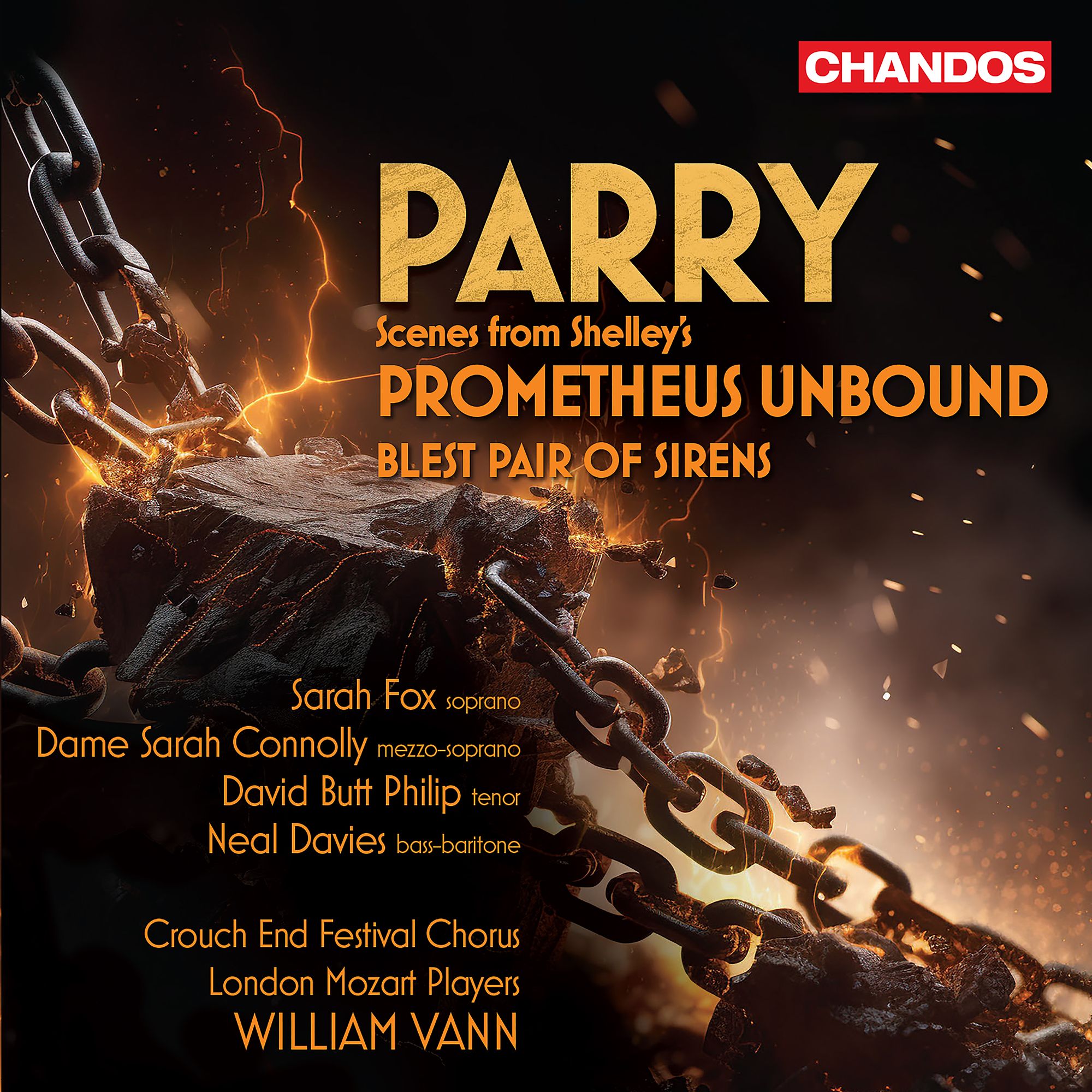 William Vann leads the London Mozart players in this world première recording of Parry's revelatory early choral work, with the Crouch End Festival Chorus and four world-class soloists. The famous A Blest Pair of Sirens completes the album.
Hubert Parry (1848 - 1918), regarded by many - including Edward Elgar - as the finest English composer since Purcell, and as the father of the modern English tradition, is best known for his hymn Jerusalem. His anthem I was glad, written for the coronation of Edward VII, in 1902, has been used also at the coronations of George V, Elizabeth II, and Charles III. Parry taught composition at London's Royal College of Music from 1883 to 1895, when he succeeded Sir George Grove as director of the College, a post he held until his death.
Parry's distinguished list of pupils includes  Vaughan Williams, Holst, Frank Bridge, and John Ireland. Inspired initially by the German romantics Mendelssohn and Schumann, Parry quickly became a devotee of Brahms and Wagner, whose influences can be heard in much of his output.
Commissioned for the Three Choirs Festival, in Gloucester in 1880, his Scenes from Shelley's Prometheus Unbound is an early work. The première received a mixed reception, but despite numerous repeat performances, in Cambridge, Oxford, and London, all with rave reviews, the piece sank into obscurity. Vernon Handley gave a performance for BBC Radio 3 in 1980, to mark the centenary of the première, but this world première recording is the first chance for modern audiences to hear this outstanding work.
Scenes from Shelley's Prometheus Unbound, to give the piece its full title, is a rousing, powerful, dramatic work that has stalwartly avoided the light of day. It was greeted with a mixed critical reception at its premiere (it was commissioned for the 1880 Three Choirs Festival (performed in Gloucester). In 1980, 100 years later, Vernon Handley conducted it for BBC Radio 3, after which it again slipped into oblivion. The present release presents the work in a brilliantly committed, tightly-performed version presented on Hybrid SACD and available in Dolby Armos spatial audio.
Here's an introduction by William Vann, Fouder and Director of the English Song Festival (the plea for funding of the project at the end clearly worked!):
Howells called him a quasi-revolutionary at the time of the work's premiere. The work has a canonical importance, as well. the booklet note quote Ernest Walker's assertion, in A History of Music in England, of 1907, that
... if we seek for a definite birthday for modern English music, 7 September 1880, when Prometheus saw the light at Gloucester and met with a distinctly mixed reception, has undoubtedly the best claim.
The text is from Shelley's 1820 drama Prometheus Unbound, itself in turn based on Aeschylus. Parry heard Wagner's Ring cycle at Bayreuth in 1876, and Shelley's drama meditates on the relationship btween Gods and humans, so the appearance of some Wagnerisms (see below) is unsurprising.
Neal Davies is in the titular role of Prometheus, as always in fine voice: here is "Monarch of Gods and Demons":
another singer in resplendent voice is David Butt Philip. Try this (as Mercury), from the first part, "Awful sufferer!":
He also opens the second part (as Jupiter) in "Ye congregated pow'r of heav'n," where he is in distinctly  rousing voice, with a ringing top. Small wonder Butt Philp is in global demand these days:
It is luury, surely, to have the magnificent  Dame Sarah Connolly in the soloists as  "The Earth". Here's 'I fely thy torture, son":
The music itself is influenced by Wagner (there is a  decidedly Wagnerian harmonic progression in"How fair these airborn shapes," for example). Listen to the final chorus of Part II, which has aspects of mid-period Wagner, to my ears, a Chorus of Spirits and Hours called "Then weave the web of the mystic measure":
And yet Part One ends with a chorus that could hardly be more English. "Life is Life" performed by "Voices of Spirits," followed by a contralto solo, "Fair are others, ' delivered with creamy loveliness by Dame Sarah Connolly:
The choral writing throughout is miraculous - as is the response of the Crouch End Festival Chorus.  A phenomenal performance of a piece that is nothing short of a revelation.
---
Parrry's A Blest Pair of Sirens (known in the trade, I seem to remember from my playing days, as "Best Pair of Nylons") is on the other end of the familiarity scale, and yet the performance is no less fine:
---
Fine booklet notes - detailed, enthusiastic, knowledgeable on both historical and muscological levels - from Jeremy Dibble conclude a most signinficant album. Dibble's analysis of A Blest Pair of Sirens is as impressive as his extended commentary on Scenes from Prometheus Unbound.
It is wonderful to hear the London Mozart Players in such fine form, and in such a substantial work. The recording quality is superb throughout. This is a major release and one that I hope will received the aclclaim - and indeed awards - it deserves.