Opera Rara and Donizetti: Il Paria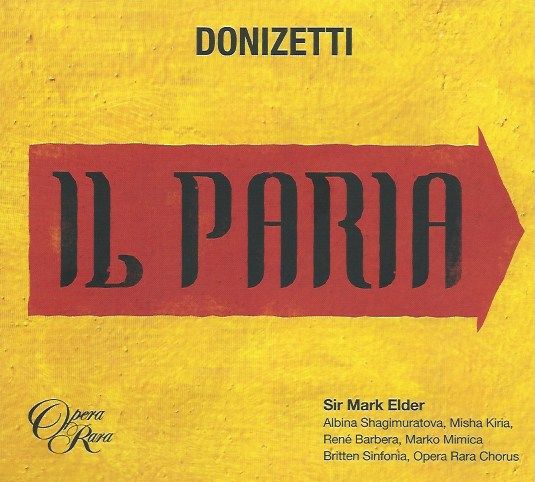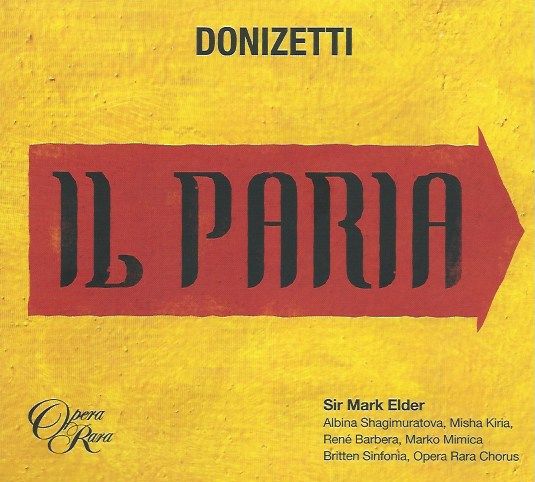 An international release through Warner Classics, this Donizetti Il Paria on the Opera Rara label was recorded in the studio - BBC Maida Vale, June 1-6, 2019 -  prior to a performance at London's Barbican Centre.
Il paria (The Pariah) was Donizetti's 20th full-length opera; it is, astonoishingly, Opera Rara's 26th complete opera recording of Donizetti (remember Classical Explorer's post on L'Ange di Nisida?). Il paria has been previously recorded - on the Bongiovanni label with the Pro Arte Marche Orchestra under Marco Berdondini using an edition edited by Franco Piva and recorded in April 2001. But there was little hint of superstars about the cast, and here on Opera Rara we have the astonishing Albina Shagimuraova as Neala (she starred in Opera Rara's brilliant Rossini Semiramide, also conducted by Sir Mark Elder; here's the link to my review of the 2016 Proms performance). Let's start off with an excerpt courtesy of Shagimuratova, her aria "Ah che un ragio di speranza" (Ah, that ray of hope) from act 1, just to orient ourselves within Donizetti's sound world as well as enjoying Shagimuratova's remarkable voice:
Wonderful to see the Britten Sinfonia for Il paria, their first appearance on the Opera Rara label; an ensemble that has slowly but surely built a major reputation (see also the fabulous programming of this concert at Milton Court, spotlighting pianist Benjamin Grosvenor and composer Dobrinka Tabakova). This recording will surely seal the deal.
Frist performed at Naples' Teatro San Carlo in January 1829, Il paria's story, based on Casimir Delavigne's play La paria, takes us to 16th century Benares, India (the opera was first performed in January 1829). To the composer's great disappointment, the run was abandoned after a mere six performances. Two factions form the backdrop, the Brahmins and the Pariahs (the lowest caste); a touch of Montagues and Capulets, perhaps, but with more pronouced societal distance. The High Priest Akebare is the head of the Brahmin family; his daughter is Neala, who is also a Priestess. Zarete heads the lower caste family,  and Idamare is his son. Fairly obviously given that this is opera, Idamare loves Neala. No happy ending here: Akebare condemns both Idamare and Zarete to death, with Neala voluntarily following suit. There are two lesser characters, Empsaele, Akebare's confidant, sung by Thomas Atkins, and the priestess Zaide, taken here by the excellent Kathryn Rudge.  
Despite the composer's happiness with the score, it has rather lamguished. Sir Mark Elder persuades us this is among Donizetti's greatest works. The trick is to listen to the enture opera, not skip; it seems drawn over a large time scale, and Elder's enviable ability to track that trrajectory is key to this recording's success. As Sir Mark Elder says, the key is the score's  "pulse and propulsion". The role of the chorus is vital, and the Opera Rara Chorus is exemplary.
Here's the Opera Rara trailer:
... and here is Albina Shagimuratova on her experiences:
(Shagimuratova refers to the opera being set in exotic India: it is by no means unique in this, and it is worth noting that both Bizet's Pêcheurs de perles and Delibes' Lakmé are also set there, as is Holst's Sāvitri, while Jonathan Harvey's Wagner Dream works with Indian legend and Glass' Satyagraha has its second act, "Rabindranath Tagore" set in India; among the lesser-known canon are Spohr's Jessonda and Handel's rarely-heard Poro).
The part of Neala itself spans a large part of the register, from the high soprano demands of the first act and the lower register of the act 2 duet with Idamore; Shagimura is triumphant not only in her negotiation of Donizetti's demands but also in her immersion of the composer's sound world.
Donizetti's Il paria is magnificently imaginative and brilliantly constructed. No less impressive is the cast in this recording, especially given there was a late withdrawal in this small line-up: Ceslo Albelo, originally Idamore, was replaced by René Barbera. You really wouldn't know. His extensive contribution to act one, beginning perhaps at the sixth scene of act one, "Là dove al ciel s'estoile" - "There, where Idamore's name was extolled to the heavens" -  is utterly remarkable: strong of voice, flexible, expressive. The role was written for the great Rubini and makes demands on the range of the singer, too (his first aria contains 13 top C and C sharps); one wonders how many tenors alove today could even essay the role, much less carry it off in this manner.
The score used here was a critical edition prepared by opera expert and Opera Rara dramaturg Roger Parker with Ian Schofield; material is available via Casa Ricordi (see this article). The orchestral writing is remarkably inventive, and Elder doubles the harp part, enhancing that instrument's contribution. And to put the icing on the cake, there is no weak link in the cast, whatsoever.
There's more good news, all fingers and toes crossed: Thursday July 8, 2021 finds Opera Rara presenting another Donizetti rarity at the Barbican, Il furioso all'isola di San Domingo in a brand new performing edition with the Britten Sinfonia under the baton of Carlo Rizzi and with the awe-inspiring Albina Shagimuratova once more in the lead soprano role and once more including René Barbera in the cast. Again, the work will be recorded in the studios prior to the performance.
Time to remind ourselves of another Classical Explorer post: Anima Rara, Ermonela Jaho's poignant tribute to the Italian soprano Rosina Storchio (creatrix of Cio-Cio San in Puccini's Madama Butterfly).