A Tale of Two Angels: Donizetti's "L'Ange de Nisida"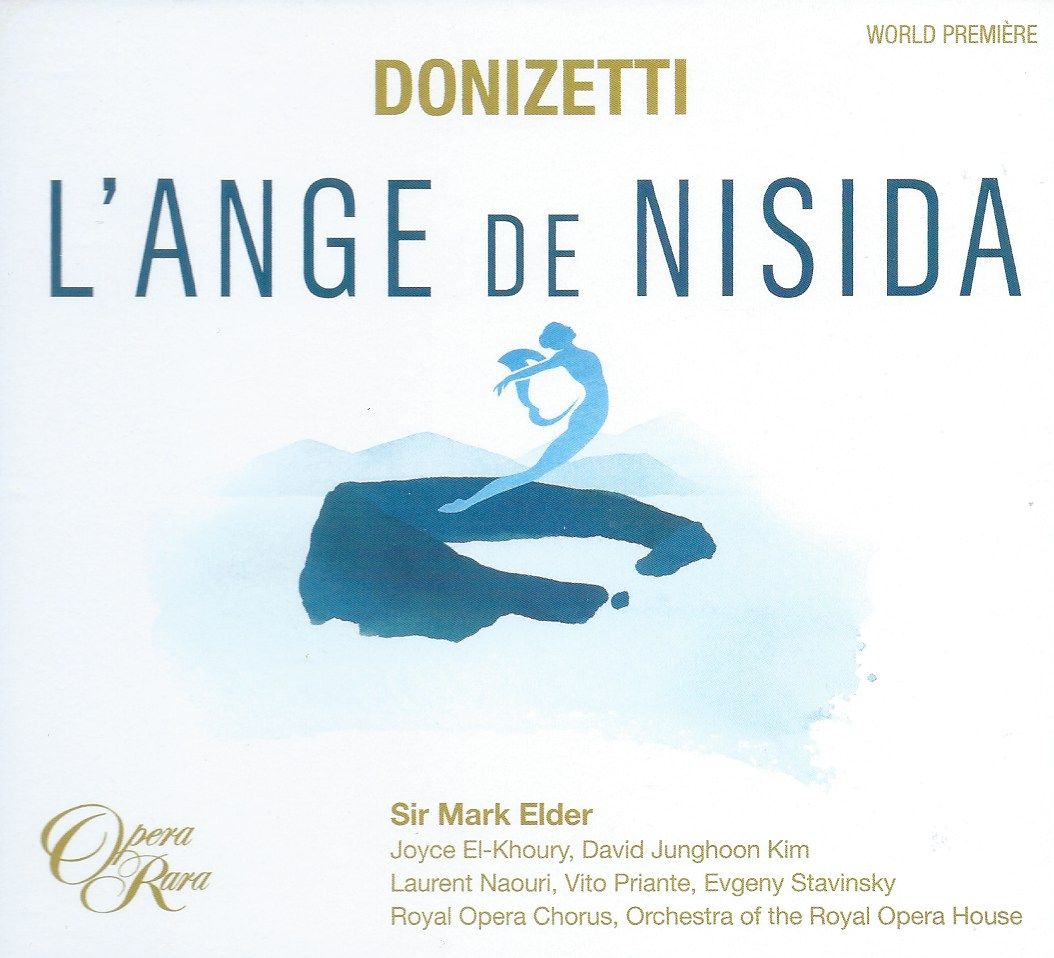 Angels cried over musicological triumphs in Dussek on Friday; two angels shine courtesy of Donizetti today.
Who would have ever thought we would ever be lucky enough to be able to compare versions of Donizetti's 1839 semi-seria opera L'Ange de Nisida? Yet here we are. After the pioneering version on Opera Rara (plenty of delicious excerpts to come), there is now a DVD/Bluray fully staged performance from Bergamo, Italy, home of Donizetti opera. Both use the edition by the musicologist Candida Mantica, who has previously stated of the piece's journey to reconstruction that it was like putting together a jigsaw puzzle in which the pieces were all in different locations. The problem lies in that L'Ange was never performed in Donizetti's own time, thanks to the theatre it was intended for going bankrupt, so there is no printed libretto, although there are three manuscript copies.
Yet, somehow, here it is, in all its glory, and the musical world owes musicology a massive debt. The ensembles in this opera are particularly impressive and possibly the first thing to strike the listener: but then there is the scope of the piece, which has the potential to redefine how we think of Donizetti. If, when I say "Donizetti," you think of L'Elisir d'amore or Don Pasquale, you may be in for a pleasant surprise. Writing for a discerning Parisian audience with its clear likes and dislikes, Donizetti provided a late masterpiece (L'ange was completed in 1839; he died  where he was born, in Bergamo, in 1848).
The Opera Rara performance, impeccably led by Sir Mark Elder, boasts a phenomenal cast, including Joyce El-Khoury as the Countess Sylvia de Linares (the "angel"), David Junghoon Kim as Leone de Casaldi, Laurent Naouri as a characterful Don Gaspar (who contributes a nice buffo element) and Vito Priante as Don Fernand d'Aragon. But it is perhaps the conducting that is most spectacular. Sir Mark told me in conversation once that "an act is a piece of music, it's not a series of little shreds and patches, but it can often appear that way if the conductor doesn't organise all of the individual parts into a whole" but that, if done well, "everybody feels the inevitability of it." And it is that sense of overarching command, as in his Opera Rara Semiramide (also linked to in the purchase links below) that characterises Elder's conducting of this repertoire and gives it such a sense of command".
So, to provide a synopsis from my review of the live performances from which this set is taken, L'Ange de Nisida is indeed set in Nisida (an island off Naples) and in Naples itself, in 1470. At the heart of the plot is miscommunication. Don Gaspar is a kind of self-proclaimed 'fixer' (think Don Alfonso in Mozart's Così fan tutte), the only one really with a clue what's going on, while all other characters exist in varying degrees of ignorance of their surroundings. Sylvia, known as the Angel of Nisida for her charitable leanings, and mistress to the King, is worshipped by the young soldier Leone, who has fled to Nisida from the court of Naples. Nothing can unfurl simply as this is after all 1470 and the Church, headed by the Pope, meddled in everything. Cue an arranged marriage for Sylvia to none other than Leone (so Sylvia thinks, erroneously, that Leone is not in fact infatuated with her), a jealous King, a furious Pope threatening to send Sylvia to a nunnery if she marries Fernand, public humiliation for Leone, and a last-minute reconciliation when all becomes clear to the lovers, immediately prior to Sylvia's collapse and death.
The "semi" of "semi-seria" in the opera's designation allows in space for comedy , in the shape of Don Gaspar (his act one "Or ça, vous ignorez quelle est cette étrangère" brilliantly characterful from  the experienced Lauren Naouri for Elder). But what beauty there is in the first act duet between Sylvia and Leone, "Ô douces fleurs":
Choruses and ensembles are particular highlights. Try this chorus, "Le ciel a béni l'étrangère" (Heaven has blessed the stranger);

Joyce El-Khoury, a stalwart of Opera Rara, surpasses anything I've heard her in before as  Countess Sylvie; David Junghoon Kim, a familiar face at the Royal Opera, Covent Garden, is every inch her equal as Leone, with Vito Priante excellent, too, as Don Frenand.
... and here's the final chorus/ensemble, the opera's closing four minutes, under Elder, who controls the tension perfectly to the end:
... and it is those final moments that can form a link to the Bergamo DVD/Bluray - which exists in a sound-only version on an excerpts disc also from which we can hear these final moments for comparison:
You also can get a flavour of this, the World Premiere staged performances, through this video:
So World Premiere performance meets World Premiere staging head on. Although the Bergamo perforances were based on Candida Mantica's research and indeed its documentation is fascinating (an essay by her, plus a transcription of a conversation between  Mantica, the conductor, Jean-Luc Tingaud and the director Francesco Micheli), there are subtle differences between the two.
Micheli explains some of the idea in his staging, too - sheets of paper scattered around the flow represent the diea of the music's fragmented sources "as if they were an island". Micheli uses his space well (they use the parterre, with the audience around them).
While the cast might not be the equal of Elder's, it's not far off. I'm particularly taken with the expressive Leone di Castaldi of Konu Kim, while Lidia Fridman's Sylvia gives El-Khory's a run for its money, particularly in her character's final moments of life.  
The staging is imaginative, but chorus and orchestra triumph in the Opera Rara set, particularly in terms of accuracy of ensemble betweem the two. But how can we quibble? To have these two at our fingertips is luxury indeed. Get both!