Anima Rara: Ermonela Jaho's tribute to Rosina Storchio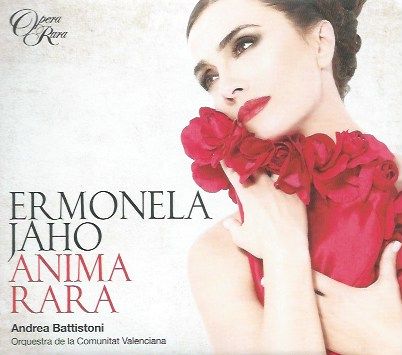 Part of "Opera Rara at 50," (2020 marks the label's fiftieth anniversary) this is an exemplary example of how an intelligent idea behind a vocal recital results ini a listening experience that is both cogent and stimulating.
Albanian soprano Ermonela Jaho is well-known in the UK, particularly for her singing of the role of Violetta in Verdi's La Traviata. She also sang in Opera Rara's recording of Puccini's Le Willis under Sir Mark Elder, which Classical Explorer reported on here. This is, astonishingly, Jaho's debut recital disc and was recorded in Valencia with the Orquestra de la Comunitat Valenciana under Andrea Battistoni. The connecting thread between the pieces is the Venice-born Italian soprano Rosina Storchio (1876-1945), whois perhaps best remembered as the creatrix of the role of Cio-Cio San in Puccini's Madama Butterfly in 1904 at La Scala. Composers such as Umberto Giordano, Ruggero Leoncavallo and Pietro Mascagni all admired her and she sand in the premieres of Siberia (Giordano), Zazà and La bohème (Leoncavallo) and Lodoletta (Mascagni). In the early 1900s, Storchio was a prima donna at La Scala, championed by Toscanini. In 1904 she extended her already international career to Latin America.
This is not Jaho's first experience of Opera Rara: she recorded her first studio recording in 2015, singing the title role in Leoncavallo's opera Zazà (link below). But how this recital works; the more one listens, the more one learns. "Anima Rara" is the title: "Rare Soul". It applies to Storchio, for sure, a pure lyric soprano of remarkable gifts; but perhaps it applies to Jaho, also. We begin with the familiar, Puccini's "Un bel dì" from Madama Butterfly. One's mouth can only water at the opening night of this opera: not only Storchio as Butterfly, but a cast that included lead tenor Giuseppe Zenatello (and there are plenty of recordings from that singer to explore, too) and baritone Giuseppe de Luca.
Leoncavallo's La bohème actually has two arias extracted, the vivacious "Musette svaria sulla bocca viva" and one in which we can descend to our knees and pay homage collectively to the gods of the interweb, for how else can we rustle up the original, Rosina Storchio herself, and set her recording against Jaho's. In fact Opera Rara do this for us in the following video, replacing Storchio with Jaho about half way through:
But one should really hear Storchio complete (I have a feeling Ermonela Jaho might approve), so here she is:
Perhaps Pietro Mascagni is the very incarnation of the Italian opera style known as verismo opera: as raw and real as it comes. His opera Iris was once known as "the other Japanese opera" (the otehr being Butterfly). Iris in toto is a real gem, while the storyline really pulls at the heart-strings: you can find a précis of the story, in my review of the June 2016 Holland Park performance  of Iris (oh, how Opera Holland Park was missed this year!).
It is so good to see Massenet represented here. Here at Classical Explorer one of our early posts was on the Chandos recording of Massenet's Thaïs; here it is Sapho we hear, an even less known example of his stage output. Jaho's voice soars gloriously at the arias's close. Another tale of a fallen woman (as in Violetta, Mimì and so on), it is simply magnificent. As is the far better-known "Adieu notre petit table" from Massenet's Manon:
Just as Storchio was associated with Violetta in  Traviata in her time (second only in importance to her Cio-Cio San), so has Jaho revealed a real affinity for the role in ours. This is part of the  final act, the opera's great and infinitely touching finale. To get a taster as to how much Jaho lives this role, here she is at the Royal Opera, Covent Garden, in Richard Eyre's well-used production:
It is Madama Butterfly that bookends the disc, signing off with "Con onor muore ... Tu! Tu! Piccolo iddio," but the final excerpt from Jaho's disc (stay tuned, there's more to come, though) should perhaps, in the spirit of Classical Explorer's mission of curiosity, go to one of the lesser-known items. Mascagni's L'amico Fritz, an opera set in Alsace, contains the miniature gem of "Son pochi fiori?". Listen to the care of the orchestra's phrasing and the sweet fragrance of Mascagni's harmonies in the postlude, too, expertly shaped by the conductor, Andrea Battistoni:
Opera Rara was founded in 1970 by Patric Schmid and Don White, initially with the intent of documenting all of Donizetti's operas through recordings and if needed new performing editions (the simply stunning recording of Donizetti's L'ange di Nisida under Sir Mark Elder a prime example of this). While Elder was at the helm, the repertoire expanded into French grand opera and operetta as well as Italian verismo. Now headed by Carlo Rizzi, we already know of an upcoming Donizetti rarity, due July 2021 of Il furioso all'isola di San Domingo in a new performing edition, and starring Albina Shagimuratova (who has already shone in Opera Rara's amazing recording of Semiramide: here's my review of the 2016 Proms performance). There is also a recording of Donizetti's Il Paria, due early 2021, so the future is incredibly bright for Donizetti fans. I hope to report on both of those at the time of release, too.
One of the strangest phenomena of the internet - and one of its most welcome - is the explosion of interest in historical recordings. Companies like Pristine Classical offer streaming of historical recordings and downloads as well as physical copy, Naxos Historical has flourished and video sharing sites like YouTube are now treasure troves of early recordings. With that implicit invitation for the reader to go forth and explore, here's a relevant example. Rosina Storchio, again, this time on a Fonotipia recording with Riccardo Stracciari recorded in February 9, 1906, the gorgeous duet "Pura siccome un angelo" from Verdi's La traviata. Although this is an article about Jaho's disc, I'm sure she won't mind me signing off with Storchio herself - the disc is after all, about Storchio, and I hope you will agree that, even through the mists (and crackle) of time, this is stunning singing:
0Anima Rara is released today, Friday September 25, 2020, on Opera Rara.