Live Concert Review: Samantha Ege plays Florence Price and Kapralova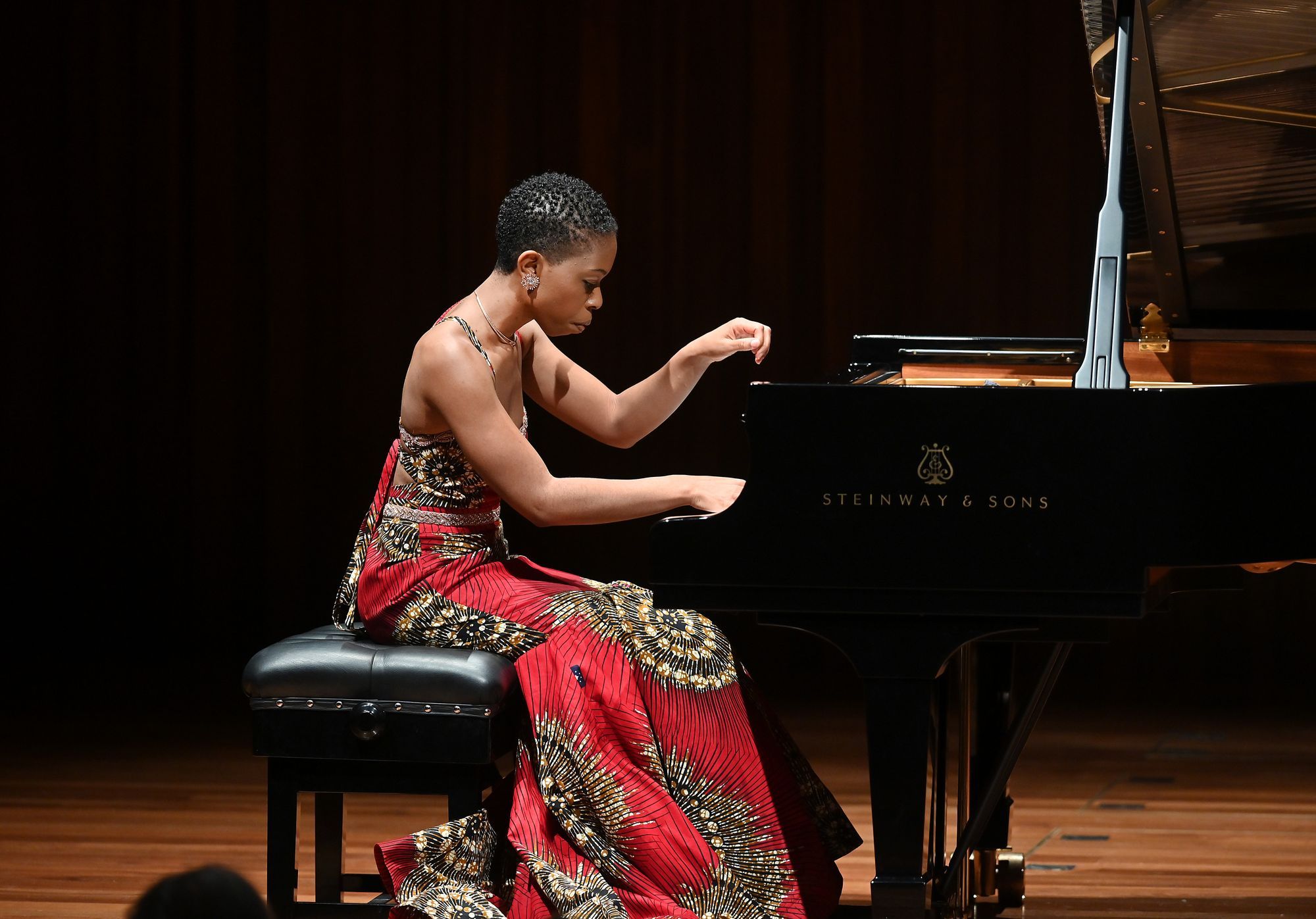 Fantasie Nègre: The Piano Music of Florence Price Samantha Ege (piano). Milton Court, Barbican Centre, London, 24.11.2021.
Florence Price Fantasie Nègre No. 4; Fantasie Nègre No. 3
Margaret Bonds Spiritual Suite
Florence Price Fantasie Nègre No. 1
Vítêzslava Kaprálová   Sonata Appassionata, Op. 6 (UK premiere)
Florence Price    Fantasie Nègre No. 2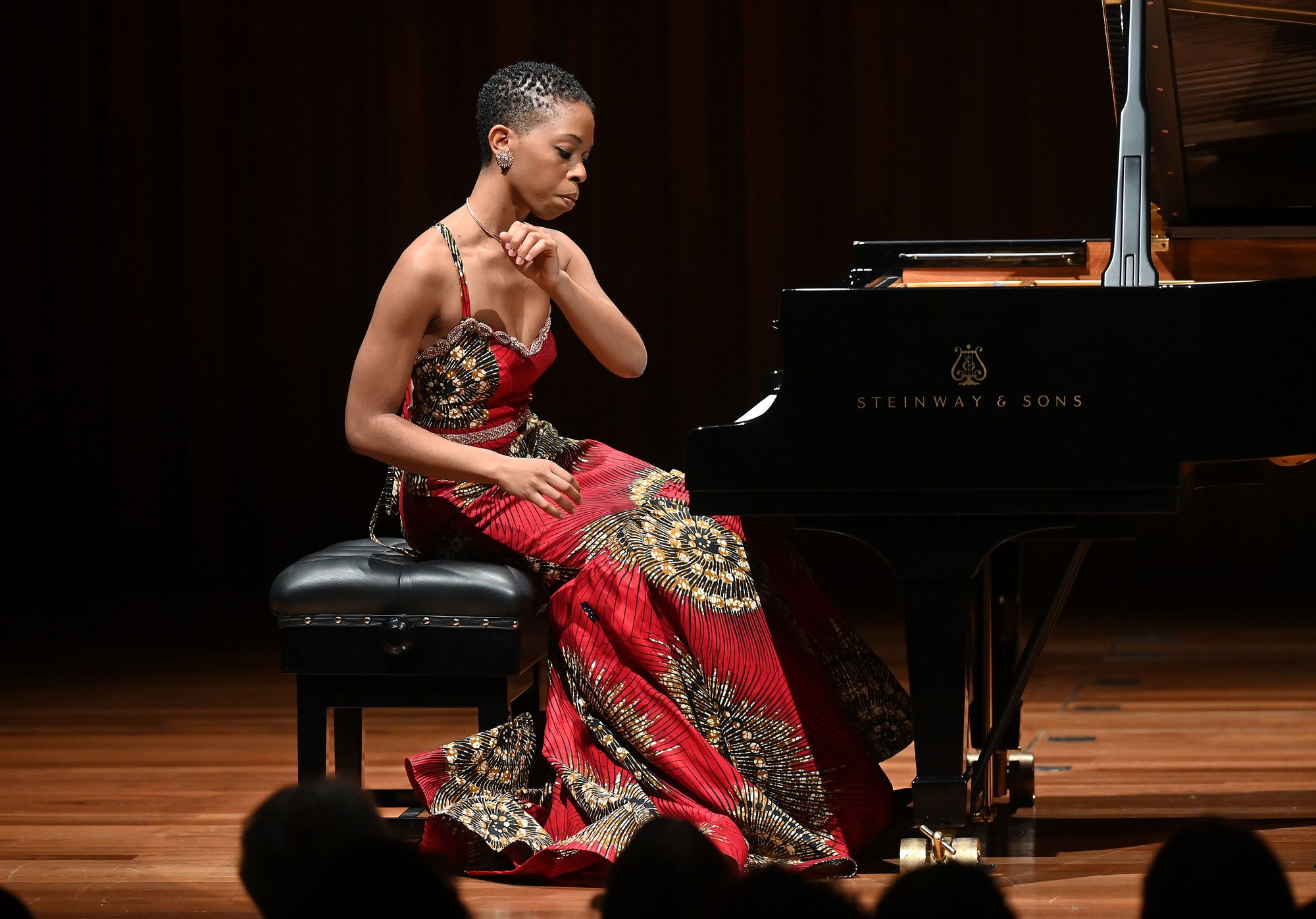 This was a fabulous opportunity to enjoy the four Fantasies Nègres of Florence Price (1887-1953) performed by a notable authority on her music. Dr Samantha Ege is that rare phenomenon of which I wish there were many more, a performer-scholar who marries fine pianistic ability to informed research resulting in finely-honed performances born of deep study and analysis.
My post on Dr Ege's Lorelt disc of music by Florence Price is here.
The programme reflects in part the Black Chicago Renaissance that took place in the first half of the 20th century. The "South Side" of Chicago was a Black metropolis. It was in 1933 when the Chicago Symphony Orchestra premiered Price's First Symphony in E minor, the first time a major symphony orchestra had performed a major work by a black female composer. A network of black women composers existed in inter-war Chicago, including Nora Holt, Betty Jackson King and one of the composers featured alongside Price in this recital, Margaret Bonds. It was this last, Bonds, whose living space acted as a meeting place, a salon, a rehearsal space and a place of refuge for musicians active at this time.
The Fantasies nègres of Florence Price were recorded by Samantha Ege for Lorelt recently, while part of the Margaret Bonds Spiritual Suite appeared on Ege's first album, Four Women (on Wave Theory Records). Price's pieces offer a blend of African-American song with the nineteenth-century virtuoso fantasy/fantasie/fantaisie form. There are four of them, which lend themselves nicely as the framework of a recital (in the same manner as Chopin's four Scherzos or Ballades do, for example).
The first to be heard here was No. 4 in B minor. The sound Ege extracts from a piano, it should be noted, is deeper and richer than the Lorelt recording implies; this enables her to penetrate to the core of warmth that is held at the heart of many of the Spirituals Price includes in her musical lexicon. Ege's pedalling is noteworthy, also: there is no blurring at all and yet she uses it to conjure up just the right atmosphere. She also knows how to make the inclusion of this music with in what is effectively a post-Lisztian form work: the whole was well-shaped and formally disciplined within which Ege found plenty of space for emotion. Particularly impressive was the way single lines spoke volumes (a gesture that also recurs in other of the Fantasies).
The Third Fantasie nègre (F minor) opens in grand, dark fashion, the opening beautifully delivered with a perfect awareness of Price's voice-leading. Ege's move from one mood to another seemed even more chameleon-like than in her Lorelt recording (and there was even more character live, too).
Fascinating to hear a piece by Margaret Allison Bonds, the Spiritual Suite. Usually only one movement is excerpted from this 'Troubled Waters'), although the first, 'The Valley of the Bones,' has been recorded by Lara Downes. Bonds (1913-1972) came from a musical family: her father wrote a book entitled Noted Negro Women: Their Triumphs and Activities, while her mother was a musician. Bonds studied with Price (who was a close family friend and who actually stayed in the Bonds household at one point) and William Dawson; later, she went to Northwestern and Juilliard (where she encountered Roy Harris). Of her works, her Three Dream Portraits has possibly been the most successful on record. The slow, bell-like 'Valley of the Bones' (heard first here) has a nicely jazzy feel to it, while exhibiting symphonic tendencies, almost as if it wanted to escape the confines of the piano. The somewhat Debussian 'The Bells' led to that 'Troubled Water' in the finest performance I have heard. Ege's way with the supporting rhythm established at the outset was most charming - slinky even - but she found a compelling level of urgency as the music unfolded, all supported by some fine bass definition. Price's First Fantasie Nègre (E minor) closed the first half. Ege is completely inside this music, which lends her performances a particularly convincing quality; she particulay seems to revel in the moments that Price seems particularly exploratory, of which there are several examples in this first Fantasie.
The second half began with what was billed as the UK premiere of Kaprálová's Sonata Appassionata, a two movement work featuring a Maestoso followed by a Theme and Variations. Ege has recorded this piece, though, as has Virginia Eskin on an all-Kaprálová disc on Koch from 2008 which includes also one of Kaprálová's finest works, the April Preludes. Kaprálová (1915-40) enjoyed a close musical relationship with Martinů, who in her later years in Paris became something of a mentor figure as well as colleague. Written in 1933, the Sonata appasionnata boasts a passionate first movement (with parts decidedly Janáček-like, particularly in the left-hand writing); the theme of the second movement is absolutely charming, imbued with wistfulness and perfectly Czech in nature. Ege gave it almost as a waltz before embarking on Kaprálová's fluid set of variations. The writing, from spread chords to angular strict imitation, is brilliantly managed by the composer. I wonder if it was the piano Ege was using that led to the deep bass lacking somewhat in resonance. Nevertheless, a fine performance of a piece that demands to be heard more often  …
A couple of suggestions, then, before we return to Price. The Studio Matous Portrait disc of Kaprálová is well worth seeking out (see my 2004 review here); as is a 2003 Supraphon disc of Kaprálová songs (see here). The wesbite http://www.kapralova.org/index.htm is a veritable cornucopia of information.
Finally, Florence Price's Fantasie Nègre No. 2 in G minor in a performance of great vision. The quasi-extempore opening carried gravitas conveyed through some simply magical textures; the emergence of the Spiritual theme around a minute in was exquisite.  The choice of the second Fantasie as the final item was perfectly judged, given its muscular climax and scintillating virtuosity.
Last year, Janeba Kanneh-Mason performed Florence Price's Piano Concerto in One Movement at the Proms (see my review here). One really does hope that Florence Price's time is now and that his interest in and performance of her music will continue.
Samantha Ege's Lorelt disc is something of a must-have in its persuasiveness. Florence Price emerges as the great composer she really is, and how wonderful it was to see such an enthusiastic audience at Milton Court. A great evening.
Incidentally, I've included some links to discs mentioned in the artile, available at Amazon at widely different cpices. The Kaprálová Portrait disc is over £25 for a sungle disc, whle the Supraphon Kaprálová Songs is a snip at a fiver!
Photo credits:
Mark Allan/Barbican