Revelatory Legrenzi: 'Compiete,' Op. 7
This is one of the most significant Baroque releases I have come across this year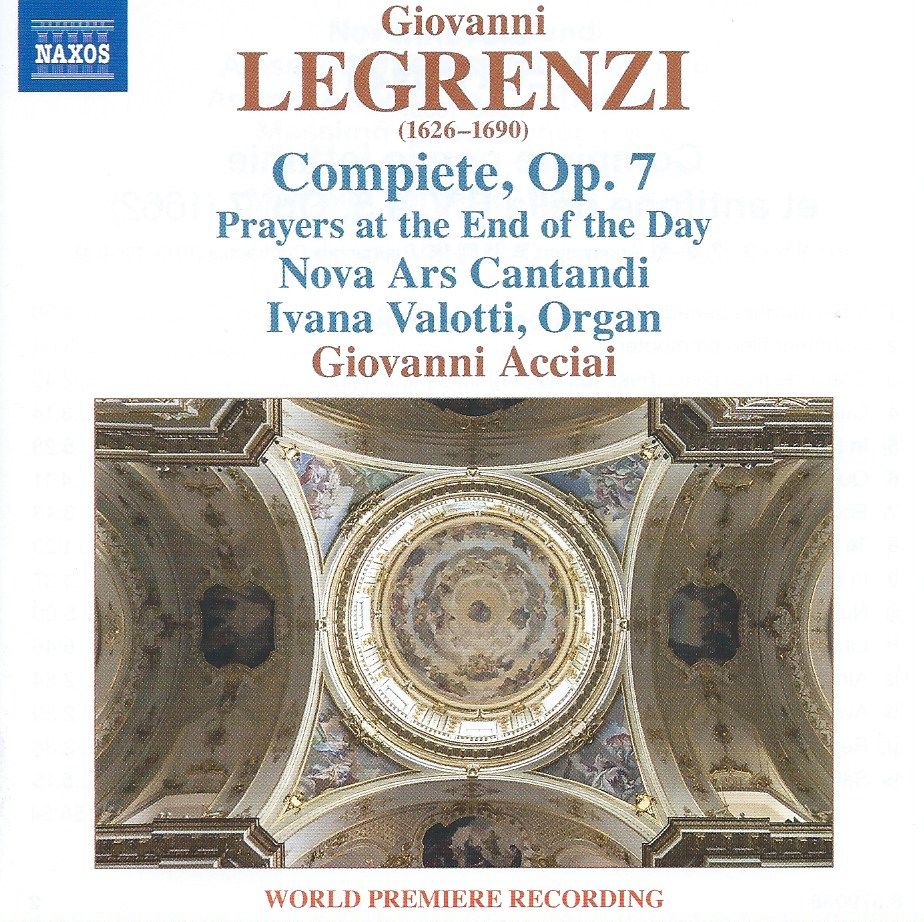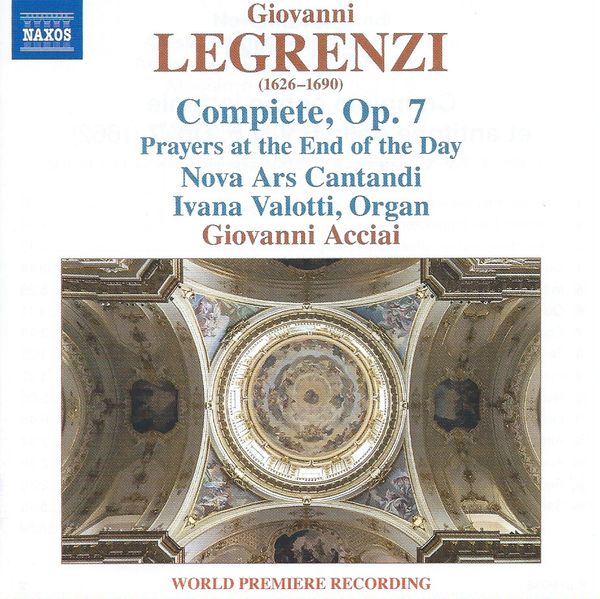 "Compline" is the final prayer in the monastic day. It is unsurprising that such a moment should be honoured by composers with music of radiant beauty; what is surprising is that this performance of, to accord the work's full title, Giovanni Legrenzi's Compiete con le lettanie et antifone della B. V. a 5, Op. 7' is a World Premiere recording. This is music of freshness and evotion, shot through with profound spirituality and (thankfully, given the World Premiere status this disc enjoys) heard in a performance of the utmost beauty.
Let's have a look at the composer first of all. Giovanni Legrenzi (1626-1690) rose to be one of teh most prominent Venetian composers (he was norn near Bergamo, which was then part of the Venetian Republic). Although his career began in Bergamo, he moved to Ferrara in 1656, where he became maestro di cappella at the Academy of the Holy Spirit (his Op. 7 dates from this period: it was written in 1662). Some of the details of Legrenzi's life are lost in the mists of time, but we know he was active in Venice by 1670. He nearly succeeded Cavalli at San Marco in 1676 (the composer Natale Monferrato was the one who got the coveted appointment); Legrenzi became vice-maestro at San Marco in 1682, achieving the Maestro di capella post at San Marco in 1685. He certainly taught Vivaldi, and possibly Caldara, while his cantatas influenced Alessandro Scarlatti.
Today, Legrenzi is perhaps best known for his instrumental music, but this disc implies we should be looking elsewhere. Certainly I got that impression when I was privileged to attend a performance of Legrenzi's wonderful, funny La divisione del mondo (1675) in February 2019. You can read my review; plus an interview I enjoyed with Christophe Rousset around that performance. Also, listen to the most famous moment from that opera, the deliciously beautiful "Lumi potet piangere", here in a performance directed by Thomas Hengelbrock:
Just wait until you hear this new Naxos recording tbough, with the five voices of Nova Ars Contandi (SCTTB) in magnificent form, along with Ivana Valotti on organ; director Giovani Acciai seems to find the perfect tempos throughout. Legrenzi sets texts from the Bible, some anonymous and some from "Hermannus Contractus" (1013-1054). The title acually means "complines": in the collection, Legrenzi gives music for both liturgical and non-liturgical use.
Try this slowly-unfolding "Salve Regina":
Written according to the new stylistic freedoms of Monteverdi's "Seconda pratica" (Second Practice, in which the strict rules concerning dissonance and counterpoint of the "Prima pratica" were relaxed somewhat), Legrenzi ensures that the meaning of the words is perfectly honoured. Most of the work is in the so-called concertato style (alternating solos and group), and Legrenzi's counterpoint is progressive for its time, representing the so-called "nuova musica" (new music). Yet he uses the older style ("style gravis") for some fugato passages. So much, so technical; the point is that this is a massively varied work of heart-melting beauty. Just listen to the mircaulous interactions of voices in this "Ave, Regina":
A rather nice complement to this disc would be Legrenzi's Sonate e Balletti (Venice & Bologna, 1655-73 and 1691) by the Ensemble Clematis on the Ricercar label; or the Testamentum disc on the Dynamic label, which includes both instrumental music (the Trio Sonata, "La spilimberga,' which includes a short central Adagio of heavenly beauty) and the lovely Missa quinque vocibus, 'Missa lauretana'.  
But do hear this Compiete; this is one of the most significant Baroque releases I have come across this year and, being perfectly honest, it presents the truest distillation of  the beauty of Legrenzi's music of all the listed releases.