La Voce Sola: the music of Barbara Strozzi
Superb performances throughout of music of infinite depth and emotion by a truly great composer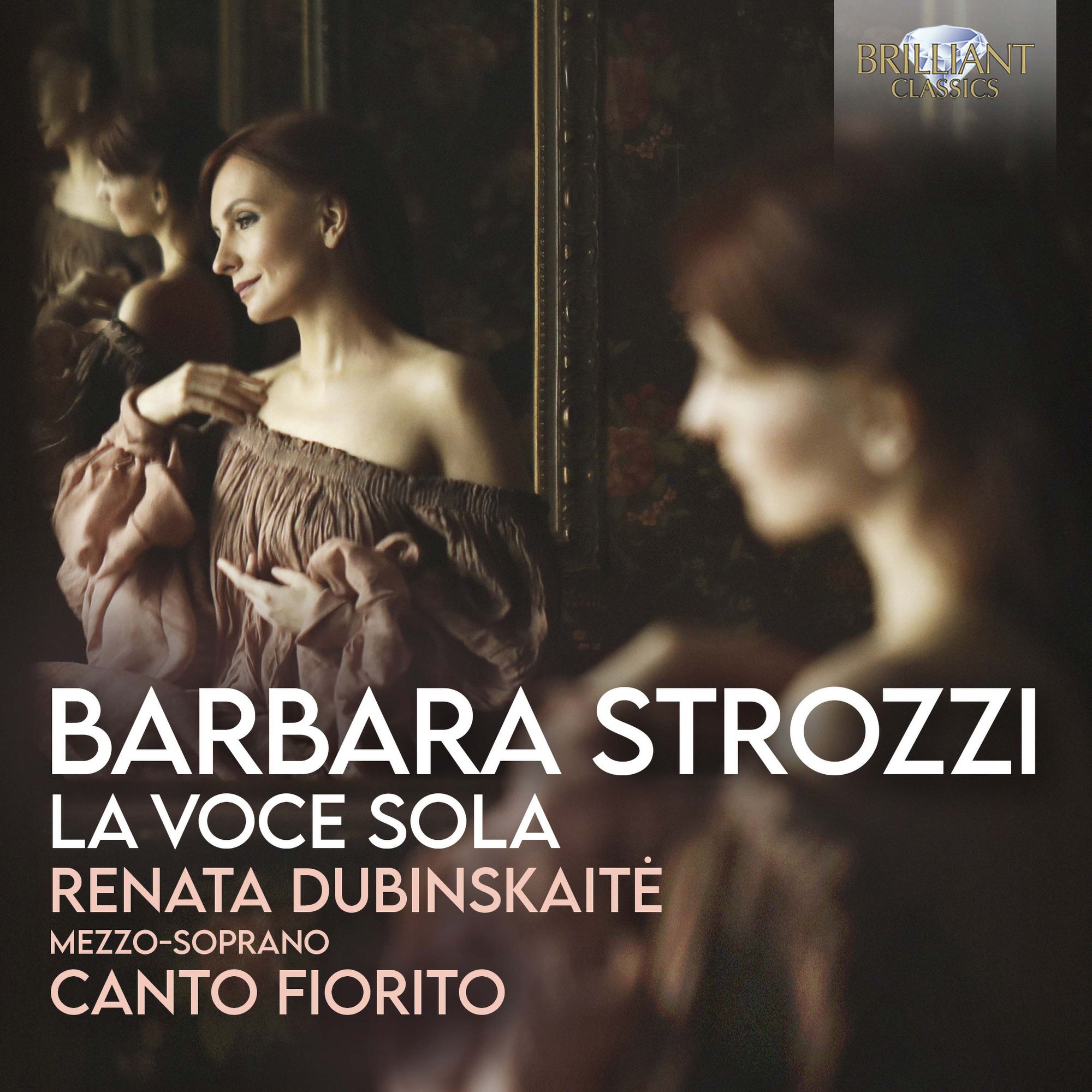 STROZZI Cantate, Ariette e Duetti, op. 2: L'amante segreto; Tamata da chi amava. Cantate, Ariette a Una, Due e Tre Voci, op. 3: Moralità amorosa. Sacri Musicali Afetti, op. 5: O Maria, Quam Pulchra Es. Arietti e Voca sola, op. 6: Parla alli suoi pensieri; Non vuole amar più. Diporti e Euterpe, op. 7: Lagrime mei; Sino alla Morte. Cantata à voce sole di Diversi Auttori:  Hevete Torto. Arie, op. 8: Che si puo fare
Released as an "homage" to Barbara Strozzi (1619-1677), this disci is entitled "La Voce Sola," a reference to the fact that most of Strozzi's output is for the solo voice
Mezzo Renata Dubinskaitė, who is also artistic director of this project, has a miraculously pure voice that is capable of a huge variety of emotion. The disc begins with "L'amante segreto," whose first line ""Voglio, voglio morire" (I just want to die, in the translation given in the booklet) sums up the prevailing Affekt here:
Strozzi's harmonic workings are notably profound, and the continuo projects the dolorous nature of the music just as much as the voice (Juan Manuel Qiuintana, viola da gamba, Diego Cantalupi, theorbo and Davide Pozzi, harpsichord/organ); throughout the disc, Rodrigo Calveyra adds color with contributions on the cornetto and recorder. The eloquence of the instrumental group matches Dubinskaitė's flexible phrasing as well as the drama she can create. Strozzi's op. 2 was first published in Venice, in 1681 (she was to publish a total of 125 works).
The obbligato cornett contribution to "La riamata da chi amava" (The former lover's revival of love), courtesy of Calveyra, is incredibly eloquent; it almost acts as a spur to the florid nature of the vocal part in this cantata.
The more buoyant "Moralità amorosa" (Love's Moral: that beauty, and life, are transitory in nature) finds its own complement in "O Maria, quam pulchra es" with its organ continuo, an extended meditation on the Divine Feminine, sung in heartfelt fashion (and with great vocal flexibility on the final, florid "Alleluia"). Here's the latter:
It is in lament that Strozzi seems to be at her finest, and "Parla alli suoi pensieri" is a glorious example, the rapid continuo reflecting the protagonist's inner turmoil. Many of the aspects of love (often painful!) are explored here, including a certain world-weariness in the ravishing "Non vuole amar più" (Doesn't Want to Love Any More);
... but perhaps most memorable is "Lagrimi mie, Lemento" (My Tears, Lament) with its extended sighs and its fabulously effective chromaticisms. In a disc of gems, this is the one that is polished the finest. Dubinskaitė's voice is perfect for this: her expression is perfect (just a touch of expressive vibrato at the end of sustained notes); and how active she is in the more active "Havete torto" (You are mistaken).
By far the most extended piece on this disc is "Sino alla morte" (Until Death), which at nearly a quarter of an hour allows total immersion in Strozzi's world. Her expressive vocal lines are complemented by her skill in the continuo (partially thanks to Canto Fiorito's realization, I am sure). There are some moments that are positively dizzying, and some moments where the music dances infectiously (Calveyra on recorder helps enormously here). A coda of sadness is offered by "Che si puo fare," low recorder adding to the prevailing gloom. The powerful simplicity of the ending is perfect to close the disc.
Superb performances throughout of music of infinite depth and emotion by a truly great composer. The recording is itself beautiful, as are the illustrations in the booklet (including a reproduction of the sole surviving portrait of Strozzi, by Bernardo Strozzi).
The booklet notes, by Renata Dubinskaitė herself, give a fine overview of Strozzi's life (and include a very useful list of relevant scholarly articles).  
We seem, incidentally, to be on a bit of a Strozzi roll here on Classical Explorer as this is the third post to feature her music: first, Sonya Yoncheva's disc Rebirth then, more recently, Helen Charlston and Toby Carr's new Delphian disc, Battle Cry.
Strozzi Dubinskaite (Amazon)