Giordano's Andrea Chénier in Milan: Netrebko and Eyvazov
This is Netrebko's show ... arguably her perfect partner here is the conductor, Riccardo Chailly, whose command of the orchestra is total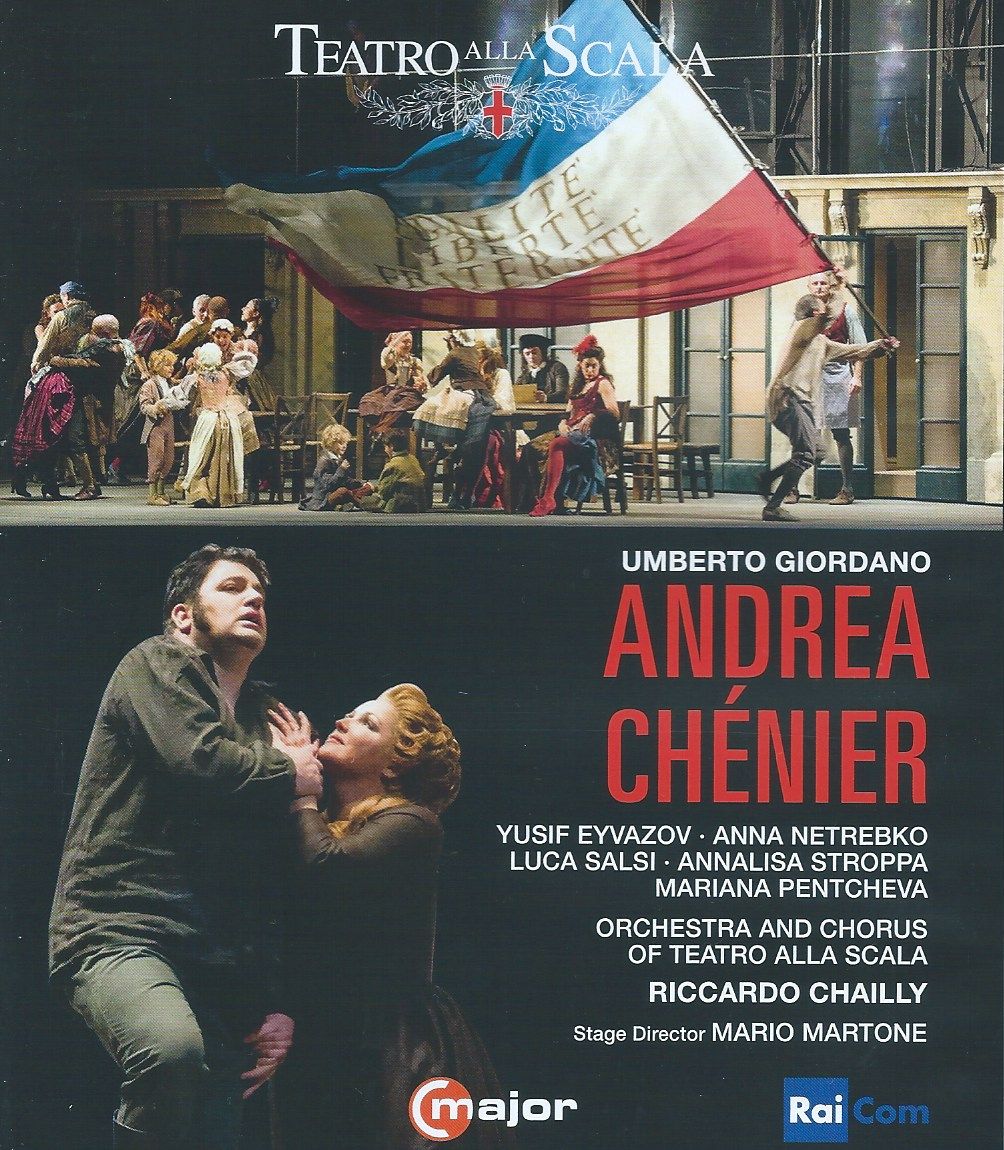 We return to the world of verismo again, after our recent Bohème post, our Cav & Pag and Mascagni's Iris, with Umberto Giordano's 1896 opera, Andrea Chénier. The stars gathereed - and some would say aligned - for this 2017 season opening at La Scala. Riccardo Chailly conducts; Anna Netrebko and Yosif Eyvazov take the main roles in this tale of a French poet executed during the French Revolution.
Giordano's opera is set just outside Paris in 1789 (act 1) and 1794 (acts 2, 3 and 4 in various locations, ending in the St Lazare prison). Romantically, it centres around Madellena, daughter of the Count and Countess de Coigny (Netrebko) and her entanglement with the doomed poet, Andrea Chénier; she is, though, worshipped from afar by Carlo Gérard, the Major-Domo of the Countess' palace.  All this is set in the throes of the French Revolution.
Girodano's music has everything any verismo fan could wish for, deft at times, impassioned at others, and including references to gallant dances such as the act 1 Gavotta (a rather pleasant ensemble dance here, although perhaps the overhead cameras are a little dizzying) and its huge musical contrast to the glrious opening of the second act, here emblazoned by the waving of a huge French flag. Giordano conveys both ancien régime and  revloutionary fervour brilliantly in this opera.
There is no doubting that this is Netrebko's show; her voice is perfect for the part, and arguably her perfect partner here is not her real-life husband Yusif Eyvazov, but the conductor, Riccardo Chailly, whose command of the orchestra is total. Her third act "La mamma morta" is the epitome of verismo, gripping on every single level:
It is a bit of a pity that the big names tend to eclipse other roles in commentaries generally; the part of Carlo Gérard here is taken by the stunning Luca Salsi, whose stunning voice has huge power, both in projection and in emotive terms. That's not to say Yusif Eyvazov is in any way sub-par; he is on fine form for his impassioned act 1 "Un dī all'azzurro spazio":
Eyvazov is nicely strong again at "Credo a una possanza arcana"; in duet with Netrebko in the second act, vocally the sparks fly (although perhaps surprisingly they don't too much on an interpersonal level). Here it is, "Ecco l'altare... Ora soave":
As an "intermission" of sorts, here's a link to the first two acts (which is exactly where the interval was at Scala) although the experience is obviously far superior via the professional final product.
Salsi it is who comes into his own in the third act, a remarkable solo scene, "Nemico della patria?":
All of the parts are well taken: Judit Kutasi's Madalon has particular weight (and beauty). If you're after a full staging on DVD or Bluray of Chénier, this would be a fine choice.
As the drama heads towards its conclusion, it is perhaps Chailly who gains most laurels, capturing the darkness of the opening of the final act to perfection.
Mario Martone's staging will please traditionalists and is full of spectacle; perhaps most poignant of all is the juxtaposition of the singing of "La Marseillaise" against the view of the gullotine in the final act, and the silhouettes of the very final moments (including hooded executioner).
I've included a link to the  November 1941 Scala performance on Naxos Historical, noteworthy for Beniamino Gigli as Chénier and Giulietta Simionato as the Countess di Coigny in a star-studded cast that includes Maria Caniglia as Maddalena and smaller roles inhabited by Italo Tajo and Giuseppe Taddei, no less (some highlights recorded between 1928 and 1935 fill out the twofer: see my detailed review here), as well as  a link to Riccardo Chailly's classic Decca recording with the twin heavyweights of Luciano Pavarotti and Montserrat Caballé.