Puccini La bohème at Covent Garden
A Bohème for the ages, then. Get it while you can; and if you've seen it at Covent Garden, this is the finest of momentos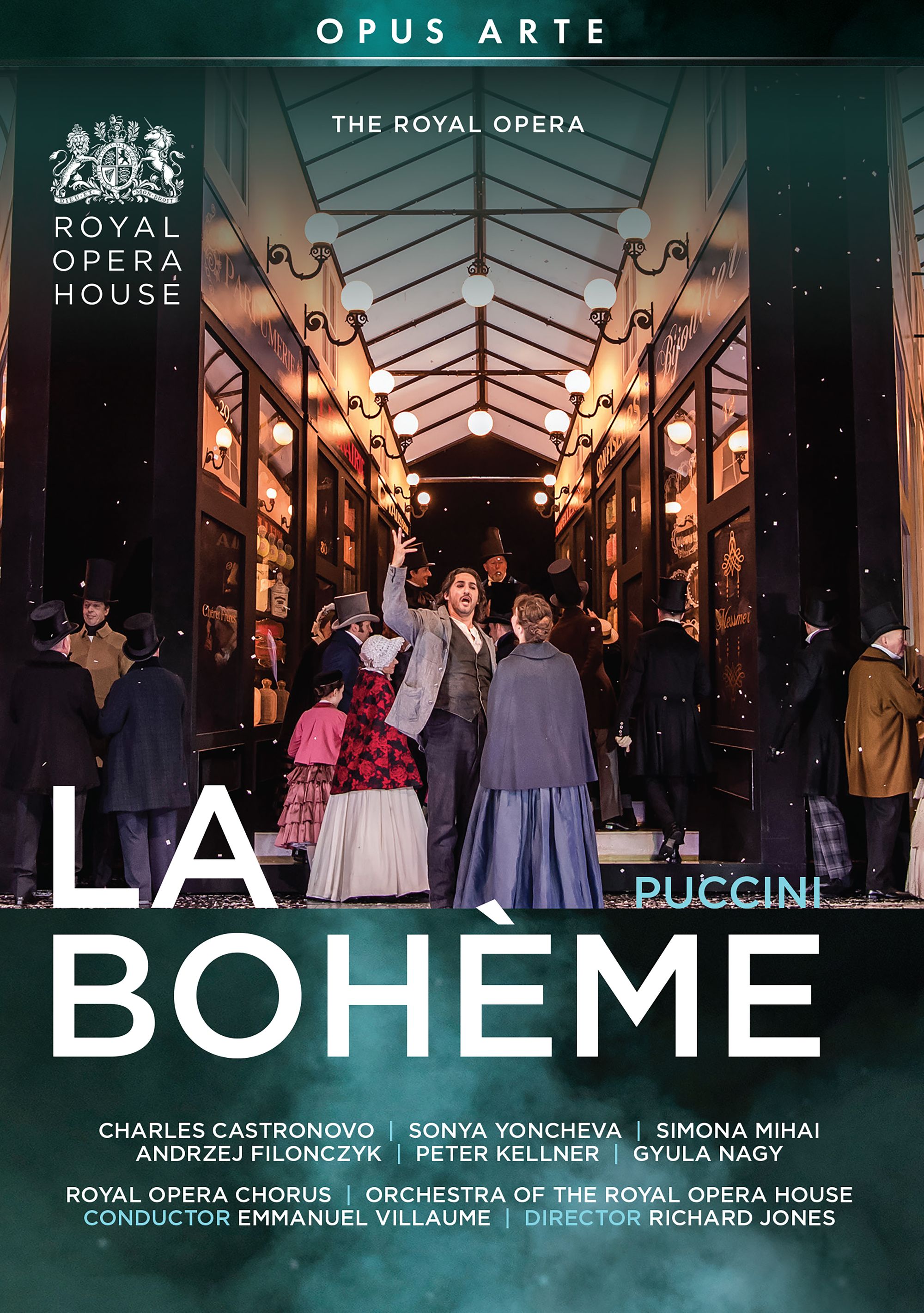 This is a production that has been around for a while, and justifiably so: Richard Jones captures the very essence of Puccini's verismo opera (this run was under Revival Directors Julia Burbach and Simon Iorio).  When I revewed it back in 2009 when it was conducted by Andris Nelsons, we got two Rodolfos for the price of one in one evening. Most recently, I attended a performance in the same run as Opus Arte's new DVD/Bluray that we're looking at today (I went on January 22, 2019; this one was on January 29). In the theatre, this most recent performance was magical; and it is testament to the filming that one feels just as gripped at home.
There are a couple of great extras to this DVD/Bluray: not something I always comment on but these are worthy of investigation. One presents the casts reactions to their roles, and the other is Sir Antonio Pappano introducing the opera brilliantly with both filmed examples and at the piano (he's not conducting the performance, that's the excellent Emmanuel Villaume).
In terms of verismo opera, most recently we looked at Mascagni's masterpiece Iris. When it comes to Bohème, though, we're at the heart of every opera house's repertoire. As you can see from the next excerpt, the beautiful "O soave fanciulla," with Sonya Yoncheva as Mimì and Carles Castronovo as Rodolfo, the setting of the bare garret in act one is perfectly judged, a spare space against which initially the hijinx of the bohemian residents can unfold and, where, later, Love (with a capital "L") blossoms:
The story hardly needs recapping: the love story between Rodolfo and Mimì, the comedic shenanigans with the landlord to get out of paying the rent, the coquettish Musetta, the degenerative nature of Mimì's illness, Rodolfo's later toxic jealousy and their final reconciliation just before her tragic death. It contains everything in opera, from farce to tragedy; all magnificently paced by Puccini.
While Jones' productions nails the settings of each of the four acts (the garret, The Latin Quarter, outside the Barrière d'Enfer and finally back to the garret), it needs to cradle within it the best of singers. We need a line-up that works as an ensemble (including chorus for the Act II scenes in The Latin Quarter of Paris) and we also need singers of star quality for their big numbers. It's quite a balancing act, and this is one of the rare occasions it's achieved.
Listen to the power of Sonya Yoncheva's Act III "Donde lieta usci":
... and here's Yoncheva with Andrzej Filonczyk as Marcello:
Yoncheva's Rodolfo, Charles Castronovo, is a Puccini tenor par excellence, his ardent voice best heard in full sail (his "Che gelida manina" was thrilling live and is scarecely less so in one's living room). But rather than give you a snippet, Puccini works best in big bursts so, as an extended taster of the RIchard Jones Bohème experience, here's Acts I and II complete (the video lasts just a touch under an hour):
Once you see it, you'll know why Jones' production is a Royal Opera staple; one really cannot get enough of it.
A Bohème for the ages, then. Get it while you can; and if you've seen it at Covent Garden, this is the finest of momentos.