Cav & Pag at Dutch National Opera; plus, the "other" Bohème
Oversized trousers, a dead chicken and broom-as-phallus ... it's got it all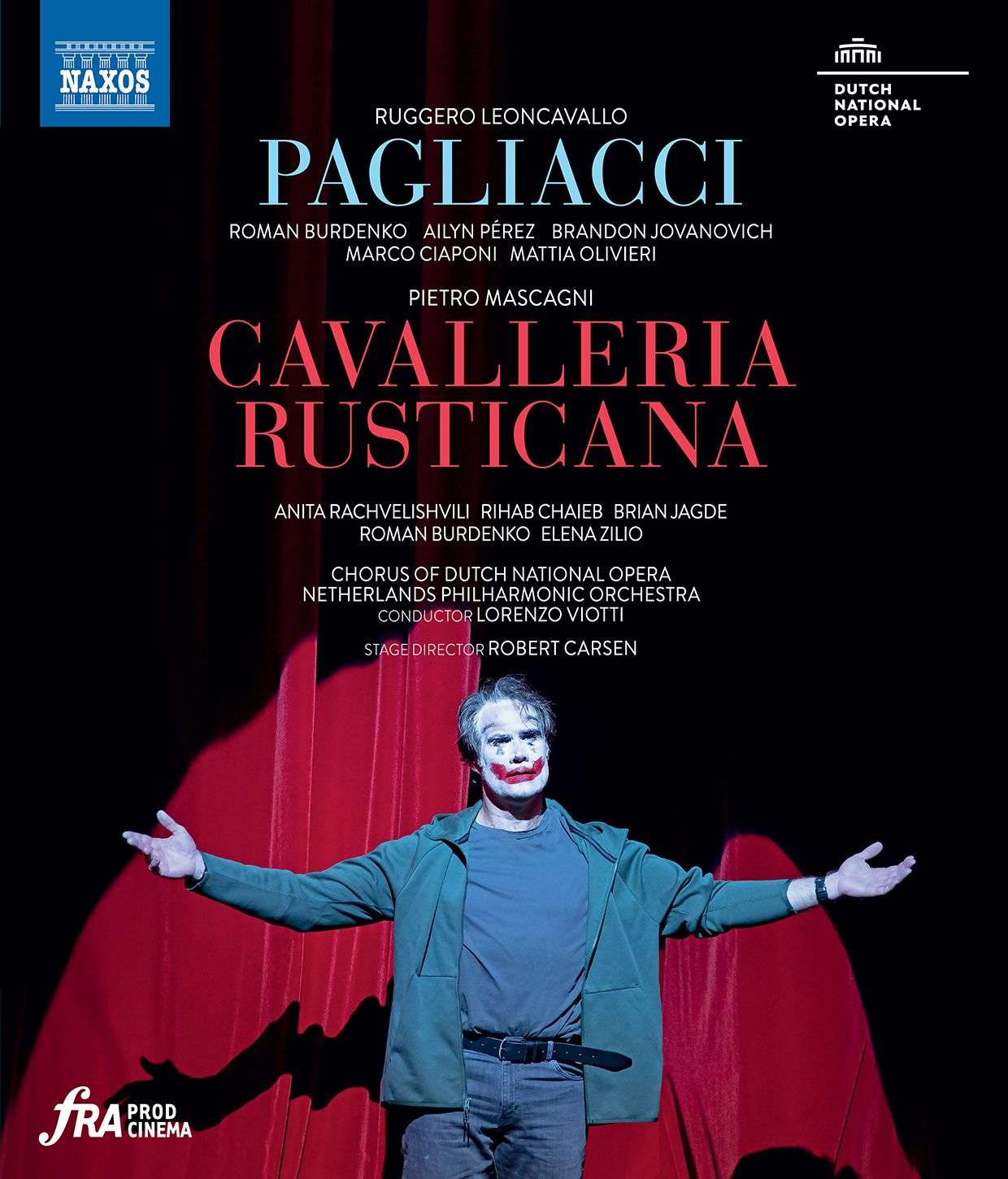 Previously, Classical Explorer went to the Dutch National Opera (on a virtual level, at least) for Stefano Landi's La Morte d'Orfeo (The Other Orfeo). Time to revisit DNO, this time at their main house for the time-honoured pairing of Cav and Pag (Mascagni's Cavalleria rusticana and Leoncavallo's I Pagliacci).
The conductor is Lorenzo Viotti, who took over as Principal Conductor of the Netherlands Philharmonic Orchestra (also the pit orchestra at DNO) from Marc Albrecht in 2019, and who is clearly a conductor of talent. This was actually Viotti's house debut, and he was standing in for an indisposed Sir Mark Elder, but one would never guess it, the orchestra reacts with pinpoint precision to his direction.
Here's the trailer:
Robert Carsen's take is individual, certainly (as was his  Verdi Falstaff at Covent Garden in 2018), and begins by presenting Pagliacci first (traditionally, it's Cav); and there's a twist at the end, too, more of which anon. There are no atmospherics for the settings of the two opera, no costumes that place the action in a particular time period. But there are surprises galore: after Roman Burdenko's Prologue ("Si può?"), we find that the first two rows of the audience constitute some of the chorus (which must have come as a shock to those in the third row if they weren't in the know!) . The major on-stage set is a theatrical dressing room with lights galore; but before that, we see evidence of the striking onstage colours that Carsen brought to the opening stages of the opera.
Soprano Ailyn Pérez, who shone as Micaëla in Barrie Kosky's Carmen at Covent Garden in 2019, is the idea Nedda. A voice fully equipped for the role and exuding smouldering stage presence, her every gesture, her every phrase, is compelling. Luckily she has a convincing Canio in Brandon Jovanovich (see my review of the Covent Garden original 1934 version of  Lady Macbeth of Mtsensk). The Silvio is Mattia Olivieri, a perfect vocal match for Pérez. Their duet "Tutto scordiam" (Let's forget everything) is the epitome of their chemistry; how believable is Canio's anger as he discovers her infidelity, shown in graphic terms. But maybe the high point is Jovanovich's "Ridi, Pagliaccio"; one can hear him taking his voice deliberately to extremes, and it's thrilling. There's something manic about the way he paints his smile on in the orchestral postlude; this is a true reflection of what bloodthirsty verismo is all about.
The stage-within-a-stage trope allows us to see the troupe at work; and what a musical show it is, the orchestra full of play, until the grizzly dénoument comes into view. Oversized trousers, a dead chicken and broom-as-phallus all adds to the fun, but it all has a sense of dread about it; the descent into violence is expected but none the less shocking.
Pagliacci was the one opera I saw since March 2020 live in the UK (at The Grange, with reduced orchestra and chorus); Carsen's full-blown production is sensational.
And that surprise ... Pagliacci ends but "la commedia" is not quite "finita" as Canio claims in the opera's last words. We then hear - and see the orchestra - in the beautiful Prelude in which we get to admire Viotti's fluent baton technique. In a heart-stopping moment, Turiddu (Brian Jagde) sings his offstage "O Lola!" to the exact same scene that closed Pagliacci. There lies End, bloodied, dead, the chorus immobile, in shock, their expressions frozen in time. Only the full-on re-entrance of the orchestra after Turiddu's song allows life and the stage to clear and we start to adjust to Mascagni's score. Yet the lit mirrors return as the chorus puts on its make up and prepares in full view.
Elena Zilio is a massively powerful  "old lady" Mamma Lucia; but Georgian mezzo Anna Rachvelishvili's Santuzza is every inch her equal.
The Chorus of the Dutch National Opera is spectacular. Let's hear them, along with  in the "Easter Hymn" (Regina coeli) in which we get to see Dutch National Opera's Chorus Mistress, Ching-Lien Wu, conduct onstage and Rachvelishvili's voice cuts through the choir like a hot knife through butter:
Carsen's use of space immediately after is massively poignant. Santuzza and Mamma Lucia, what we would now call nicely socially distanced, are alone amongst a plethora of empty, functional chairs. There's nowhere for emotions to hide; the pageant is over (this is the famous "Voi lo sapete"); as the matriarchal figure, Mamma Lucia is fabulous. But the real star is Rachvelishvili, her long lines beautifully sustained, her lowest register full and strong, her upper reaches.
The Tonio from Pagliacci, Roman Burdenko, returns as Alfio, the eighth scene (with Santuzza) gripping, Burdenko's repetitions of "Ad essi non perdo" (Unfit for living) supremely powerful.
As a comparison, perhaps, maybe seek out Immortal Performances trio of performances of Cav on IPCD1082. Three performances, one with Lina Bruna-Rasa (the composer's own preferred Santuzza), the other two with  Dusolina Giannini and Giannina Arangi-Lombardi (you can purchase it from here; that page also reproduces my Fanfare review of that product in full). Here's a taste of Bruna-Rasa in Cav ("Voi lo sapete"):
... and just to whet your appetite for a future post, Classical Explorer will be reporting on a splendid Opera Rarities box from Orfeo which includes Leoncavallo's Bohème (you read that right: it also includes Guiseppe Gazzaniga's opera Don Giovanni along with Bizet's Djamileh, Dvořák's Armida, Fibich's Šarka and Massenet's Thérèse - with some simply fabulous singers). We'll start with a little on Leoncavallo's La bohème.
Like Mascagni, Leoncavallo doesn't deserve his fate as a one-horse operatic composer (see Classical Explorer's recent post on Mascagni's Iris). Premiered at La Fenice, Venice in 1897, Leoncavallo's La bohème didn't receive its UK premiere until May 1970!  This 1981 recording holds one big star: Lucia Popp, unsurprisingly in the starring role of Mimì. The tale is the same as Puccini's, as is the emotional trajectory of the opera (act one fizzes in both composer's hands, heading towards that tragic ending). Leoncavallo perhaps puts a greater emphasis on the isolation and loneliness post-act one though. Lovers of verismo will love this; UK readers will doubtless agree it screams Opera Holland Park.
I suppose seeing as this is Classical Explorer it is unsurprising that even in our short nine months or so of existence we have already encountered this opera. Where, I hear you ask?  On Ermonela Jaho's ravishing album Anima Rara, on which Jaho includes not one but two excerpts from Leoncavallo's take. And if you head over to that post, you can hear an excerpt that includes both Storchio and Jaho singing "Mimì Pinson la biondinetta".
And if you previously registered for your free 100 articles on JSTOR (we've referred to it once before), here's another one, John W. Klein's article The Other 'Bohème':
Klein, John W. "The Other 'Bohème'." The Musical Times, vol. 111, no. 1527, 1970, pp. 497–499. JSTOR, www.jstor.org/stable/956015. Accessed 13 Apr. 2021.
Klein tells the story of Leoncavallo's opera, including the composer's fatal error of waiting for the Puccini to premiere before unleashing his score on the World and thus opening himself up to accusations of plagiarism. Leoncavallo's Rodolfo is a baritone (Bernd Weikl), his Marcello a tenor (Franco Bonisolli), a reversal of Puccini's voice-types for those characters. There are extra characters: Barbamouche, a tutor of literature, Gaudenzio (the owner of Café Momus) and Colline is accorded his full name (Gustavo Colline). Do try the Spotify link below for the Leoncavallo Bohème; I really don't believe you will regret it.