French Duets
A decidedly Gallic pleasure garden of delights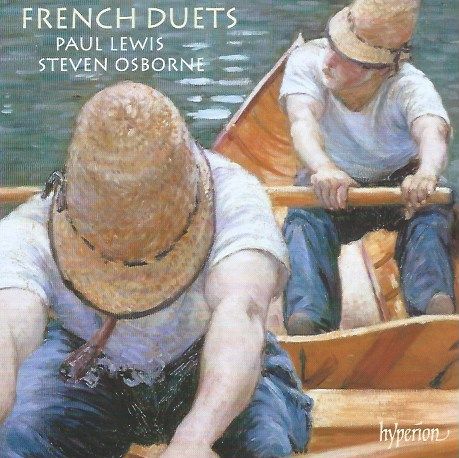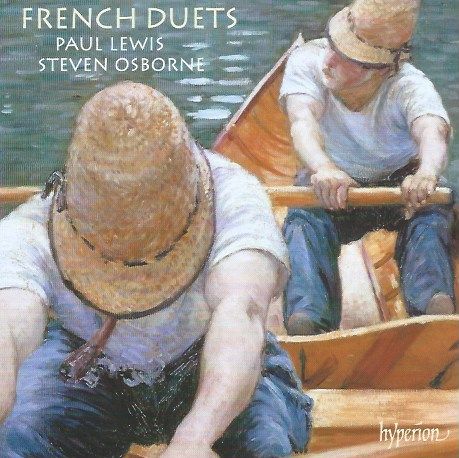 Perfect Sunday listening, and a francophile's paradise! And realistically, perfect listening for any other day of the week, too.
Any amateur pianist will find many familiar scores here. But to hear this music in performances of utter polish, high intellect (you'll hear detail you have never encountered before) and great élan in a characteristically fabulous Hyperion piano recording is a treat indeed.
Here's an introduction from the issuing label, Hyperion:
The combination of Fauré, Poulenc, Debussy, Stravinsky (who was much asspociated with Paris and the Ballets russe there) and Ravel is a winning one.
The promotional video above begins with the Berceuse from Fauré's Dolly. You will almost certainly know it - and just listen to the care that goes into the accimpanying figure to the melody in octaves. From about 45 seconds in comes an excerpt from "Mi-a ou," an exercise in Gallic gaiety, before a fragment of the charming "Kitty-Waltz" charms its way in.
Lewis and Osborne change their sound and approach according to the composer: the pounding opening of the Poulenc Sonata for Four Hands is given with a completely different touch from anything we heard in the Fauré: the composers' inhabit different universes, and we hear that immediately. Poulenc's pungent harmonies, still impeccably French, form the greatest contrast.
A French album would surely be as nought without Debussy, and here we have two majot pieces: the six Epigraphes antiques and the Petite Suite. The Epigraphes antiques  represent Debussy's response to Ancient Greece, conjured up in splendidly delicate, Impressionist tones. The use of modes and whole-tone sclaes, less overtly directional harmonically than the traditional major/minor scales, impart a sense of timelessness.
From the hieratic to the playful and a soulmate to Dolly, Debussy's Petite Suite offers a ray of light in a troubled world, Lewis and Osborne's performance light and frothy.
The Stravinsky Three Easy Pieces (1914) is probably the least familiar piece here, so let's hear a performance, in absentia Lewis/Osborne by Bracha Eden and Alexander Tamir in 1968:
Written after the (in)famous Le scare du printemps, the contrast could hardly be greater. But perhaps the central Waltz (dedicated to Satie) will remind you of Petrushka; the closing Polka (dedicated to Diaghilev) has decidedly - and deliberately - circus overtones.
The porcelain delicacy of the Ravel Ma Mère l'Oye (Mother Goose) offers the perfect close to this carefully programmed, truly excellent disc. Worth remembering that Steven Osborne had previously confirmed his excellence in this repertoire with his survey of  Ravel's piano music (link below).
A decidedly Gallic pleasure garden of delights.