For Clarinet and Strings ...
The work of Metier Records and of instrumental groups such as the one here, Gemini, should be universally lauded. They keep the music of today alive ...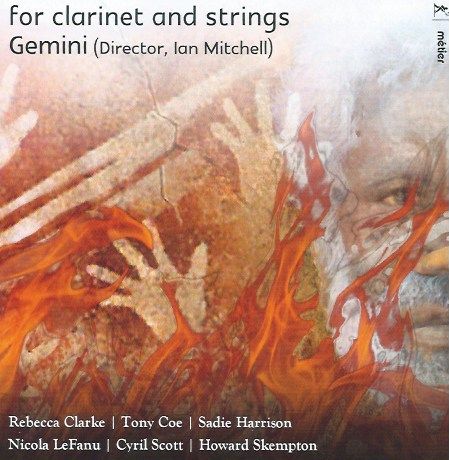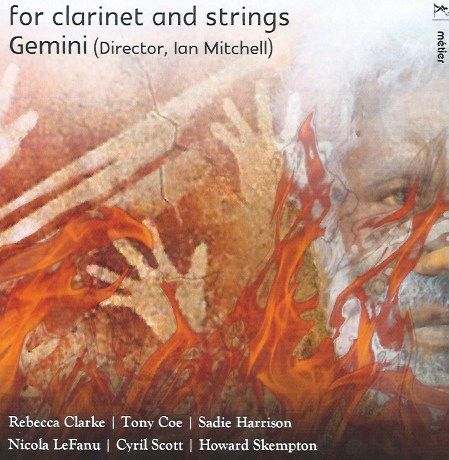 The work of Metier Records and of instrumental groups such as the one here, Gemini, should be universally lauded. They keep the music of today alive, ensure its circulation, and present it in the finest possible performances, always impeccably documented and recorded. Here we have a beautifully varied  collection of works for what it says on the tin, clarinet and strings, by Cyril Scott, Nicola LeFanu, Howard Skempton, Tony Coe, Rebecca Clarke and Sadie Harrison.
The music of Cyril Scott remains cruelly undervalued. His music has a decidedly mystical bent  He showed a keen interest in Theosophy, a stream of thought initiated in modern times by the magnificently-named Helena Petrovna Blavatsky; Scott was introduced to it via a lecture by one of Blavatsky's most famous followers, Annie Besant. When I heard the Chandos disc of Scott's Symphony N0. 3, "The Muses" and the Second Piano Concerto, that was a real turning point for me (there are further details about Scott in my review of that disc). As Ian Mitchell says in this introductory video, it was written in 1951 and received probably only its second live performance by Gemini in the early 1990s.
Mitchell's notes rightly describe this work (masterwork?) as "harmonically rich and rhythmically fluid". You can decide if this is a masterwork (I believe it is), as here is the audio of all of that fabulous Clarinet Quintet:
Howard Skempton's Lullaby begins by referencing Bach Cello Suites, invoking the latter's sense of ineffable peace (superbly done by Sophie Harris) before, at last, Ian Mitchell's clarinet sings above.
The arresting, quiet,  held-breath sonorities that open Tony Coe's Dream Odyssey come as quite the contrast to Skempton's Lullaby. Coe's Dream Odyssey (2006) is a programmatic piece, an instrumental depiction of a story of a man who (in a dream) finds himself guided by mysterious lights into a wood. Lost, he only finds his way home thanks to the appearance of a Bird of Fortune "of magnificent colours". And just as in the LeFanu piece that follows, the piece can be enjoyed just as pure music. It is beautifully written - this is the first piece by Tony Coe to come my way, and I do hope to hear more. Here's the opening of the first movement of Coe's Dream Odyssey, "Dream Lanterns":
It's lovely to continue the thread of International Women's Day this week with music here by Nicola Lefanu, Rebecca Clarke and Sadie Harrison. Lefanu's Songs without Words for clarinet, violin, viola and cello dates from 2005, a sequence of four little songs. It starts with the solo clarinet of "A Far Cry," a satisfying solo discourse beautifully played by Ian Mitchell before "No Paseran," which stems from a radio opera by the composer. LeFanu's imagination is spellbinding: particularly so in the  third movement "Catalunyal," a plea for Catalan independence through the exuberant sounds of the region's music. There could be no greater contrast than with the final  "Remembrance," an in memoriam for those who are dying in the Middle East. The overall title, Songs without Words, inevitably calls upon our memories of Mendelssohn, and certainly there is a song-like underlay to these pieces, perhaps nowhere more so than in that final lament.
Let's hear the Rebecca Clarke Allegro, from her Prelude, Allegro and Pastorale, the Allegro:
... rigorous and exuberant, this piece for clarinet and viola (Ian Mitchell and Yuko Inoue) reminds us of the magnificence of Clarke's music. Penned in 1941, it was not pulished until 2000 (by Oxford University Press). Written while the composer was in the United States, this mini-suite is beautifully written. Listen to the splendidly pungent harmonies Clarke finds in the excerpt above; and, when you get the disc, the enigmatic restraint of the Pastorale.
And so to the "final" work, Sadie Harrison's Fire in Song (I say "final" in inverted commas as there's a "bonus work"!). It was written in 2020 for clarinet, viola and two clapstick-playing narrators (here Aleksander Szram and Sophie Harris).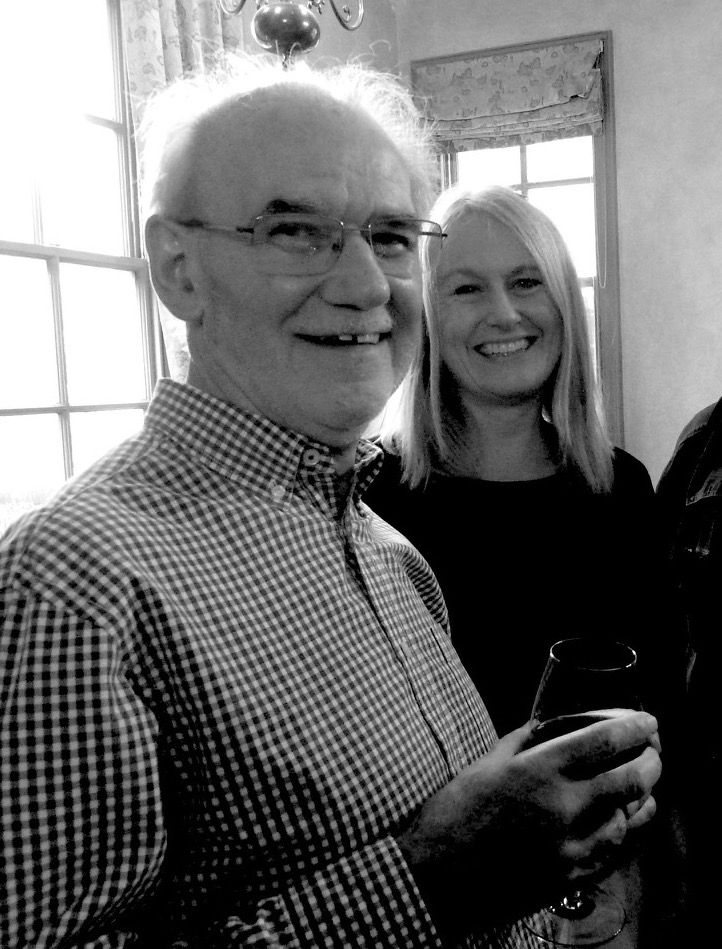 The composer Sadie Harrison told me that
The piece is definitely a departure in style for me - an expression of my feelings about the state of the world's ecology through music that dances, sings, dreams and rages simply. As a working gardener, I am so grateful for the connectedness I feel to the earth, and increasingly mindful of Bob Randall, a Yankunytjatjara elder's words: "The land owns us. Once you realise that, you can't go on hurting and abusing the place you came from."
There is no doubting the heartfelt cry of Harrison's opening gesture to the first movement, "The World's Lament," nor the dancing of the following "Bandicoot and the Hollow Log". The first movement and the last frame the piece in decidedly contemporary terms, commentaries on current climate extremes. In between is a series of movements based on Aboriginal song and dance from Northern and Central Australia. Fire is an important idea to their beliefs: it was the saltwater crocodile Bäru who created fire that scorched the earth where the creation ancestors gathered. Aboriginal legend informs Harrison's narrative, with fire as a linking force, via legend, between the various clans.
Harrison's music is exceptional here in that it at once invokes the timelessness of legend while simultaneously itself holding a fire that burns brightly today. The music is sometimes urgent, alive, very much of the now; other times, it goes interior, ruminative. Dedicated to David Lunsdaine and Ian Mitchell, it is clearly a heartfelt statement and, whilst on the surface rather simpler than some of Harrison's other works (as she herself acknowledges above), it holds multiple secrets within its breast. This is very much Fire in SONG rather than Fire in Words; the lyric impulse is everywhere. Let's hear the final movement, the  "Lament for the Whole World":
Howard Skempton's  delicate Gemini Dances is that "bonus work," and is chock full of delights: try the splendidly appealing "Alla marcia" with its sidedrum that reminded me of a hornpipe; or perhaps this splendid Vivo, with its insistent drone:
Ian Mitchell is the connecting thread, his clarinet ever-eloquent. It is clear that he, and his group, give each and every piece their all; all is couched in a fine recording and presentation that is both beautiful and comprehensive.
Many thanks to Ian Mitchell for the permission to use the sound samples in this article, and to Sadie Harrison taking the time to talk to Classical Explorer.