Fidelio from Covent Garden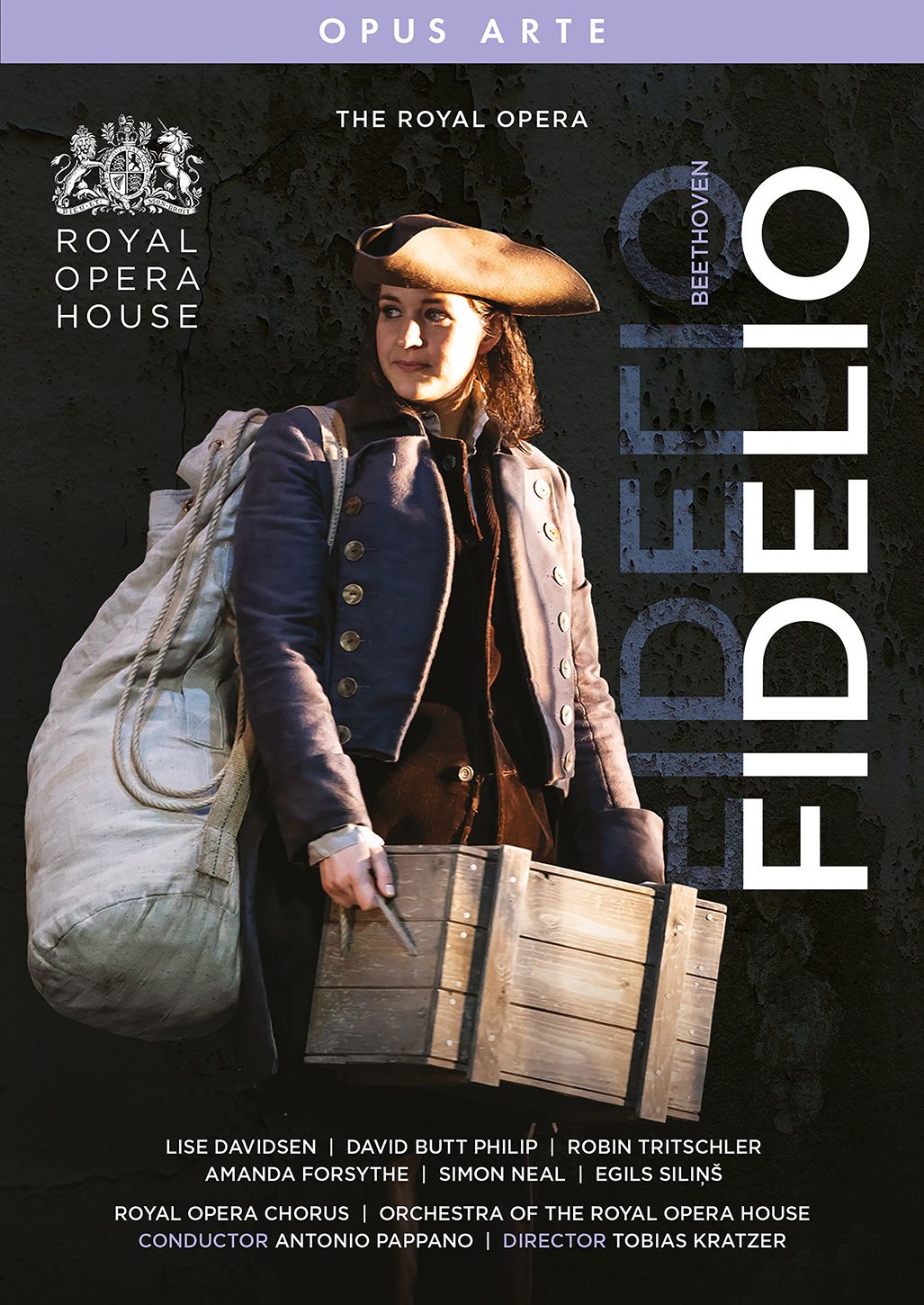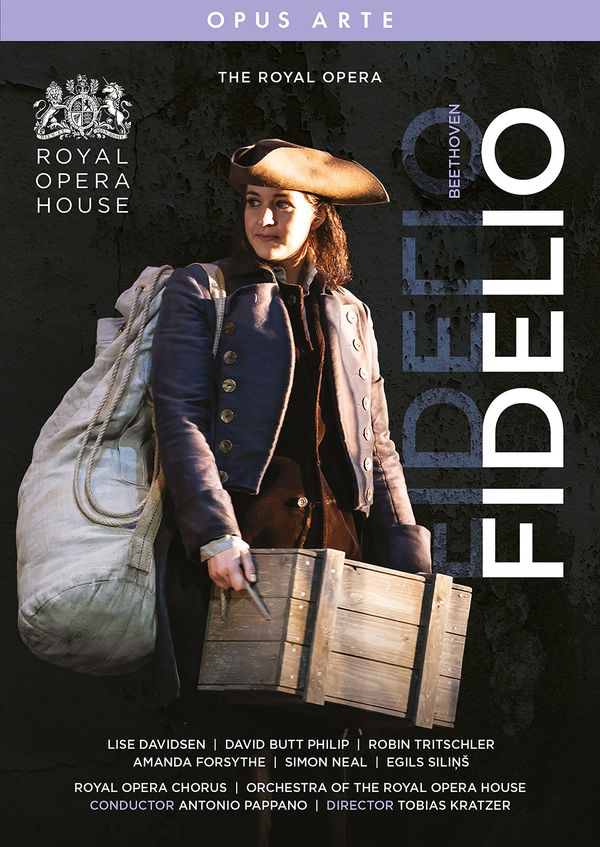 Beethoven's only opera, as we have seen previously, exists in a number of versions. What we have here is, broadly, the Fidelio everyone knows and loves (some of the dialogue might be unfamiliar though. to those who grew up, like myself, with the famous Klemperer recording),
This is a staging, by Tobias Kratzer, that takes us to post-Revolutionary France. the words "Liberté Égalité Fraternité" are projected against curtain. We are in the period of terror immediately after the French Revolution: Don Pizarro at his entry - live horse on stage alert! -  begins with "Long live the Republic" (echoed by his assembled men).
During the Overture we see Marzelline in emotional pain and Jaquino's affection for her from afar. The French flag is very prominent. Women clamour from without - Leonore is one of them, but it becomes obvious the only eay to infiltrate this male society is as a man - all this is played out during Pappano's finely-sculpted account of the Overture.  Leonore plays with a caged bird (a reference to Maya Angelou perhaps? - later Pizarro creuelly kills the bird in his hand)  
Tobias Kratzer adds an extra sexual layer - as directors often do these days - by offering real sexual tension between Fidelio and Marzelline, even after the latter has cottoned on to "Fidelio"'s real sex.
With Kratzer, we are very much aware of the operas a "game of two halves" as opposed to a progression from Singspiel (the opening of act one) to grand opera, almost oratorio- like, climax in the second. In the first act, a boxed room extends out at times (and retreas completely at others) to effect scene changes, while the brightly-lit finale (! - it's set in a dungeon) shows a static, what looks like a Tristanesque rocky outcrop, but we also see a door and an assembled Volk, besuited and formally dressed, as audience. Florestan is shackled by a chain on one of his ankles, his movement limited as he holds out his hand, begging, to the people. All this happens before his cry of "Gott!". David Butt Philip is a superb Florestan - we feel his pain in the crescendo on that very word. Unfortunately his next words are "welch' Dunkel hier" and we have to imagine the darkness is interior, given that he is drenched in forensic white light. As if under a spotlight, in fact. But what is impressive here are the massive video projection of the assembled people's facial reactions to Florestan's plight and the drama that unfolds - needless to say, this assembly is the chorus that sings its hymn of praise at the opera's end.
Marzelline (Amanda Forsythe on thrilling form) is accorded a far larger dramatic role than we normally experience, and the opera emerges well from it. It is Marzelline that shoots Pizarro and, it would appear given that she's carrying a bugle, she who plays the announcement of the arrival of Don Fernando (luxury casting there: Egils Silinš). Even in the great duet ("Namenlose Freude"), there are three people present in the main part of the stage, as Marzelline realises Leonore will never be hers.
After Lise Davidsen's superb Barbican recital, it's great to see her in one of her signature roles. The way she caresses the more tender phrases (at one point the increased tenderness reflected in the shedding of her shirt - and it is in this scene that Marzelline makes her discovery) is as remarkable as the core of resolve of the opening:
With a terrific "Abscheulicher!" Davidsen confirms her place at the top of the soprano tree (the way Pappano moves straight into "Abscheulicher" is a proper coup-de-théâtre; and Davidsen doesn't disappoint). That aria, at least, was something of a known quantity, and you can hear it on this post, Classical Explorer's rumniations on Davidsen's second album.
Simon Neal is a fearsome Don Pizarro, his "Ha welch' ein Augenblick" magnificent; although I can't resist quoting another from a film, orchestra conducted by Leopoled Ludwig and with Theo Adam as Pizarro. This is the full opera film, with this aria starting at 30:50 - but stick around for the way Adam addresses the camera at 31"50 (if you're really lucky the link will take you straight there). My review of the DVD of that performance can be found here, and a purchase link is also included below.
The Rocco here, Georg Zeppenfeld,  seems initially quite simple and money guided. Musically, the duet between Rocco and Pizarro is one of the best, both voices on top form, no sense of strain anywhere. Robin Tristchler gives us a fabulous Jacquino, while externally portraying a clearly unsuitable suitor (he looks  a bit like a disheveled Papageno, but with a bunch of prison keys).
There is terrific insight here: when we hear Leonore begging Rocco for a piece of bread for Florestan we see, in projection, one of the observers sneaking in a snack ... the division of the haves and have nots.
The booklet is minimal, just a synopsis and a full-page advert for Davidsen's Decca Beethoven/Verdi/Wagner disc that we reviewed. But have a look at this for supplemental material: a full one and a half video introducing this production with Antonio Pappano on brilliantly eloquent and enthusiastic form ("ROH Insights: Fidelio"):
There's a third link below, underneath the Bluray and DVD ones: Amazon Prime streaming Iwhere you can rent or buy in a variety of ways, from £3.49 (!) to £9.99 - it displays with £7.49, which is the purchase price in Standard Definition. You can even create a watch party if you like!