Where Corals Lie: A Journey Through Elgar's Songs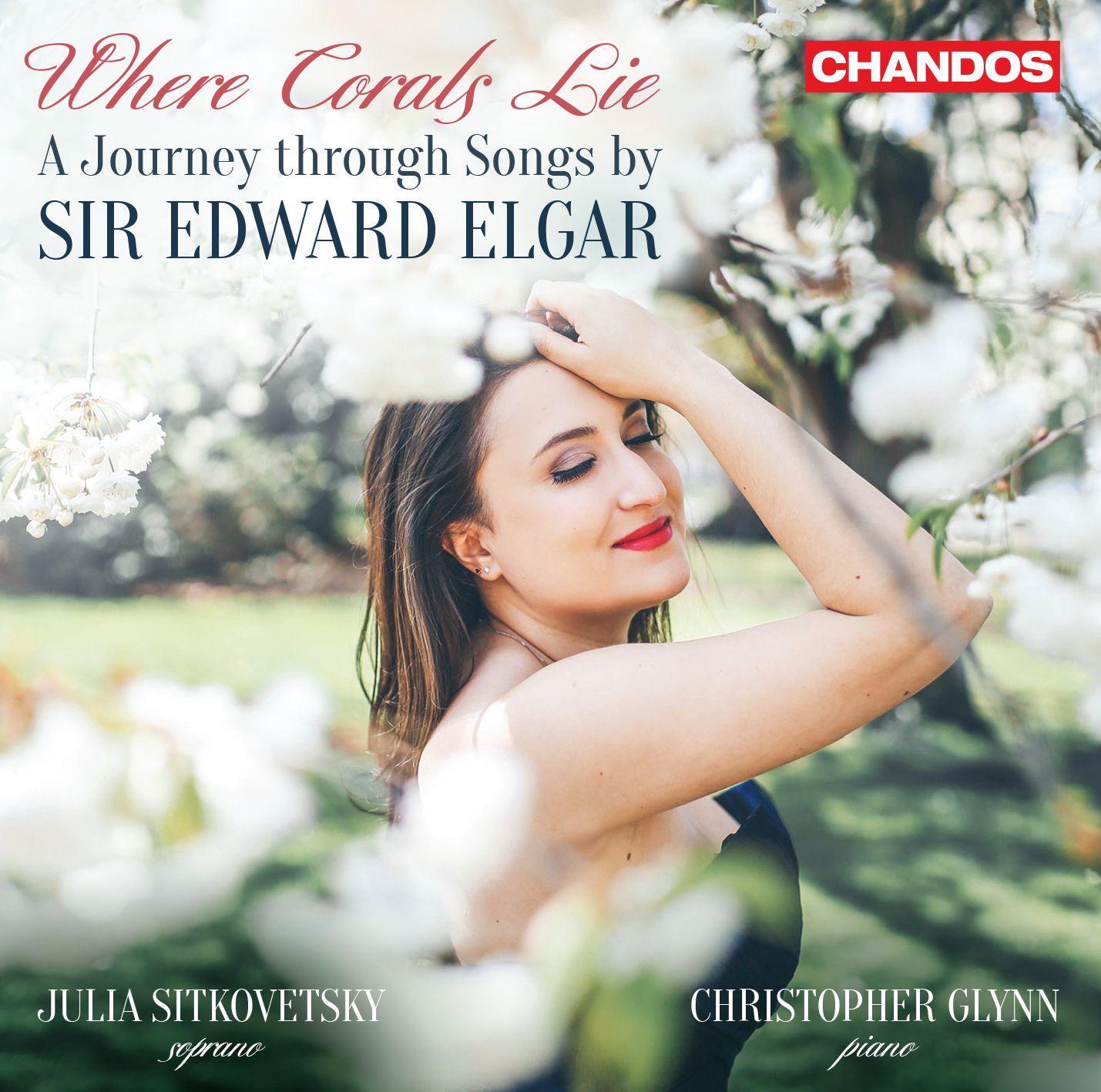 We have tackled Elgar choral music before on Classical Explorer, plus some orchesttral and vocal music (Sea Pictures and Falstaff), but not his songs as yet per se. This new album by the phenomenally talented Julia Sitkovetsky and the wonderful pianist Christopher Glynn on Chandos Records features  a rarity: the Sea Pictures in its original soprano version. As you can see from the above links, we have considered the version for mezzo and orchestra (here), where the performers were mezzo-soprano Elīna Garanča with the Staatskapelle Berlin under Daniel Barenboim.
While most of Elgar's song output is invididual songs (because of "consumer demand": songs of that ilk could generate valued inclome!), we always have Sea Pictures. Much more familiar in its voice and orchestra form, it is so revealing to hear them in the more intimate setting of voice and piano. There is a new intimacy, and somehow the piano seems to concentrate everything down to its barest essentials. Listen to the first, "Sea Slumber Song":
Julia Sitkovetsky is a high soprano (her operatic diary reveals a string of performances of Queen of the Night Zauberflöte in Dresden and Berlin); but unlike so many, her voice is both full and strong, ywt capable of the most exquisite beauty. For the latter, let's head to the most famous of the Sea Pictures, the fourth, "Where Corals Lie":
One can hear immediately the move to a greater intimacy in the first of the Sieben Lieder, "The Shepherd's Song" (1892, Op. 18/1):
[Just to explain the rather anachronistic appearance of a German title in this most Englihs of compsoers: in 1907, the German publisher Ascherberg, Hopwood & Crew sompiled an album from seven different Elgar songs; Sitkovetsky and Glynn perform five of them.]
As an example of the excellence of the pianist of the pair, "Like to the damask rose" furnishes a good example. Everything is perfectly considered, he's in perfect balance with his singer, and how he listens!:
The folkish simplicity of the Two Songs, Op. 60, is deliciously rendered. Here's "The Torch" :
There follows a sequence of magical songs. For Elgar in splendidly crepuscular mode, try Pleading, Op. 49, written just after he finished the First Symphony:
How wonderful to hear the piano's guitar-like Spanish imitations in The Mileteer's Serenade, a setting of Cervantes in English translation by Anthony Motteux. It was unpublished in Elgar's lifetime and despite a reworking for King Olaf, he eventually cut it from that as well. And yet it has a beautiful, songful simplicity:
The joys of this album are multiple: the double discovery of some of Elgar's lesser-known vocal treasures and the lovely voice of Julia Sitkovetsky (Simon Lepper's excellent piano playing is better known to me).
Surely the most beautiful offering here though is Speak, Music (Op. 41/2), a call for music to bring the poet rest. It is positively spellbinding:
The disc finishes with two premiere recordings in their voice and piano versions, the second of which you will doubtless recognise: Pansies is a 1900 version for voice and piano of Salut d'amour, Op. 12 (1888) by Max Leistner. Let's hear both versions. Here's Sitkovetsky and Glynn:
... and for the violin and piano version, here's David Nadien (1926-2014), a violinist often compared to Heifetz who was concertmaster of the New York Philharmonic 1966-70 (and who recorded Prokofiev's Sonata for Two Violins with Ruggiero Ricci):
I. for one, would have liked to have heard Sitkovetsky's assumption of the title role in Handel's Alcina at Longborough in 2016 ... This Elgar disc is Julia Sitkovetsky's Chandos debut; but on the strength of this magnificent disc, it won't be her last.