Concert review: Andrea Chénier from Chelsea Opera Group
One fervently hopes that COG's sterling work will bring the operatic power of Chénier back into our consciousness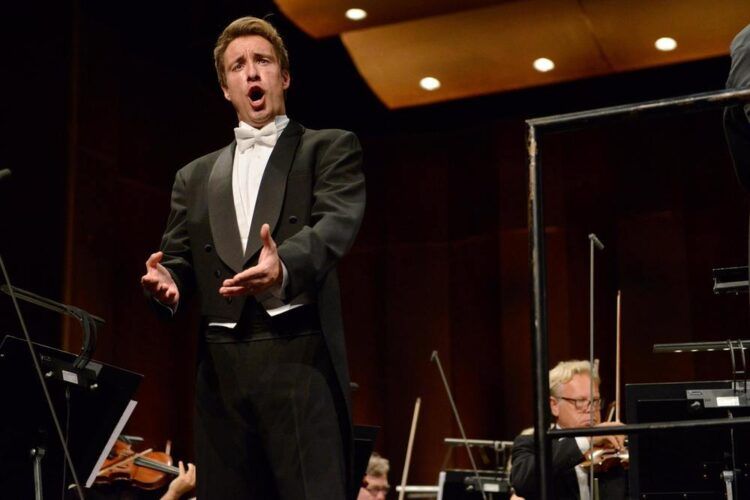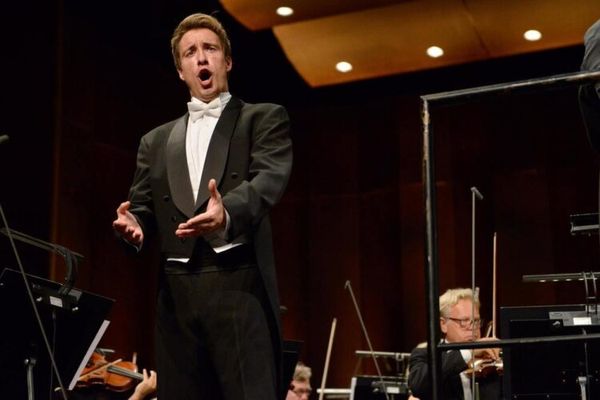 Andrea Chénier – Gwyn Hughes Jones
Maddalena di Coigny – Claire Rutter
Carlo Gérard – Yuriy Yurchuk
La Contessa di Coigny / Madelon – Fiona Kimm
Bersi – Yvonne Howard
Abbé / L'Incredibile – Peter Bronder
Pietro Fléville / Fouquier-Tinville – Edmund Danon
Il Maestrp di Casa / Dumas / Schmidt – Edward Jowle
Roucher – Philip Rhodes
Mathieu – Thomas D Hopkinson
Verismo opera clearly took the tube from its London 'home,' Holland Park, down to Waterloo and the Queen Elizabeth Hall for Chelsea Opera Group's superb performance of Umberto Giordano's Andrea Chénier. Set during the French Revolution, the opera concerns the real-life poet of the title, who was indeed executed. First performed at La Scala in 1896, the piece has become a vehicle for star tenors of the ilk of Beniamino Gigli (whose 1941 Scala recording with De Fabritiis remains a benchmark for me), Lauri-Volpi, Zenatello through to Corelli, Del Monaco and thence to Domingo and Pavarotti.
The conductor on this occasion, Gianluca Marcianò, is a real find. I enjoyed his conducting of Puccini's La bohème at English National Opera (review) but this was another step up: his pacing was impeccable throughout, creating just the right dramatic tension. He works with his singers superbly and is with them like their shadow. Marcianò's beat is expressive and focused solely on his musicians, without a hint of show. There is no doubt he brought out the best from COG's orchestra, including negotiating the occasionally perilously fast string writing but even more importantly, finding a huge palette of colour in Giordano's masterly score. His long-range view of the work enabled the final act to make its full emotive force.
Giordano's writing itself is masterly: the orchestration is colourful and perfectly judged. Ladle onto all this a cast of distinction, and small wonder there was a rapturous standing ovation at the end. As Chénier, Gwyn Hughes Jones impressed with a strong, ringing, ardent tenor. He was seen previously in ENO's The Mastersingers (as Walther von Stolzing) and as Elgar's Gerontius in Lucy Carter's semi-staging of The Dream of Gerontius across the way at the Royal Festival Hall in 2017 (review). He has a heroic voice which suits this music well, as his ardent 'Un dì all'azzurro spazio' revealed.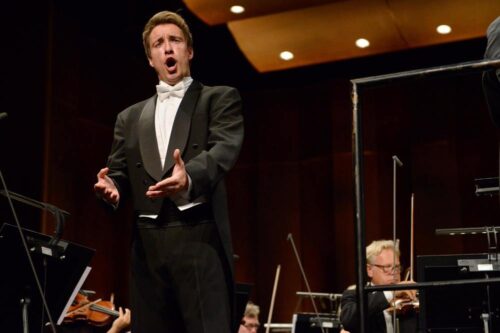 That said, it was arguably the singer that took the part of Carlo Gérard that lingered most in the memory: the Ukrainian baritone Yuriy Yurchuk. Sporting a tasteful Ukrainian flag-coloured bow on his lapel, Yurchuk absolutely owned the role of Gérard, his voice beautifully resonant and commanding, never drowned by the orchestra's considerable forces. He acted the role well, too (despite the concert staging, he was clearly involved in the ongoing action); in his hands, Gérard became a major player at least on the level of Chénier himself.
Clare Rutter was a powerful Maddalena di Coigny, taking the spinto soprano part with real power; the final stages of the opera showed how carefully the voices had been chosen, Rutter and Hughes Jones perfectly in sync emotionally. Rutter's 'La mamma morta' was a high point of the evening, dramatic and heartfelt.
As always with COG some singers brought years of vital experience to their roles: Fiona Kimm's Contessa (Maddalena's mother) and later Madelon (an old woman) found her beautifully inside her role; the well-loved Yvonne Howard was a fine Bersi (Maddalena's maid). Wonderful to see tenor Peter Bronder there in the cast, again in a double role as The Abbé (a poet) and L'Incredibile (a spy), excelling in both roles, particularly the latter. Bronder has previously impressed at Covent Garden as Monostatos (Die Zauberflöte) and in the small role of the 'Shabby Peasant' in Shostakovich's Lady Macbeth of the Mtsensk District. (He has previously played the Leper in Messiaen's Saint François d'Assise in Japan, incidentally.) Edmund Danon was an excellent Pietro Fléville (a novelist) and as Fouquier-Tinville (the Public Prosecutor). Bass-baritone Edward Jowle took on no fewer than three roles: Schmidt (the gaoler), Il Maestro id Casa (a Major-domo) and Dumas (President of the Tribunal), all with aplomb, while Thomas D Hopkinson was a good Mathieu and bass-baritone Philip Rhodes a strong Roucher.
Even if the chorus could have been stronger, this remains a memorable performance. That final standing ovation was heart-warming to see; and one fervently hopes that COG's sterling work has done its part to bring the operatic power of Chénier back into our consciousness.