Britten's Violin Concerto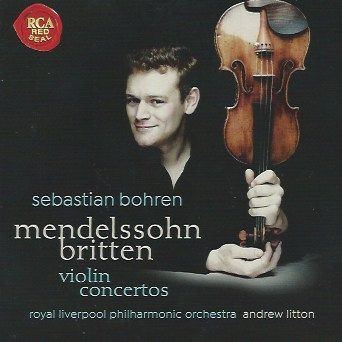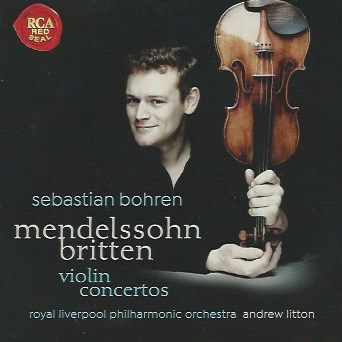 Britten's operas - rightly - receive a huge amount of attention, and one should perhaps mention that the recent Peter Grimes on Chandos is remarkable as well as acknowledging with sadness the passing of that recording's astonishing Ellen Orford, the wonderful  Erin Wall.
Britten's concertos, though, have been sidelined. I remember hearing the Britten Violin Concerto with the Hallé in the early 1980s and being bowled over by this masterpiece. I don't think I've heard it live since, though ...
The history of Britten's Violin Concerto seems to bear this out: although it was written in 1939, it was not recorded until 1971. It did, though, receive its premiere in 1940 with Sir John Barbirolli conducting the New York Phlharmonic. It remains, however, one of Britten's finest works. The sheer variety of invention is astounding, including an extended orchestral (so, sans soloist) Passacaglia - brilliantly realised here by Litton who seems to have a complete grasp on Britten's processes - and a remarkable moment of scoring in the mercurial second movement in which Britten seems to invoke birdsong! Bohren's reading is clearly considered; and highly beautiful to boot.
Here is that finale beginning with that almighty Passacaglia; listen to the sweetness of Bohnren's sound as the music progresses into the tendermost reaches:
Here's an introductory video in which we see not only rapport between Bohren and Andrew Litton, but also with the highly experienced Producer, Andrew Keener:
The Swiss violinist Sebastian Bohren has been producing some fine discs, including an all-Bach one on RCA, but this is the one that impresses the most.
If you want to go all-out exploring, Arabella Steinbacher with the Berlin Radio Symphony Orchestra and Vladimir Jurowski on Pentatone couples the piece with Hindemith's Violin Concerto (which would supplement our post on Roman Mint's Hindemith disc well); but no-one will be disappointed with Bohren, the Liverpool forces and Andrew Litton.  
The couplings are the Mendelssohn Violin Concerto and Tchaikovsky's Sérénade mélancolique, Op. 26. While the real value of the disc is the Britten, its bedfellows hold musch to admire. Here's the slow movement of the Mendelssohn, a place of lyrical repose:
... and here's the Tchaikovsky:
A fabulous disc: you will not be disappointed.