Bizet's Carmen from Strasbourg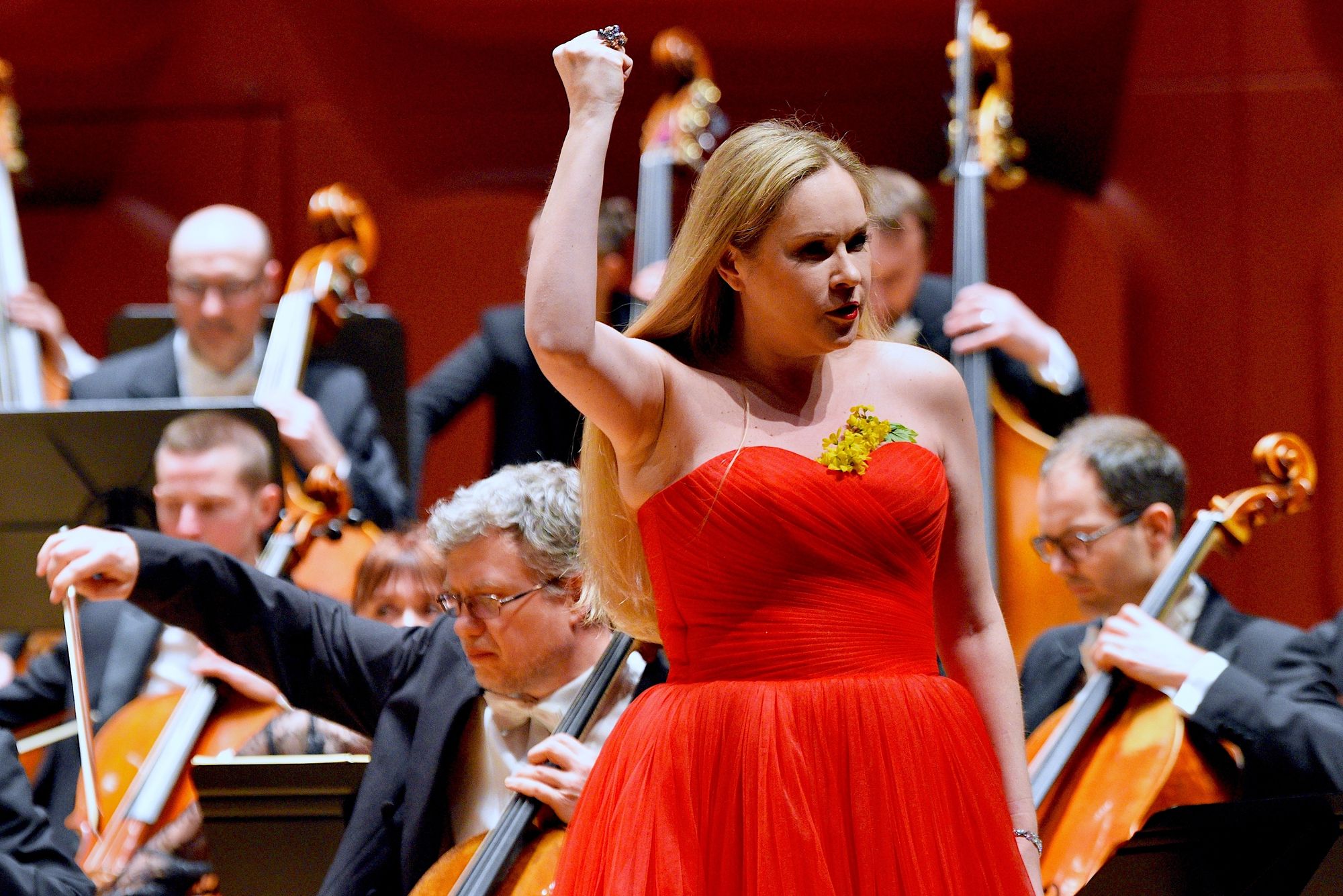 Although Bizet's famous opera has cropped up before on Classical Explorer in the form of excerpts (Dmytro Popov's Hymns of Love on Orchid Classics and Freddie di Tommaso on his Decca disc, Il Tenore), this is our first coverage of the full piece. And it comes with quite some drama before the drama.
This was in the event a remarkable performance of Bizet's Carmen – all the more impressive given the changes that preceded it. It was originally intended for John Nelson to conduct – the title role was to have been taken by Joyce Di Donato, in her first ever Carmen. Sadly, Nelson was rather ill, and withdrew – subsequently, DiDonato, too, stepped back, on the grounds she was only doing it to work with Nelson.
Step forward in the first instance Aziz Shokhakimov, the current Principal Conductor at Strasbourg (he's just had his contract extended, and they are lucky to have him) and, in the second, mezzo  Elena Maximova (photo above), an incredibly experienced Carmen.
Here's what happened:
Bizet Carmen (concert performance). Cast; Chorus of L'Opéra National du Rhin;  Maïtrise de l'Opéra du Rhin; Orchestre Philharmonique de Strasbourg / Aziz Shokhakimov. Salle Érasme, Palais de la Musique et des Congrès, 4.4.2023
Cast:
Carmen – Elena Maximova
Don José – Michael Spyres
Micaëla – Elsa Dreisig
Escamillo – Alexandre Duhamel
Frasquita – Florie Valquette
Mercedes – Adèle Charvet
Moralès – Thomas Doué
Zuniga – Nicolas Courjal
Le Dancaire – Philippe Estèphe
Le Remendado – Cyrille Dubois
The cast included a clutch of perfectly chosen stars. Michael Spyres, listed as 'tenor and baritone,' can seemingly do no wrong at the moment; Elsa Dreisig, another name on everybody's lips right now, was Micaëla while the stunning Florie Valiquette stepped out of the earlier musics I so associate her with at Versailles to French Romantic opéra with marked success. Add to that Alexandrew Duhamel as Escamillo ad luxury casting for Cyrille Dubois as the Remendado, and things looked pretty bright.
And so it was, but for all the starry singers it was Shokhakimov's Strasbourg orchestra that was the true star. Shokhakhimov is detailed in his rehearsals; and until something is right, his way, he won't let go. And how it showed in the discipline of the string section and the tenderness of the wind soloists. Only one moment of slightly shoddy ensemble – a trumpet in the early children's chorus – stood out, but then again not even Abbado in his classic DG recording got that bit fully right, and he had multiple goes in a studio.
But there was more, in that it was clear that Shokhakimov sees Carmen as a grand canvas, and is able to place each moment within that grander scheme. This was about as far from a 'wait for the famous bits' than one could get. Bizet's magnificent score emerged as a cogent, magnificent edifice, towering over, for example, Les Pêcheurs de Perles (close though that is to my heart; let's not forget Bizet wrote some nine operas, including La Jolie fille de Perth and the little-known and delightful Le docteur Miracle (resurrected at the Guildhall School of Music and Drama fairly recently – 2021 - in combination with Pauline Viardot's fabulous Cendrillon).
Interesting to see Shokhakimov so spatially mobile – by which I mean he was not averse from stepping down from his podium and meeting the children's chorus at their level, of moving back from the podium so all singers, placed in a line at the front, could see him in the final act. And within this edifice he co-created with Bizet, the sheer local-level excitement he could generate was remarkable – perhaps the finest example of this was the orchestra's explosion of life after 'Les tingles des sistres tintaient' at the opening of the second act (Carmen, Mercédès, Frasquita) His technique is mesmeric – while his right hand baton technique is perfect, for expression he sometimes cedes to a more expressive left-hand which will mould and shape a lyrical phrase.
Elena Maximova is known for her Carmen - it is a role she regularly returns to, and has performed at La Scala, and the Vienna and Bavarian State Operas, and `at Covent Garden -  and there is no doubting her complete technical command here. And yet, it all felt a little too lived in. There were moments of great character ('Bel officier' in the second act, partnered perfectly by Shokhakimov), but she only really hit full immersion and therefore form in duet in the fourth and final act. In conversation before the performance, Shokhakimov told me that she has a beautiful voice, bit of course  ...
... it was a risk to being a mezzo who is not French. But honestly speaking, I listened to a lot of French singers, and I couldn't be fully satisfied with what I heard, This is a very special opera for me, and I really demand from the singers ...interesting colours. We worked with Elena to improve her French, and some moments …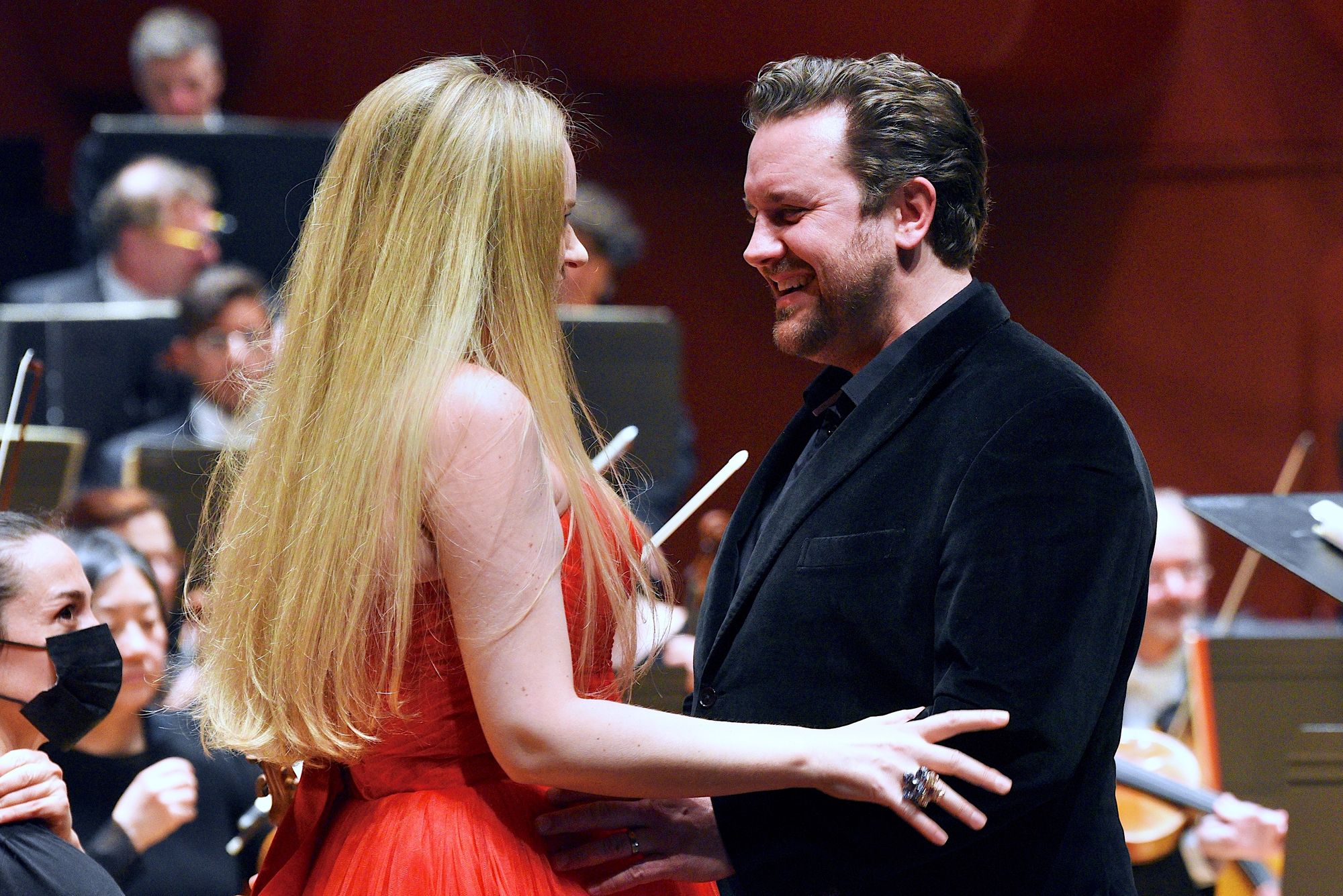 The advantage of having a 'baritenor' as Don José is the luxury of enjoying all the excitement of the high-lying lines (delivered with real full tone) and having the lower lines also at full strength, without any sense of strain or weakness; it also allows for the most free-flowing of legatos. Luxury feels the right word – Spyres has it all, from range to perfect attunement to the French soundworld (remember his Berlioz Nuits d'été with John Nelson here). His 'La fleur que t m'avais jetée' (the so-called Flower Song) in the second act was just beautiful; but how his cries of 'ma Carmen adorée!' shot straight through to the heart. Shokhakikov was laudatory about Spyres before the performance, too:
He has power inhis voice but at the same time his has tenderness which is absolutely amazing, and so fits this role – when he goes to the high B flat written diminuendo pianissimo, he does it so well'.
He did, too.
Elsa Dreisig fully justified the worldwide interest in her singing, giving a Micaëla who emerged as a fully-rounded character, and delivering the part with stunning presence. Hearing her live, it is amazing just how free her voice is – one feels she could do anything.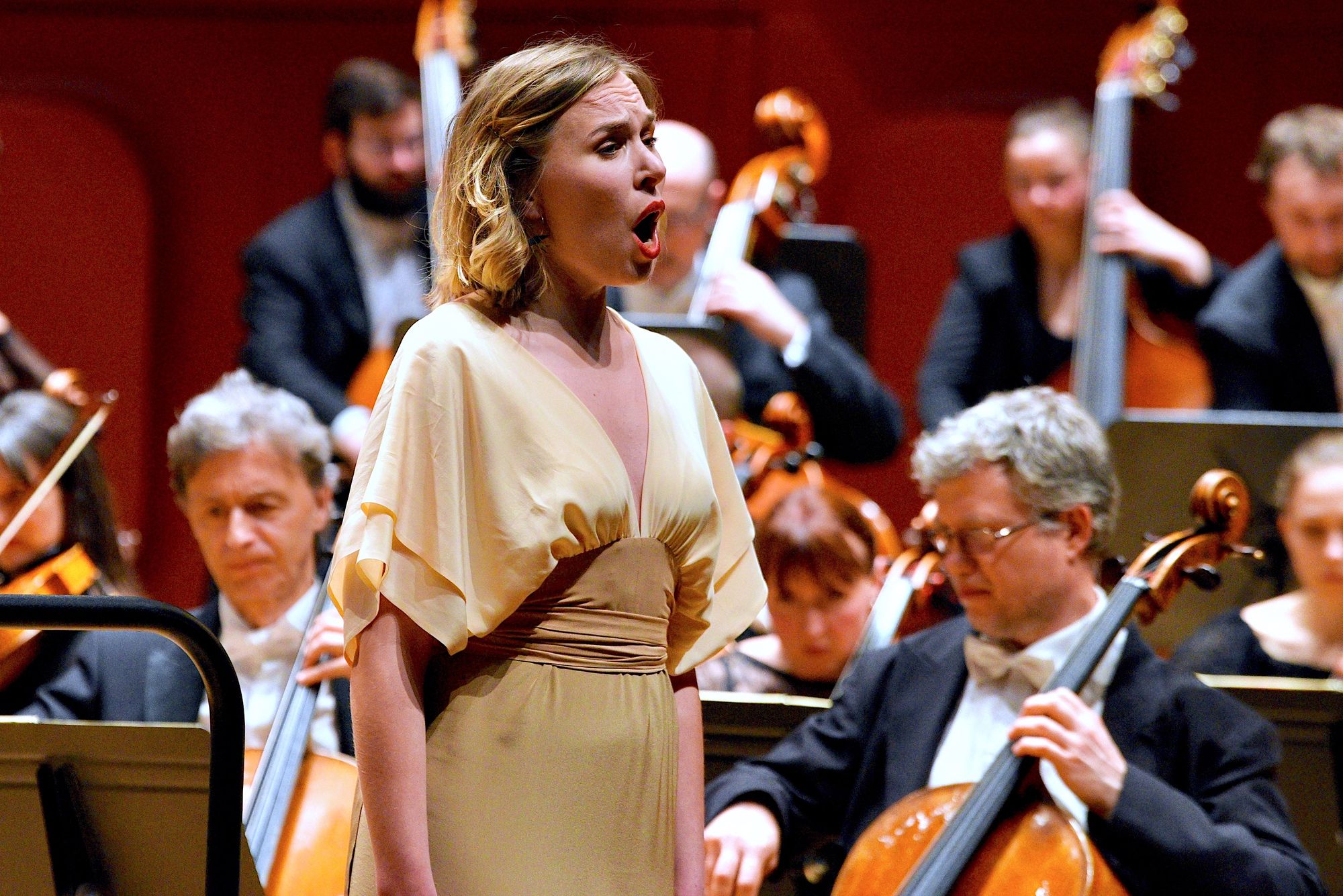 Florie Valiquette positively excelled as Frasquita, throwing herself into the role; her partner in crime, the mezzo Adèle Charvet as Mercedes, was the perfect foil, their voices ideally matched.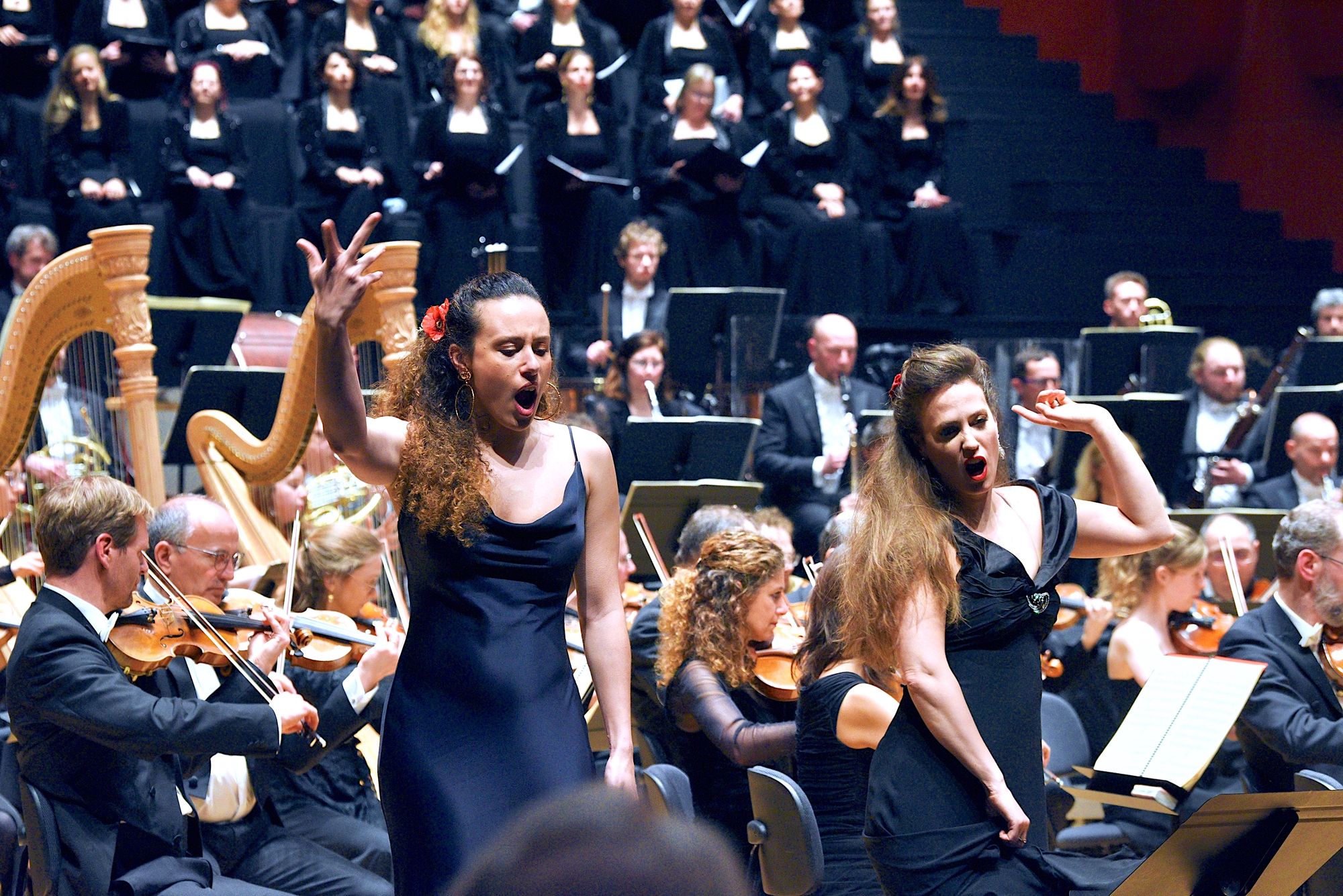 Only the Escamillo, Alexandre Duhamel, seemed to have a slightly variable night, with a lot of air around his voice in the first t wo acts and some lessening of body in the upper reaches of his voice; he found form later in the opera. Bass Nicolas Courjal was a superb Zuniga - not a name I knew too well before, but one I will look out for in the future; baritone Thomas Dolié was a fine Morales.
Solo contributions from the orchestra were uniformly excellent. The flute and harp clearly play a large part in this opera (beautifully shaped at the opening of the third act), but there is also much for the solo violin (leader) to do. Choruses, both young and a maybe a little less young, were both splendid, the Chœur de l'Opéra du Rhin raised spectacularly up the back and in beautiful, dynamic voice; the Maîtrise, impeccably drilled and one of the finest children's choirs I have heard anywhere, to the conductor's left.
As a concert performance (just one prop, a single flower), this was remarkable in its dramatic grasp and drive. A real triumph for the conductor and his Strasbourg forces – small wonder Shokhakimov's tenure has been extended.
This was the first of two performances; it was repeated on April 6.