Hymns of Love: tenor Dmytro Popov's recital disc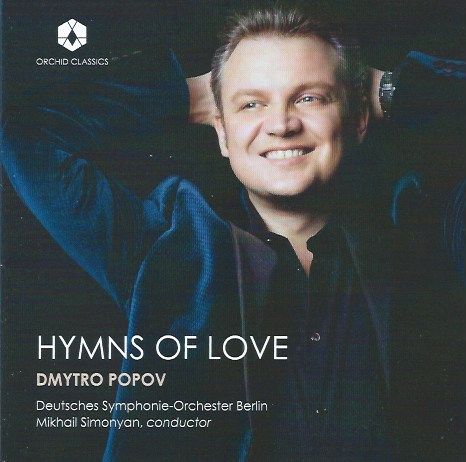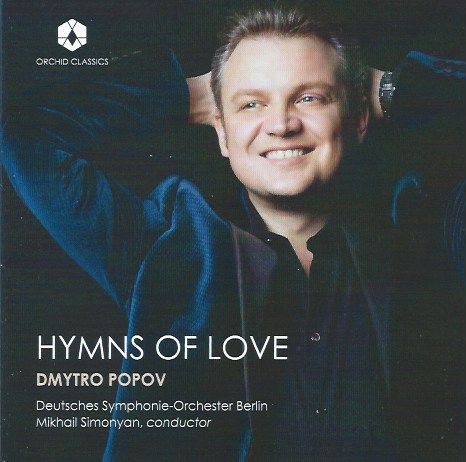 Making a splash at London's Covent Garden as Rodofo Bohème in 2013, Dnytro Popov enjoys an international career. Notably, he was solo tenor in Teodor Currentzis' Verdi Requiem performances around Europe in 2019, but he has been active in many, many operatic roles, the most famous of which appear on this disc.
Love is, of course, central to the operatic canon. Love in all its guises: misconceived love, love on a fatal trajectory, love which delights, love which saves (we'll be returning to the last in a post in the not too distant future on Beethoven's opera Leonore. Yes, Leonore).
Popov's credentials in Puccini's Bohème are beyond doubt if this video of "Che gelida manina," from the 2013 run conducted by Sir Mark Elder, is to be believed:
And we hear simlar excellence in his performance of just hat aria towards the end of this operatic recital.
The love in Puccini's Tosca, of course, ends in tragedy, but in the first act the love is fresh, vibrant - as is Popov's singing in "Recondita armonia"; a similar awakening of love occurs in "Donna non vidi mai" from Puccini's Manon Lescaut, and Popov tracks the swells of the music perfectly, ably abetted by the Deutsches Symphonie-Orchester Berlin and Mikhail Simonyan: in this last, he really does leave one wanting more. Popov has all the strength for that famous aria; just as he has all the tendresse for French music, here "Ah, lève-toi soleil" from a piece that really should be heard more, Gounod's Roméo et Juliette. Here's a live performance from Gottweig in 2019 to whet your appetite, but the performance on disc is more finely honed:
When it comes to Bizet's Carmen and "La fleur que tu m'avais jetée" it is the exquisite sweetness of Popov's voice that shines. Here he is, live again, this time from Verbier. Again, there is something about the disc that draws me to it more, so see this as a taster:
The two Tchaikovsky arias remind us of the omportance of opera to that composer's output. And while Eugene Onegin might be well known, Iolanta is far less so. When it was performed at Opera Holland Park, Iolanta (in a brilliantly conceived coupling with Wolf-Ferrari's Il segreto di Susana) was a revelation. As the closing production of the 2019 season, I'm guessing that was the last production that has been seen at Holland Park - one hopes vehemently for a successful 2021 season for that forward-looking company.
What's fascinating about Popov's take is not only does he live the part of Vaudémort in Iolanta, he then makes a Tchaikovsky sandwich by inserting some Amilcare Ponchielli before the Eugene Onegin excerpt. We feel the longings of the Iolanta character for light for his soul; if the  Onegin exxcrpt is just a touch less convincing (It's Lensky decalring love for Olga), the sandwich filling from Gioconda ("Cielo e mar") is gossamer light from the Berlin orchestra.
It's good we get the lead-ins to the arias: "Salut demeure" from Gounod's Faust begins, rightly, from "Quel trouble inconnu," allowing the seamless orchestral transition to the main aria to weave its magic. The aria proper shows Popov at his very best, his voice sweet. Popov is right in his statement in his booklet note that it is in the quieter moments where expression can be at its most compressed: and he delivers every time this is requested of him.
While most people know the "Polovtsian Dances" from Prince Igor by Borodin,  and a smaller but still significant number the Overture, performances of the full opera in the West are rare. So good to have an aria here, then, with Popov on fervent form. And if you want a full version, why not the Immortal Peformances one from Chicago in 1962, conducted by Oskar Danon and with Boris Christoff multitasking as both Prince Galitsky and Konchak (Igor Gorin is Prince Igor).
Its' quite a step to that "Che gelida manina" from Bohème, which finds Popov projecting all the understated sensuality of the scene along with all of its potentials.
We looked at Rusalka before in "Wood Nymphs and Mermaids in Sussex". There's an impassioned aria from that opera here, the Prince's first act aria (splendid Czech pronunciation fro Popov). Another leap then, to Lehár. It takes a special type of singer to persuade me about this music ("Dein ist mein ganzes Herz" from Land des Lächelns) after a mis-spent youth in amateur orchestra pits hearing this and Lustige Witwe murdered, but Popov manages it.
We end with a rather over-sugared arrangement of a Ukrainian folksong, Raven black brows, eyes like hazel. Highly effective, nonetheless; and a vivid momento of roles Popov has sung on stage brought about by the realisation that his voice is changing and that those characters will be replaced by others.
This disc is currently discounted down to £10.99 on Amazon at the time of writing.