Wood Nymphs and Mermaids in Sussex: Dvořák's Rusalka at Glyndebourne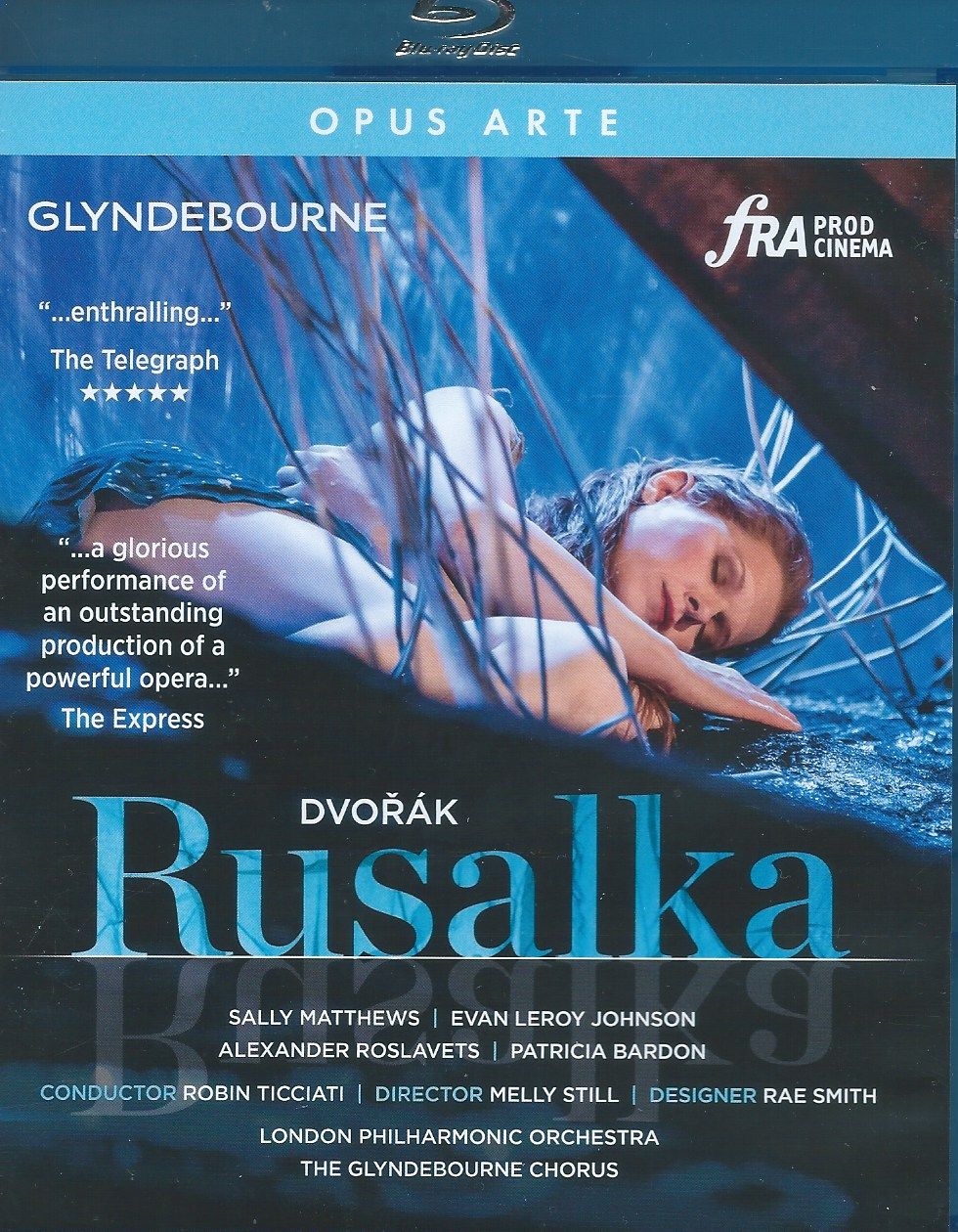 When I wrote in one of Classical Explorer's early posts about Dvořák's Piano Concerto, I couldn't resist linking to some of Rusalka: the opera's most excerpted moment, the "Song to the Moon," sung there by the amazing Gabriela Beňačková (see here). Nice to have this Bluray/DVD Rusalka come my way, then - Melly Still's ravishing production with sets by Rae Smith and the most lovely lighting by Paule Constable, from Glyndebourne, with Sally Matthews simply magnificent in the title role.
If ever there was a demonstration of the effectiveness of fairytale in opera, this is it - perhaps along with Humperdinck's Hänsel und Gretel and a pair of Cinderellas: Massenet's Cendrillon and Rossini's La Cenerentola. Glyndebourne was spending a whole summer in 2019 with the land of our childhoods and how opera illuminates it,with Rusalka rubbing shoulders with Mozart's Zauberflöte, Massenet's Cendrillon (you can read my review of the latter here) and Berlioz' La Damnation de Faust. Rusalka is the exception in the operatic canon in that the heroine actually loses her voice for a significant period of the opera; but what she does get to sing is absolutely radiant.
Try clicking onto the earlier post and listening to the "Song to the Moon" and then compare it to this: Sally Matthews this time, albeit not in Glyndebourne. Sydney, Australia in 2007, to be exact:
Melly Still's Glyndebourne production retains the sense of otherness airytale brings with it. The first production I saw of Rusalka, in the early 1980s at English National Opera, was by David Pountney and was set in a nursery (paging Dr Freud ...). Here, with her mermaids suspended in "water" and water forming a major component (inevitably), Pelly ensures we  enter into a sort of dream space, with Paule Constable's lighting perfectly capturing this effect. The tragedy of Rusalka is the story of the water nymph who falls for a human Prince and who bargains with the witch Jezibaba to become human - and mute, in the process being mistreated and ignored as the  Prince transfers his attentions to the Foreign Princess (here dressed ever so svelte in a sort of 1950s chic). Despite the fairytale setting, there is no happy ending: the Prince dies.
The piece is a masterpiece that still, despite being the only one of the composer's opera to achieve regular stagings, has not achieved full recognition. Pelly's production and the excellence of the performance go some way to reminding us that fairytale and myth can create deep resonance within us. There is more purely orchestral music here than in most operas and Dvořák's invention is never-ending. The Glyndebourne triumphs because it's not just Rusalka's show, despite being the titular heroine. Evan Leroy Johnson is an ardent Prince; the experienced Patricia Bardon an incredibly strong Jezibaba both dramatically and vocally, while Robin Ticciati leads the London Philharmonic with full grasp of Dvořák's genius and a real feel for the characteristically Czech harmonies..
It's almost a certainty for this site that this will in turn act as a launching pad for an article on another Dvořák opera. There is plenty of choice: from the grand operas the four-act  Dimitrij and the five-act Vanda (amazingly I've caught both in the UK in live performance) to the lighter The Devil and Kate. But for now, and without too much nostalgia for Glyndebourne (please, please let it be back next year), enjoy Rusalka!.