Images from the Great Siege: Alexey Shor on Naxos
Music that can conjure myriad images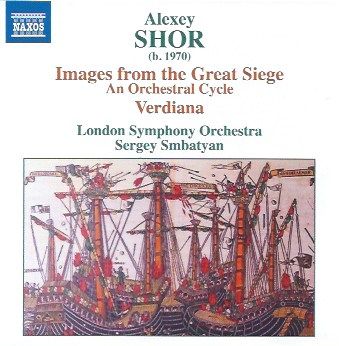 We have seen the success Alexey Shor's music enjoys both in Classical Explorer's Festival report and in interview. His music has a real pictorial bent, it can conjure up myriad images for us, so it comes as little surprise that the major work on this disc, Images of the Great Siege is descriptive. The siege in question is that of Malta by an Ottoman Armada in the 16th century. The Maltese, led by the Knights of Malta, overcame huge odds to emerge victorious.
On the present Naxos disc, Shor has the luxury of the London Symphony Orchestra. While the performance below is of a composite orchestra from tow territories Shor enjoys strong links with - Armenia and Malta - it is good to have the cadillac of the LSO on the Naxos release. The recordings took place at the Watford Coliseum in April and June 2019.
[1. Premonition 0:00; 2. Call to Arms, 4:50; 3. Leaving Home, 6:55; 4. Solitary Rider, 11:03; 5. Grand Master's Ball, 12:51; 6. Young Knight's Dream, 15:32; 7. Mirage, 17:35; 8. Cannonade 20:40; 9. St. Elmo Barcarolle,  22:23; 10. A Loss,          27:08; 11. Wartime Lullaby, 29:43; 12. The Big Bluff,  33:42; 13. Victory  Celebration, 36:35]
Shor has called his piece "Images" as his stated intent is to present a series of Romanticised responses to the event rather than offering a graphic description. Shor is very good at setting up atmospheres, so "Premonition," the first movement, describing the subliminal knowledge that the Turks were coming sooner or later, is highly successful. Filmic gestures and sonorities suffuse "Call to Arms," just as a light jollity exudes from "Grand Master's Ball". A succession of scenes around the invasion, the "Orchestral Cycle" (as it is designated) emerges as a procession of colourful tableaux, heard absolutely in the best light via the LSO. Sergey Smbatyan, who has been so involved with Shor's music, leads with a natural authority (he is a fine conductor with a great ear for detail and orchestral balance).
Another aspect of Shor's output is the merging of styles, something we hear in Verdiana, a potpourri of tunes from Verdi operas (principally Trovatore, Un ballo in maschera, Ernani, Macbeth, Aida and Rigoletto). Here it is in the Naxos LSO version:
In Classical Explorer's interview with Shor, we included a video of the clarinet version (performed by Boris Allakhverdyan and the Armenian State Symphony Orchestra under Smbatyan). There's another version available, for saxophone and orchestra, which offers yet another spin on the Verdi originals:
In a sense, Verdiana is a modern day take on the operatic fantasies of yore, where themes are welcomed into the compositional voice of another composer, there to be mulled upon and developed. Shor is very sure of his own voice, which adds to the success of the piece. And how fascinating to be able to compare and contrast versions in this manner!
The Naxos disc offers a clear window into Shor's music, performed by one of the World's great orchestras.