A Winter's Night: Christmas music for Choir and Organ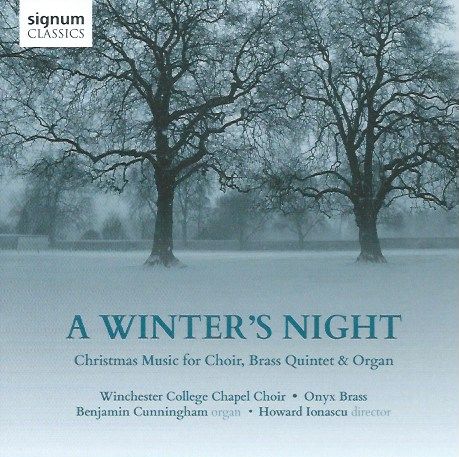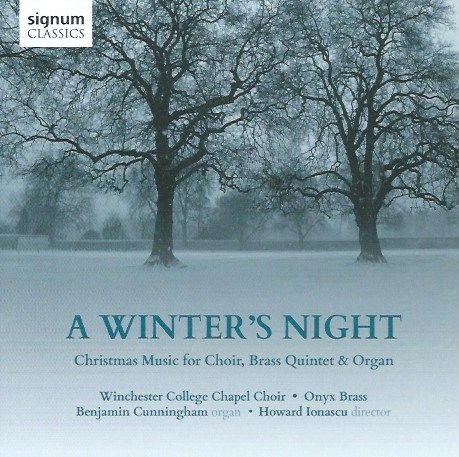 Released back in August 2020, when snow and the suchlike were the last things on anyone's mind, this Signum release brings together the time-honoured combo of choir, brass and organ. And what brass! Onyx Brass is a motley selection of principal brass players from major orchestras that positively glows. Listen to how they enliven the spicy opening of I saw three ships:
The arrangement by Timothy Jackson of In the bleak midwinter for brass shows off just what they are capable of. Not in an overtly virtuoso way; thinks like the cleanliness of slurs, so difficult to do really, really well, and the expert balancing of timbres. They are brilliant, too, in the inventive arrangement by Roger Harvey of Past Three O'Clock:
The disc itself takes its title from Cecila McDowall's Christmas cantata, A Winter's Night. I have been very taken by her music in the past (a release on Dutton of vocal and choral works, including A Canterbury Mass and Radnor Songs; her O Oriens also turns up on St John's College Cambridge's disc, Christmas at St John's), and this is no exception; plus, that opening  to I saw three ships begins to make sense. McDowall's spicy harmonies encompass and enhance five familiar Chistmas melodies: In dulci jubilo; O little one sweet; Noël nouvelet; Still, still, still; Sussex Carol. I didn't know "O little one sweet" but how beautiful it is:
What we can't do on a site such as this is to show how effortlessly that segues into "Noël nouvelet," the next track, with its feeling of a slow processional. McDowall writes equally well for choir and for brass, as you can hear from the bright textures and sprightly rhythms of Sussex Carol:
Although the rest of the programme is largely well-know favurites, what is so impressive is that they fit in so well with the conception of the first two tracks. There's a gentleness to the sound of the Chapel Choir of Winchester College that is most appealing. Try O little town of Bethlehem:
It seems only right that it is followed by Puer natus in Bethlehem by Samuel Scheidt; but its not a combination I have heard before and it works beautifully.
The combination of brass, percussion and choir works so well for an old standard like O come, all ye faithful, all amrshalled brilliantly by Director of Chapel Music and Choristers at Winchester College, Howard Ionascu:
The delightful meeting familiar favourites is the core idea of this release. It might have been released in August, but its time is now. And I do look forward to hearing more from Onyx Brass! They seem to have recorded on three other labels at least (Chandos, NMC and Intim Musik)  ...
A fine choice if you like your seasonal favourites but want a little twist.