Walton: Complete Façades from JoAnn Falletta
There is a huge amount of delight to be gleaned via this disc - a glimpse into another era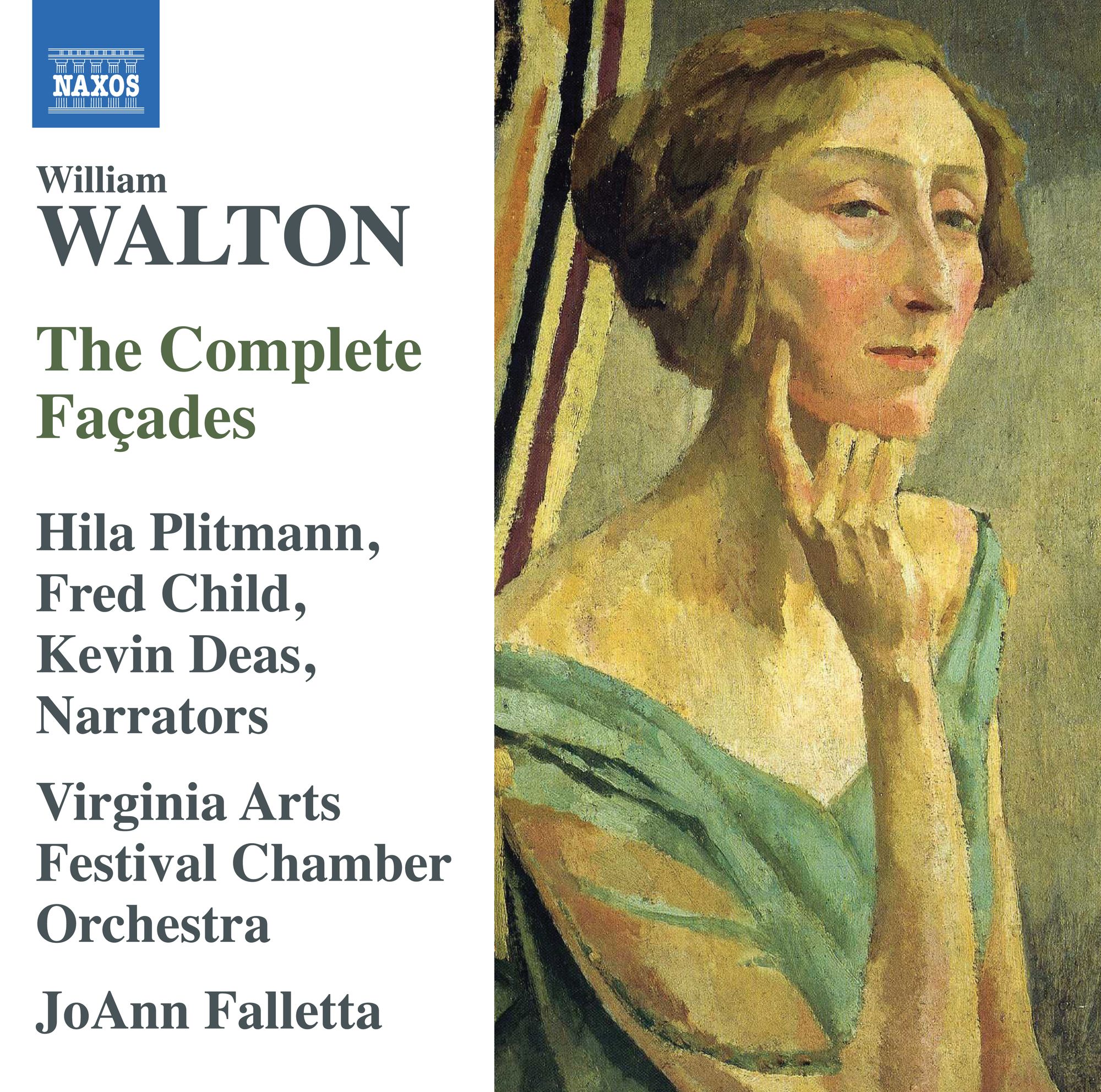 This recording – which includes not only Façade – An Entertainment (1922), but also Façade 2 – A Further Entertainment (1978/79) and world premiere recordings of additional verses – features acclaimed artists Hila Plitmann, Kevin Deas and Fred Child as narrators alongside the Virginia Arts Festival Chamber Players conducted by JoAnn Falletta.
It is, in the first instance, interesting to hear these pieces with American accents. More, it is positively invigorating to see the name Hila Plitmann among the narrators: her recorded repertoire includes music by Mark Abel on Delos , a fabulous disc of music by Andrea Clearfield on Albany, music bt composers Danaé Vlasse on MSR. and Xiaogang Ye on BIS, the Third Symphony, "Chu," with the Royal Philharmonic Orchestra under José Serebrier. My reviews of all of those can be found in Fanfare magazine (subscibers get access ot the Fanfare Archive). Other significant releases include Theofanidis' The Here and Now and  various pieces by David Del Teredici, John Corigliano and Richard Danielpour. Quite a spread!. Fred Child has recorded a notable Stravinsky Soldier's Tale for Naxos (with, as here, the Virginia Arts Festival Players); bass-baritone Kevin Deas' discography encompasses Adolphus Hailstork on Naxos and Haydn's Creation and Nelson Mass on Linn. Incidentally, that's Adolphus Cunningham Hailstork III: whose music is well worth a listen; try his First Symphony, also on Naxos, conducted by none other than Falletta.  
This is a particularly useful clip: JoAnn Falletta in interview with Peter Hall of WNED 94.5 Classical, Buffalo, NY, and explaining, amongst other things, why one track ("Small Talk") is a World Permiere recording:
It should be noted this is not the first Façade on Classical Explorer: we looked previously at that by the Orchestra of the Swan in their Sir William Walton: A Centenary Celebration, where the coupling was a very powerful group of excerpts from Henry V.
Walton's Façade - An entertainment was writen when only 19. In some senses,  Façade is a very English answer to Schoenbergian Sprechstimme, something we become particularly aware of  in Façade 2, perhaps, but also here in the original Façade, as we can hear in Plitmann'a amazing "Four in the Morning":
... and so let's start with the 1922 Façade - an entertainment, with its  quicksilver poetry. It works well, too to have a spread of vocalists: here are Plitmann and Deas in the third movement, "Mariner Man":
Walton's dry wit is superbly caught here - try the "Tango-Pasadoble" with its qoutation of Oh I do like to be beside the seaside (the reciter is Fred Child):
The performance is on-point throughout - the patter-song "Tarantella" (Plitmann) can hardly be bettered:
I just want to mention some phenomenal bassoon playing in "Jodelling Song" (Kevin Deas does the honours). The slinkiest instrumental yodelling you are likely to hear exists on this track, too:
Probably the most famous number is the "Popular Song" (you'll know it when you hear it!) but let's end, as Walton does, with "Sir Beelzebub" (with its beautifully deft rhytmes). Deas is brilliant here - it sounds like he, and the Virginia Arts Festival players, are having a ball. The final downward gesture is properly dismissive:
---
Façade 2 (originally entitled Façade Revived) is dedicated to the great Cathy Berberian and was premiered at Aldeburgh with Peter Pears as narrator and the English Chamber Orchestra under Steuart Bedford. Again ,the movements are split between the singers. Perhaps the "Aubade," the second movement, is particularly striing. It moves to interior spaces the original Façade chose not to explore:
Finally a collection of additional numbers, including that premiere, "Small Talk," performed by Fred Child. Walton"s scoring is mesmeric:
These are the four numbers that were  dropped from the original Façade 2.and replaced by other numbers. Good to have them here, for sure, and performed with equivalent élan to the rest of the disc!
There is a huge amount of delight to be gleaned via this disc - a glimpse into another era.