Voyage: Christine J. Lee and Henry Karmer's exceptional journey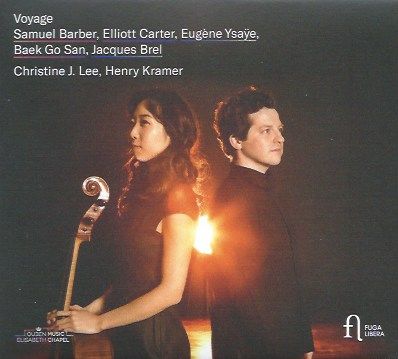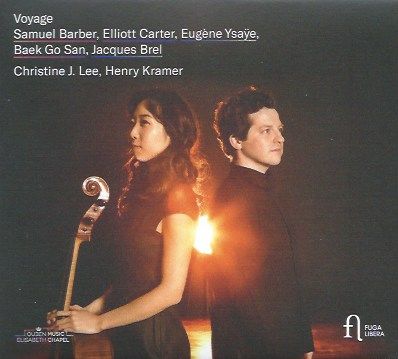 After the Chandos disc of American Quintets - which included Samuel Barber's Dover Beach - it seems a good idea to use some more Barber as a launching-off point for exploration. This time, it's the Cello Sonata which, in the secure hands of Christine J. Lee and Henry Kramer on the Fuga Libera label, comes up - a work of strength and, in this performance, real nobility.
But first, a word on the idea behind the recital itself. "Voyage" refers to  a journey in which the traveler (the listener) "puts down roots" and "achieves at a clearer definition of self thanks to the sustenance that a different culture will provide". Chrustine Lee's personal journey has itself been wide-ranging: Korean-born, she moved to the United States and thence to Belgium.
The scenery on this particular voyage is extraordinary: Barber's Cello Sonata, which opens the disc, is beautifully expressive and Romantic at heart while containing clear seeds of modernism in its elusive, elliptical manner (the augmented sixth figures prominently). Here's the first movement:
The generosity of spririt in the piece clearly pays its respects to the Brahms of that composer's two Cello Sonatas; but this is a beautiful, highly individual piece. The Elliott Carter that follows offers an altogether craggier landscpape. The long-lived  Carter (1908-2012) was a figurehead of modernism in America who was one of Nadia Boulanger's many successful students - he studied with her in Paris. The piece includes examples of so-called "metric modulation" - moving from one tempo to another apparently seamlessly through. Carter was influences by many World music, too. Perhaps here we should stop to enjoy the scenery of the fleeting, rapid second movement, a Vivace, molto allegro:
If some of the more complex music of Elliott Carter has perhaps made you steer away from him in teh past, perhaps try the lyrical, expressive Adagio; after that, the modernistic scamperings of the finale may well make much more sense!
Lovely to see some music by Eugène Ysaÿe (1858-1931) - usually known for his solo violin works. Ysaÿe also straddled Europe and America, extending his roots. His 13-minute Méditation in B-Minor, Op. 16 of around 1910 (it is best known in its orchestral garb, but this cello/piano version is just as stunning in the hands of Lee and Kramer; I'm particularly taken by the fluidity of pianist Henry Kramer here):
This is a powerful performance of this great piece: Ysaÿe's Méditation should certainly be better known and I would love to hear it in a recital programme.
The balance of the programme not only exponentially adds to our air miles but also takes us to different musics First, traditional Korean, a folk tune. in a set of variations (Arirang Variations) by Baek Go San for solo cello. Haunting, beautiful, this for me (the die-hard modernist!) is the truly special track of the album:
In the manner of an encore, perhaps, we have three songs by Jacques Brel. Travelling, voyaging, means meaving loved ones behind, and that's the sentiment of Brel's Litanies pour un retour:
... and so, let's offer our own "encore" to the album. Here's Lee with pianist Dana Protopopescu in a live performance of David Popper's short but tremendously fun Elfentanz (Dance of the Elves):