Rimsky-Korsakov and opera I: Sadko
The score is a masterpiece; this production and performance remind us, in their imaginative scope, of the sheer fertility of Rimsky's operas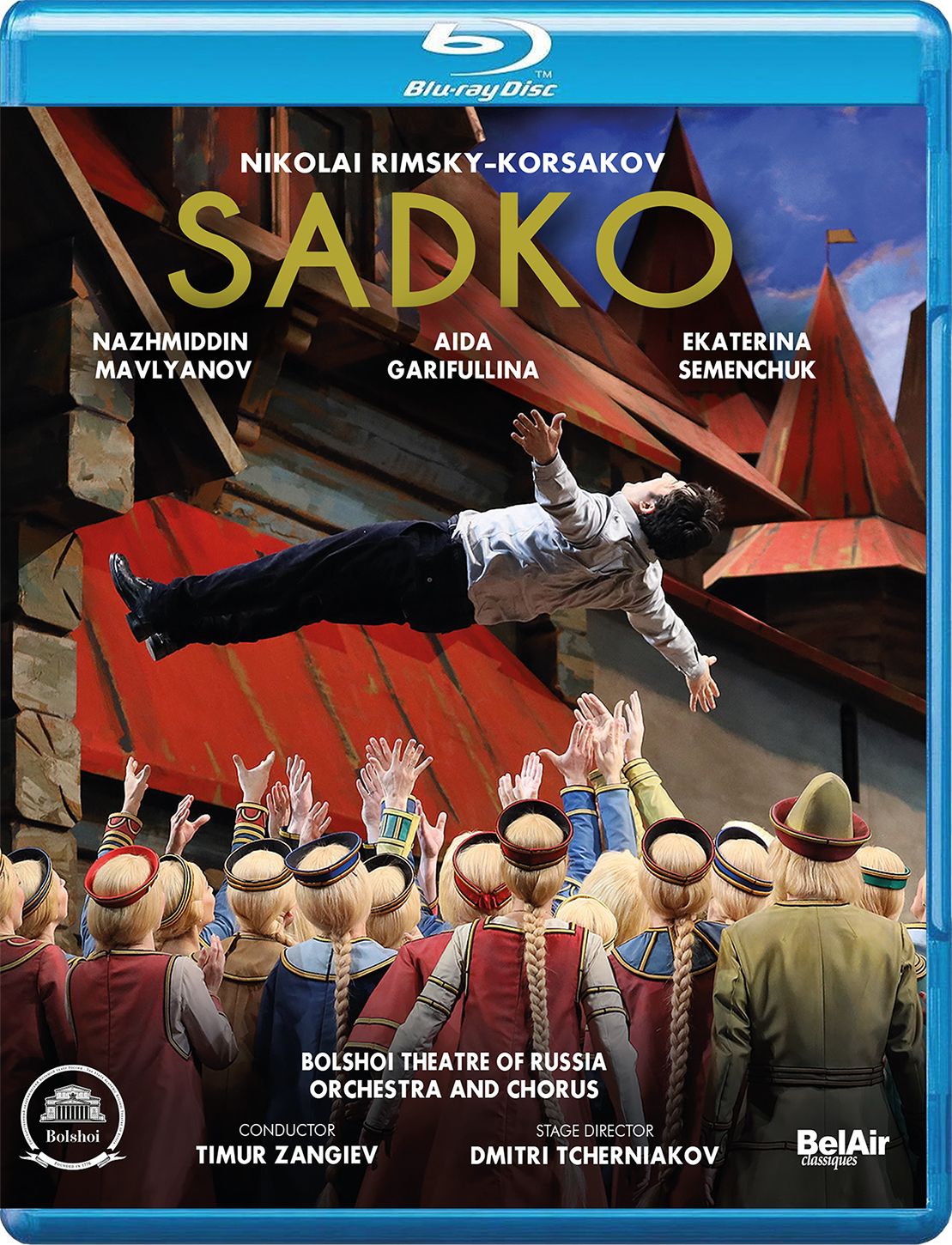 Rimsky-Korsakov's operas remain sparsely performed outside of Russia, and yet they contain such riches. A spectacular boxed set of the Hänssler Rimsky operas offers a cornucopia of Russian performances (the Sadko is from 1946 and stars Nikandr Khanayev in the title role, with Ivan Petrov as King of the Sea and the great Mark Reizen as the Viking Guest: Vasily Nebolsin conducts the Bolshoi Theatre Orchestra and Chorus).
Thsi review comes soon after a performance of Rimsky's The Tale of Tsar Saltan at the Strasbourg opera conducted by the remarkable young ocnductor Aziz Shokhakimov - a conductor who has galvanised and trsnsformed the Strasbourg orchestra. That production, like this Bel Air DVD/Bluray of Sadko, was directed by the divisive Dmitri Tcherniakov.
Sadko's Tale: In the 13th century, the rich merchants of Novgorod mock the dreams of far-away journeys and of commercial conquests brought forth by Sadko, a musician (a guzli player) and singer. But Volkhova, the Sea King's daughter, is enchanted by Sadko's voice, and promises to help him fulfill his dreams...
In the production of the Tale of Tsar Saltan, Tcherniakov used state-of-the-art tech to create two planes of reality, one modern dress, one very definitely in the colours and costumes of Russian folklore. No tech in the same way here - although plenty of clever scene changes - but again two realities, one modern dress, one the dream/folk world of the undersea kingdom.
Tcherniakov's production of Sadko begins with projection of filmed interviews with Sadko (Nazhmiddin Mavlyanov), Lyubava (Ekaterina Semenchuk), and Volkhova (Aida Garifullina). The music begins and we see an entrance to a "theme park" whose name translates as "Park for the Fulfilment of Desires". The stage is literally set for this remarkable tale. As in Saltan, modern dress  is directly juxtaposed with folkorish attire as worlds collide. Here's a short film that includes samples of various scenes so you can get an idea of the magical world Tcherniakov (who is Set Designer as well as Stage Director) and Costume Designer Elena Zaitseva conjure up:
Typically for Tcherniakov, he adds his own twist to the ending (as he did with Saltan). It is important to note that the director is positively immersed in Rimsky opera: in 2012, he presented The Legend of the Invisible City of Kitezh in Amsterdam; The Tsar's Bride and The Snow Maiden followed prior to Saltan. There are extremes in his setting of Sadko, from a bare stage to a somewhat hallucinogenic parade of sea creatures as Sadko descends to the ocean's depths, to absolutely spectacular crowd scenes in the Grand Russian Operatic Tradition. A final scene finds Sadko in modern dress asleep on the stage; Volkova (the wonderful Aida Garifullina) sings a lullaby while toting a modern suitcase, now in modern dress - instead, that is, of being transformed into a river, as Rimsky's score requests. Garifulina is superb, as is the untiring Malyvanov as Sadko.
It is a pity the part of Lubava Buslaevna is so small, as Ekaterina Semenchuk is one of the big names here, and certainly delivers. The "Sea Tsar," Stanislav Trofimov, is a huge vocal presence, as is the Viking Guest (here listed as "Varangian Merchant"!) Dmitry Ulianov. "The Song of the Viking Guest" is probably the most famous part of this opera, and has been recorded by a great many notable bass singers, from Mark Reizen (already mentioned above: here's a link to a YouTube of him singing this aria) to Boris Christoff (Philharmonia / Issay Dobrowen) to Feodor Chaliapin, to, in slightly more modern times, Nikolai Ghiaurov in 1962.
Sadko finds Rimsky drawing his artistic material from Russian folk music; he also uses old musical and poetic forms. The score is a masterpiece; this production and performance remind us, in their imaginative scope, of the sheer fertility of Rimsky's operas, and Timur Zangiev conducts the Chorus and ORchestra of teh Bolshoi with verve and understanding.
Don't hesitate.