Rafael Payare and the OSM in Montréal (2)
The OSM and Rafael Payare light up Montréal's Olympic Park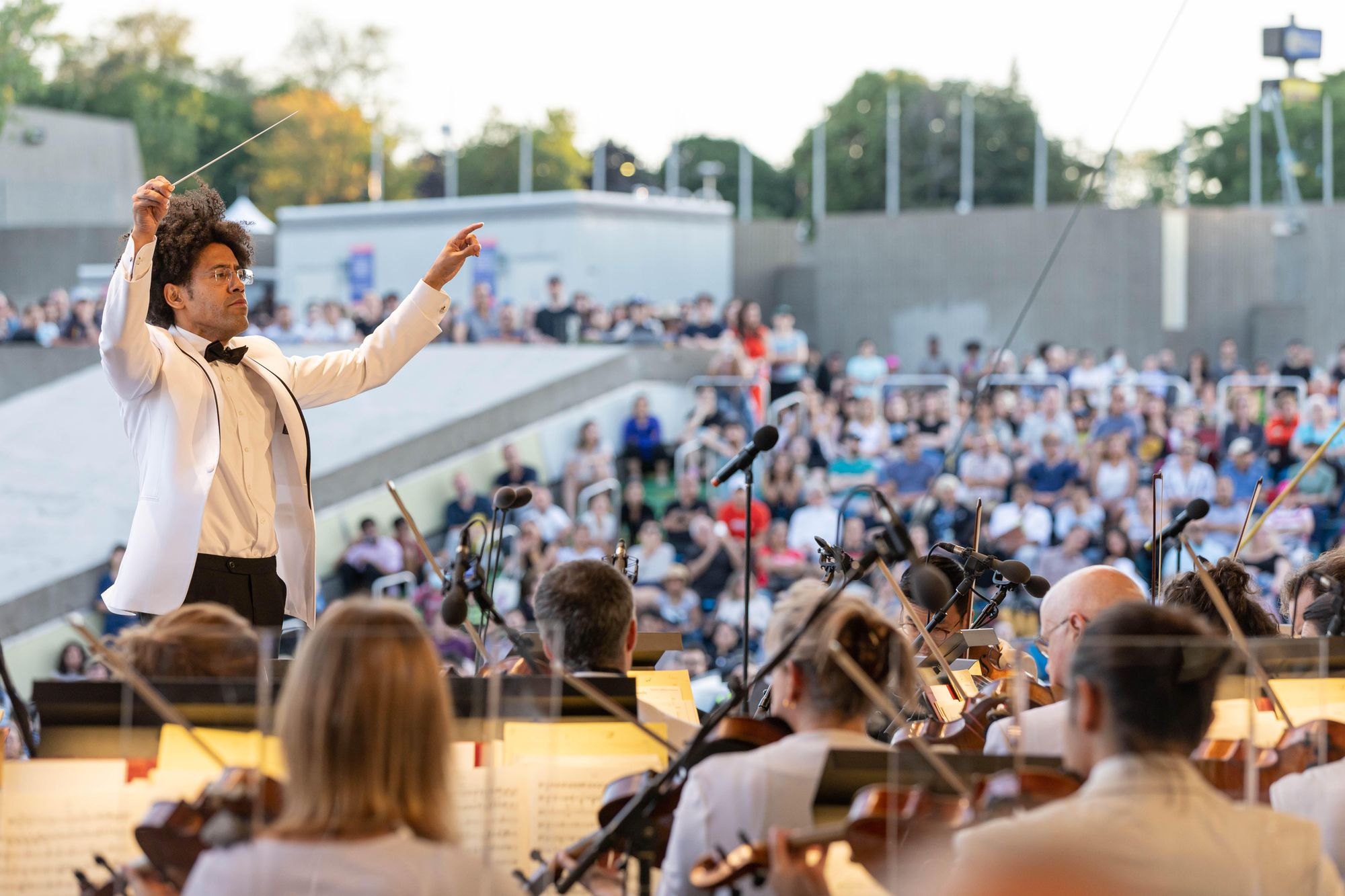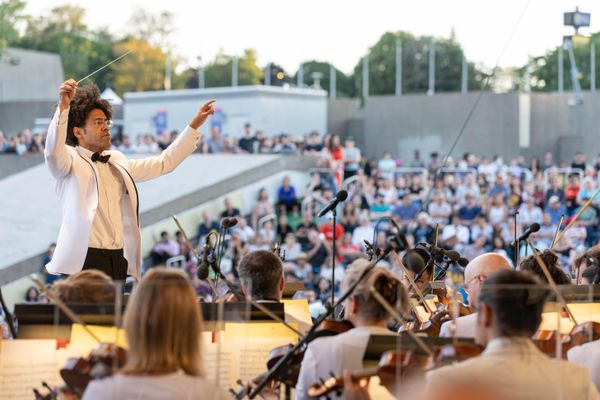 The Many Colours of the Americas: The OSM at Olympic Park Montréal Natasha Kanapé Fontaine (author); Jeremy Dutcher (singer); Jeanine De Nique (soprano); Pacho Flores (trumpets); Orchestre symphonique de Montréal / Rafael Payare. Parc Olympique, Montréal, 10.8.2022
Dvořák Symphony No. 9 in E minor, Op. 95, 'From the New World' (excerpt)
Reading of a text by Natasha Kanapé FontaineF
Inuit Song, Mehcinut, performed by Jeremy Dutcher
D'Rivera  Concerto Venezolano
Bernstein West Side Story, Symphonic Dances
Previn   Honey and Rue: The Town is Lit
Castellanos Santa Cruz de Pacairigua (Suite Sinfónica)
Montréal hosted the Olympics in 1976. One legacy is the Olympic Park, host to this free concert. Up to 30,000 people can attend these outdoor events, and it looked at a glance as if we were not far off that figure.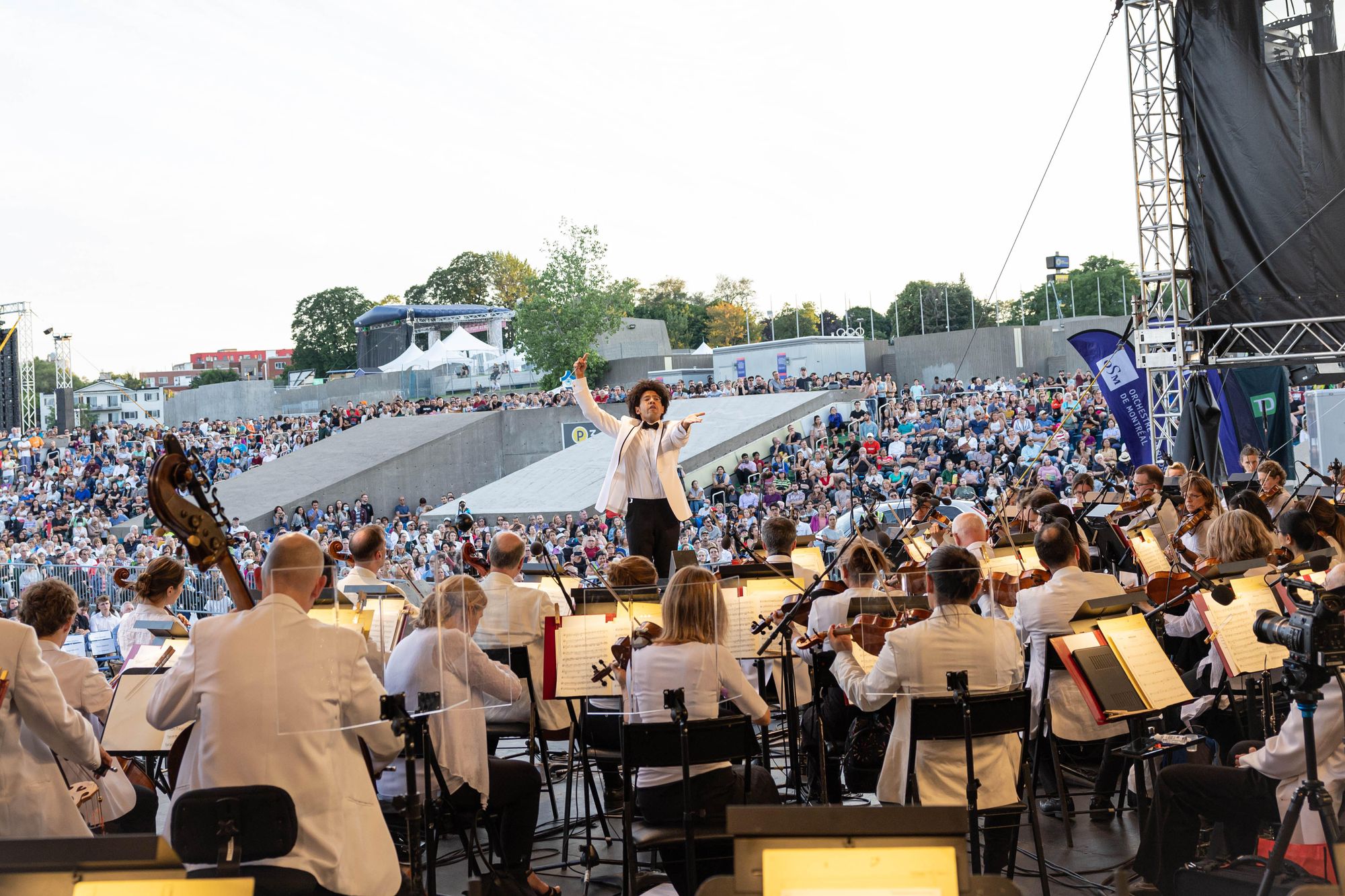 There are swings and roundabouts to events like these, of course. The community advantage is huge and obvious; but the sound does need handling. As we were to find out in the concerts in the orchestra's home concert hall, the Orchestre symphonique de Montréal (OSM)  boasts a simply beautiful sound; the amplification here was the issue, obfuscating that core sound. The result was rather harsh timbrally – plus, the balance could be remarkably unrealistic. At one point a single flute was louder than the entire orchestra. With speakers around the performance space, there was a slight sense of dislocation, also – one watched the performers and yet the sound was displaced.
That said, this pops concert had much to recommend it, most notably Venezuelan trumpeter Pacho Flores in a remarkable performance of Paquito D'Riveira's Concerto Venezolano. This seems to be something of a signature work for Flores (there's a YouTube of part of a performance – Cadenza and Joropo – in Liverpool, with Hindoyan). The piece lasts just shy of 20 minutes and is virtuoso in every single aspect. Flores is an absolute master of his instrument – this was faultless trumpet playing, with smoky flugelhorn and agile cornet. Flores's range is immense. On each instrument he could conjure up extremes without any sense of strain or fatigue.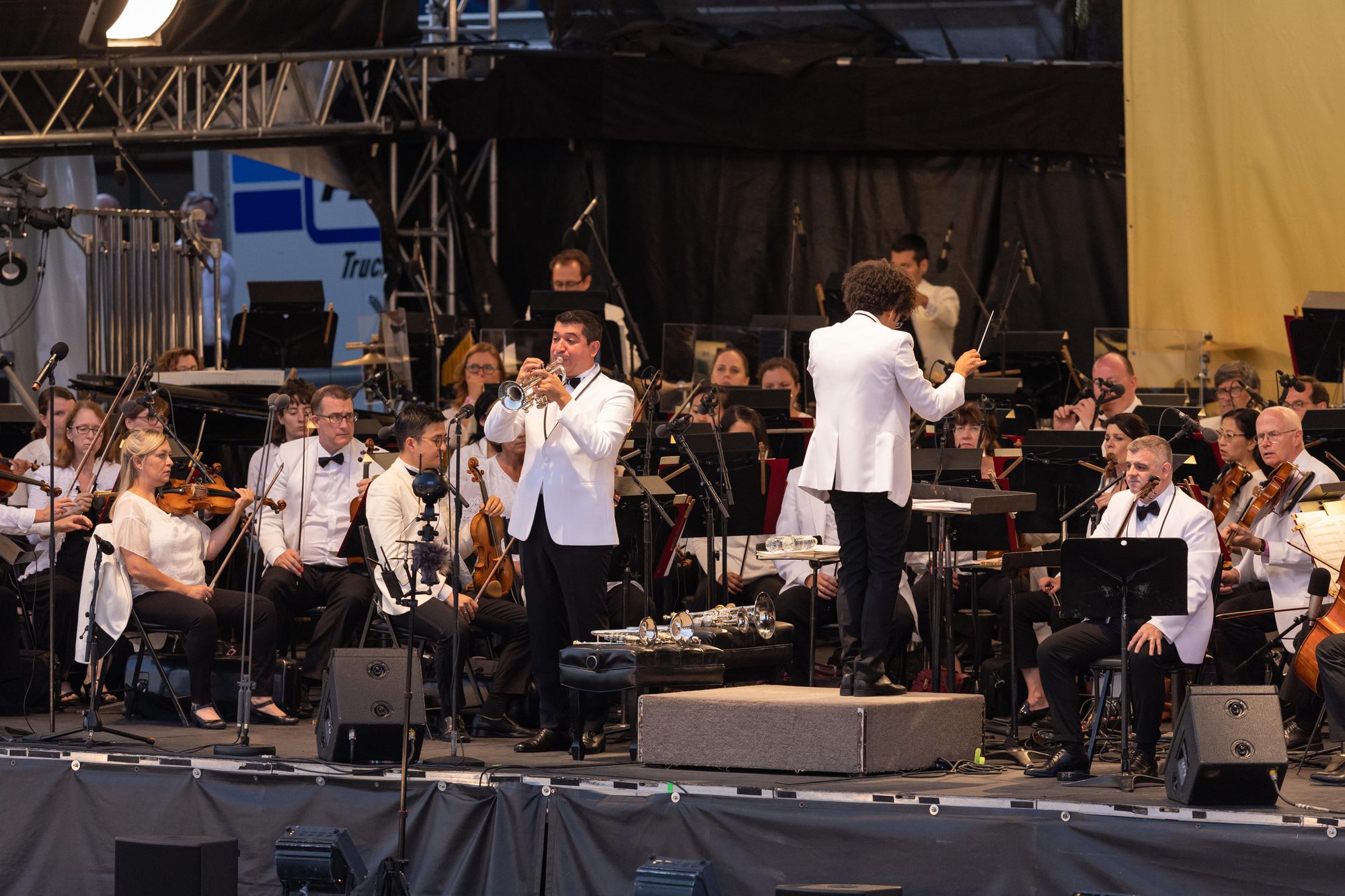 The work is exuberant, for sure, but the most memorable moments were when the scoring thins and there is a duet for trumpet and cuatro (a Latin American guitar-like instrument played in Venezuela) that is absolutely stunning in the 'Merengue' portion of the piece (a section that also includes a simply magical moment for harp and cuatro). The piece is written with the hand of the master, and performed by someone who persuaded us he is one of the finest living trumpeters. Payare ensured the rhythms were infectious yet disciplined (this is his territory, too, after all).
Di Rivera's piece was part of a shared worldwide commissioning project, and was written specifically for Flores and was premiered by him on September 1, 2019 with the Orquesta Sinfonica de Mineria conducted by Carlos Miguel Prieto; and, relevant to the present performance, the US premiere was in San Diego with Payare in March 2020. Follow this YouTube link to hear the composer introduce the piece and to speak warmly about Flores. The Concerto is also part of a DG album, Estirpe, released by Flores; of all its slickness and superb sound, though, it was the atmosphere of the Montréal event that won out.
The D'Rivera was unforgettable. While the excerpt from Dvořák's 'New World' Symphony acted as an appropriate lead-in, the sonics were the problem (not just that flute, but spotlit timpani also). A shame, as Payare's Dvořák is clearly affectionate and intelligent. Far more effective was Jeremy Ducher's performance of the song Mehcinut. Dutcher has been involved in working with wax cylinder recordings of traditional songs from his Wolastoq roots (and, indeed, Mehcinut includes a snippet of one of those recordings as part of the musical expreience, effortlessly and thoughtfully integrated into the musical fabric. Mehcinut is actually a tender death chant – poignant, powerful. The song incidentally forms the first track of Dutcher's 2018 album Wolastoqiyik Lintuwakonawa. In Montréal, one could certainly hear the open, strong quality of Dutcher's voice clearly. This was a heartfelt performance.
Bernstein's West Side Story needs little introduction. What was interesting was the spin Payare put on it – a sort of first cousin to Gershwin's An American in Paris. Certainly, Bernstein's debt to Gershwin has rarely been clearer. Payare's pacing, too, is expertly judged, nowhere more so than in 'There's a place for us'. From gossamer light to the excitement of the Mambo, this was a performance of utmost virtuosity and élan.
It was fascinating to hear a song from André Previn's song-cycle Honey and Rue - the third, 'The town is lit'. The piece was written originally for Kathleeen Battle and fits the definition of 'Americana' perfectly. It is expertly written, and Trinidadian soprano Jeanine De Bique has the perfect voice of for this music. The song is initially introspective (with some dark shadows as Previn scores for soprano and double-basses with nothing to fill the gap, before the more active, jazzy section initiates. De Bique is a real storyteller (clearly in a wide range of repertoire – he excellent disc Miroirs is of Handel) and it would have been good perhaps to hear the entire cycle.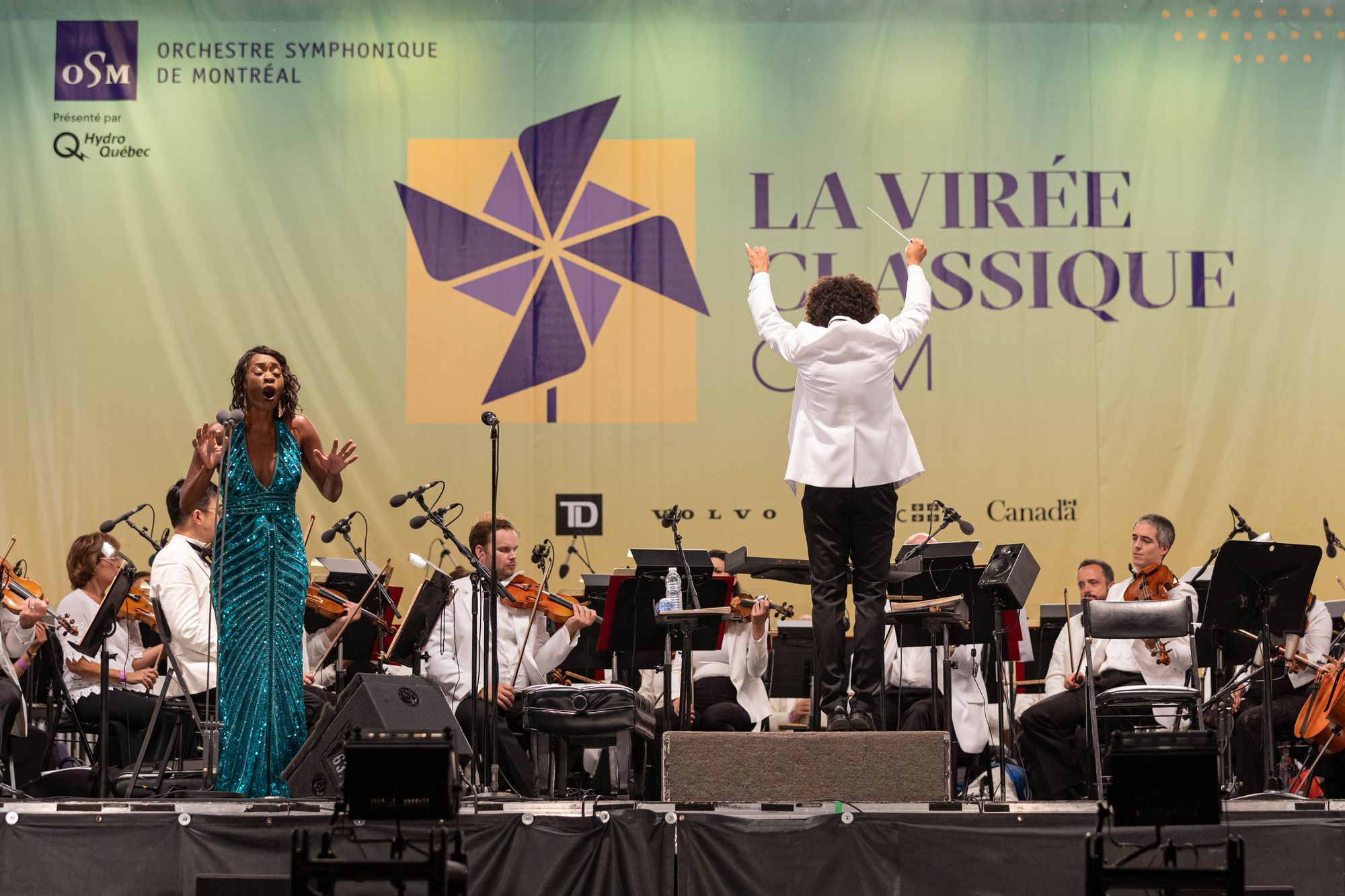 In fact, Jeanine De Bique was soloist in Chineke!'s Prom in 2017 where she sang two pieces by Handel: 'Da tempeste' from Giulio Cesare, and this - a vibrant 'Rejoice greatly' from Messiah:
(My review of that Prom is available here).
The concert ended, though, with Evencio Castellanos' symphonic suite, Santa Cruz de Pacairigua (familiar, if at all perhaps, through Dudamel's recording with the Simón Bolívar orchestra on the DG album Fiesta). The piece pays homage to the construction of a church in Guatire, near Caracas, and quotes popular dance melodies and a Venezuelan medieval carol.  If the brashness of the amplification system at the Olympic Park took this to uncomfortable levels of brashness, there was no doubting the Montréal performance's vim and verve. Castellanos' writing is interesting, at times verging on the polytonal as he works with layering techniques; then, suddenly the music clears for an outdoorsy feel before Ivesian juxtapositions surface. Moments of reflection were tenderly caressed in this performance. Santa Cruz is a fascinating sonic collage, and the perfect close to a joyous, if sonically challenged, evening.