Puccini's La bohème from Irish National Opera on Signum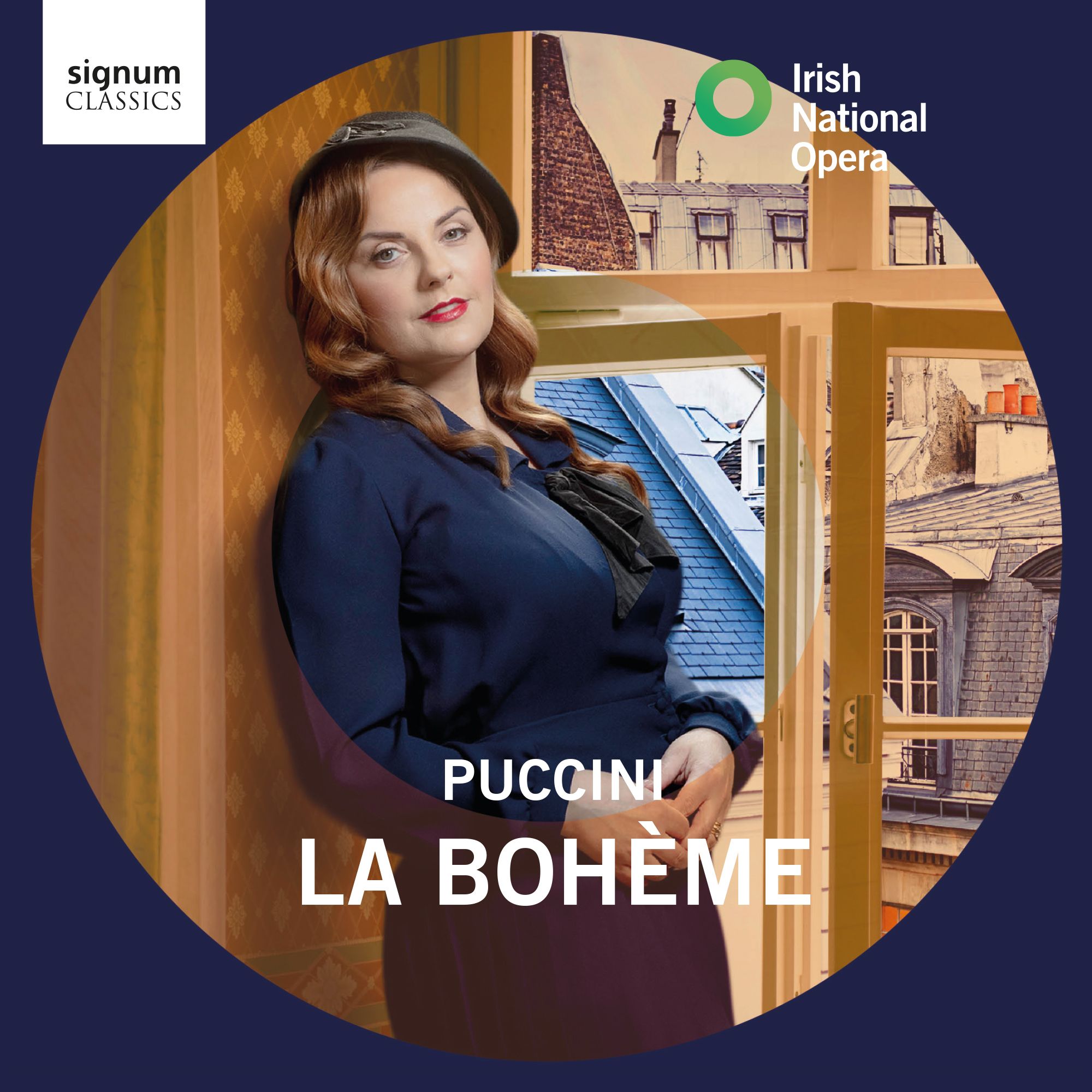 On August 11, 2021 Signum announced a partnership with Irish National Opera to rlease the company's first official recordings. Following their World Premiere recording of Gerald Barry's Alice's Adventures Under Ground, released last year, La bohème is Irish National Opera's second recording in their new partnership with Signum Classics. Released on March 25, this is a fine involving recording of what must surely by Puccini's most loved opera, La bohème.
Funded by The Arts Council, Irish National Opera is Ireland's biggest, newest and most dynamic opera company which aims to produce high-quality and accessible opera in venues throughout Ireland as well as further afield. In its first two years, INO produced 72 performances across 24 Irish venues, with plans to expand even further in the coming years. Already boasting critical acclaim from the press, its recent lockdown production 20 Shots of Opera was called "an exhilarating jaunt" by the Wall Street Journal. Recently, INO nrought an unforgettablly visceral production of an opera by Vivaldi, Bajazet, to the Linbury Theatre of the Royal Opera House, Covent Garden.
La bohème is an evergreen favourite in opera houses, and with good reason. It is perfectly constructed - all of which operates in the background while Puccini pushes and pulls at our heart strings mercilessly. He brings in high contrast to achieve this: the boisterous lads' play in the first act contrasts with the first, intimate meeting of Mimì with Rodolfo (the excellent Merūnas Vitulskis), while in the final act the same high-jinks come to a skidding halt with the arrival of the dying Mimì. The tragic close, the death of Mimi, is one of the most emotionally painful in all opera.
The Mimì is fabulous, so delicate and fragile at the beginning. Pure voice, and her Rodolfo sounds genuinely youthful. Sergio Alapont's tempo is perfect, bright, breezy as the couple-to-be get to kow each other. Here's Rodolfo's "Che gelida manina," (sung by Merünas Vitulskis):
As for Mimì herself, Celine Byrne is the epitome of the delicate heroine. Here's one of her most famous arias: from act I, "Si, mi chiamano Mimì":
The Muestta is Anna Devin, who absolutely nails her act II "Quando m'en vo"
... and we can hear how well Rodolfo works with his Mimì, Celine Byrne, here, in "O soave fanciulla":
This recording has one of the finest third acts I have heard, brilliantly sculpted by Alapont to include moments of held-breath emotion - and certainly one of the tenderest endings, with the Rodolfo and Mimì in perfect accord.
The recording is spectacular. Not in a glitzy, bright, digital way, more in its sonic honesty. We hear everything, and in beautiful perspective: try the offstage chorus and its approach in act II (in this performance Alapont ensures we hear this as one of the more modernist moments of the opera with an almost Ivesian layering of on-stage and off-stage elements. Part of this mastery of Puccini's techniques is an awareness of gesture from Alapont: the sudden two-chord opening of the third act a case in point, and the way the excellent Orchestra of Irish National Opera conjures up the frozen atmosphere is testament to his conducting. Alapont, too, has a feeling for the perfect tempo, and it is precsiely this that allows his third act to be so successful, Melodies stretch beautifully but the underlying pulse remains intact. This excerpt from act III sums that up perfectly:
Orchestral textures are clear, and often, when appropriate, luminous. I would like just a touch more impetuosity to the various boisterous scenes with the "lads" (Marcello, Rodolfo, Schaunard and Colline) in the first and last acts, especially given their vital part in Puccini's structure (in act I the scene contrasts with the meeting of Rodolfo and Mimì; in teh final acts, it contrasts with Mimì's death scene). But how Alapont sculpts the change of mood in the final act (the passage between "Gavotta" and Schaunard's Coat Aria):
The philosopher Colline's Coat Aria (he has to sell his beloved coat to buy medicine, the coat whose pockets have held the work of so many great writers ...) is beautifully phrased by John Malloy, a name new to me but one that is duly noted; he seems to have worked mainly in Ireland and Scotland. And just listen to Byrne's fragility at "Sono andati":
A large selection of tracks are avialable for browing on Spotify (it is displayed as individual items as opposed to, as usual, one big URL to link to so perhaps best to do a search there).
This sound-only post complements Classical Explorer's post on the DVD/Bluray of the Bohème from Covent Garden,