Véronique Gens in Poulenc's "La Voix Humaine"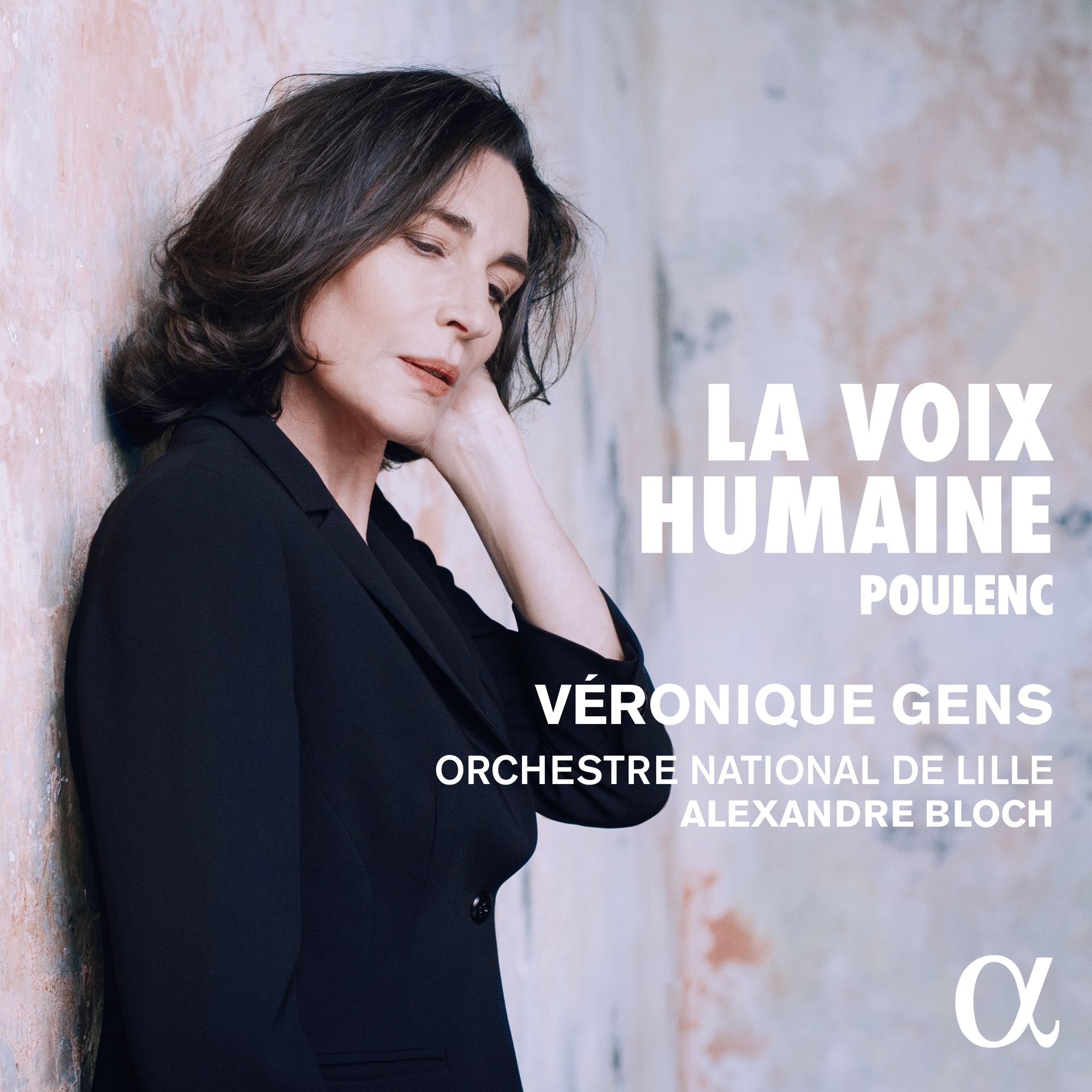 This is a remarkable performance of Poulenc's La Voix humaine, featuring Véronique Gens on top form. Conductor Alexandre Bloch has quicksilver responses to Gens - and he needs them for Poulenc"s score. He is in complete control of the Orchestre National de Lille, of which he has been Music Director since 2016 (his predecessor, Jean-Claude Casadesus, held the post for 40 years (from 1976). Here's a taster of the recording sessions:
... and here is Gens herself (speaking in French) on the recording process:
Véronique Gens is mesmeric. Every utterance comes with a frisson, even while every word is perfectly declaimed. Try this, for example:
The ratcheting up of the tension as the work heads towards its conclusion is visceral. A late cry of "Mon amour" tears at the heart-strings. La Voix humaine ends in the most remarkable fashion, repeated cries of "Je t"aime":
We do get Cocteau's text in the booklet - intimidatingly without paragraphs - but no English translation, unfortunately. The work was written for Denise Duval (who created the role of Blanche de la Force in Poulenc's opera Dialogue des Carmelites; there is a link to her recording below - read on!).
Poulenc called the work a "lyric tragedy" (tragédie lyrique): Gens and Bloch captrue the essence of those words perfectly. The story is simple - a woman tries to win back her lover over a telephone conversation (interrupted by the vagueries of France's telephone system back then).  Gens conveys the desperationperfectly, while finding heartbreaking lyricism in lines that are often fragmentary. Bloch matches her in expression. Try "Oh! non, mon cheri, surtout ne me regarde pas":
Gens maintains a constant tension in her voice, even at lower dynamic registers; but the angst always surfaces. A good exmple of this occurs here.
The warmth and expression of the orcestra here is remarkable, with Gens rising to the dynamic swell perfectly:
Here as a supplement is Denise Duval's recording with Georges Prêtre (recorded 1959, with the Orchestre du Théâtre National de l'Opéra-Comique.
---
Previously, we covered a Chandos Poulenc Sinfonietta with the BBC Concert Orchestra under Bramwell Tovey - I suggested that I could see awards coming that disc's way, and that performance is just preferable to the Lille one. The acoustic for this new release is a bit more resonant, "looser," if you like. There is certainly Gallic charm to the performance, and lovely oboe and horn solos around four minutes in, though:
The Lille orchestra catches the quicksilver nature of the Molto vivace well though, bustling yet charming:
The Lille orchestra's finest achievement is the Andante cantabile: gracious winds and delicate strings conspire to create a deliciously floating texture:
The Lille orchestra is certainly agile enough for the finale ("Très vite et très gai"), and it certainly spot-on with the "gai" stakes. A breath of fresh air, this is the finest movement of Bloch's Sinfonietta. Listen out for a silken clarinet solo not too far after the three minute mark:
It is, though, for La Voix humaine that this disc is a mandatory purchase for all lovers of Poulenc's music.