News item: George Walker's Trombone Concerto at the Proms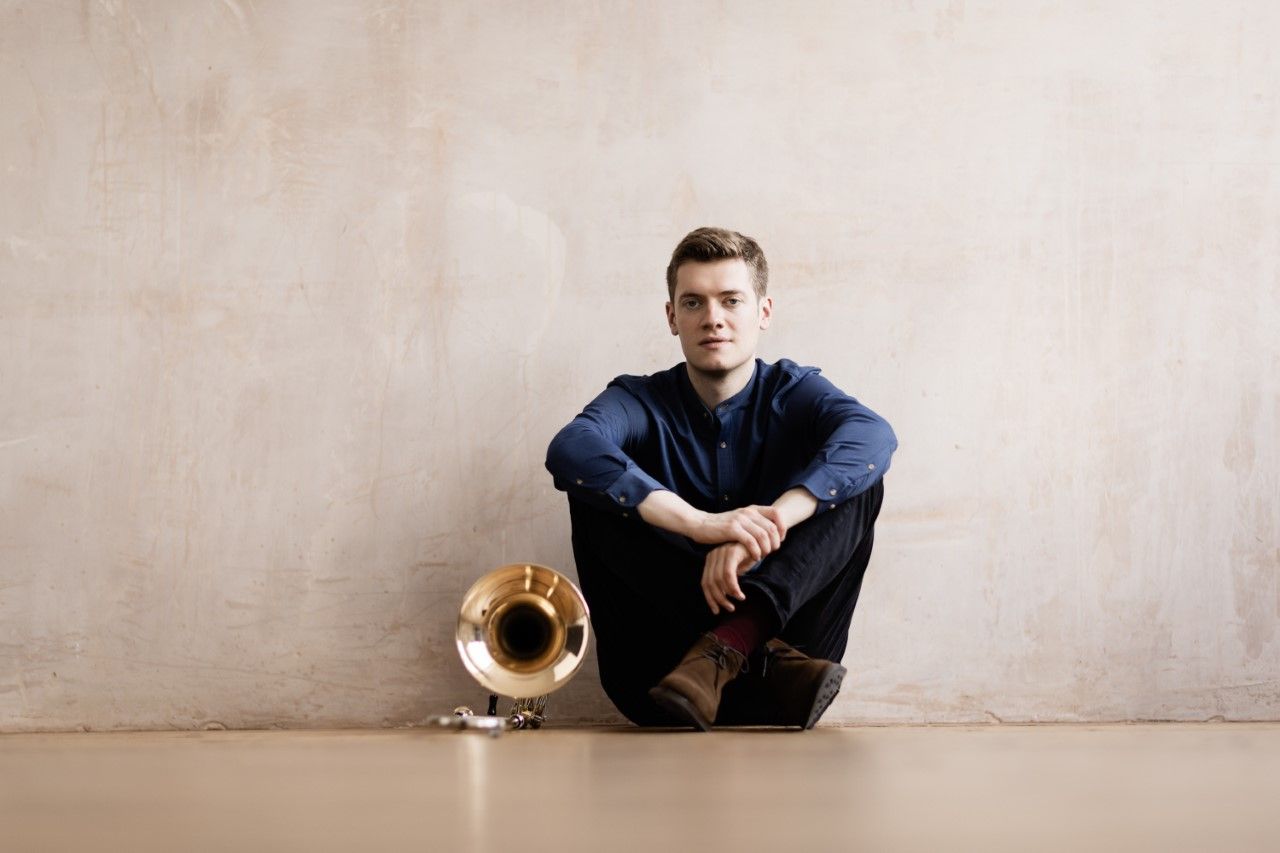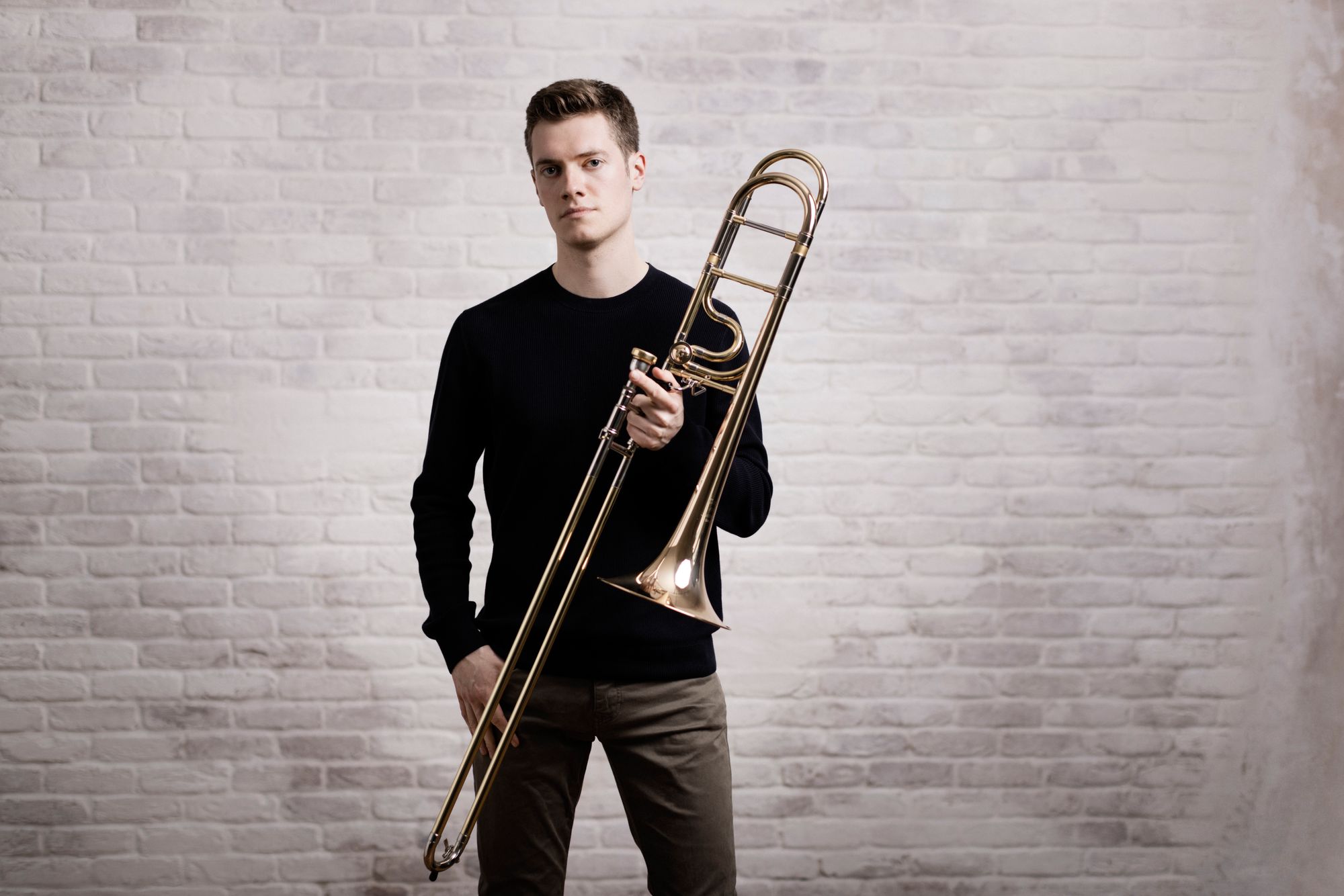 Peter Moore will appear centre stage at the BBC Proms at The Royal
Albert Hall on Tuesday 16th August 2022, performing George Walker's
Trombone Concerto with the Royal Philharmonic Orchestra, this will be
followed by a high-profile tour of Takemitsu's Fantasma Cantos II with Sir
Simon Rattle and the London Symphony Orchestra both in London and
Japan this autumn.
Fans of George Walker will no doubt know that Classical Explorer has featured his works on a couple of occasions already: the Piano Sonatas on Bridge here, and a concert review of the UK premiere of his Sinfonia No. 5 (in a concert that also included Rebecca Saunders' Piano Concerto, Visions and Utterances) here.
Peter Moore first came to national attention in 2008 at the age of twelve when he became the youngest ever winner of the BBC Young Musician competition. He is now the Principal Trombone of the London Symphony Orchestra and alongside his performing career, he is Professor of Trombone at the Royal Academy of Music.
George Walker is the first black composer to win the Pulitzer Prize for music in 1996,  and composed this trombone concerto in 1957. It is an exciting moment for the concerto to be featured at the BBC Proms 2022 with Peter Moore as soloist and Royal Philharmonic Orchestra and Vasily Petrenko alongside well known works by
Prokofiev and Copland.
It is one of the earliest known modern trombone concertos, showing Walker's wide-range of inspirations, from Beethoven to some of the jazz greats.
Peter comments:
I'm truly honoured to share this fantastic work with the Proms audience; I don't suspect that it will be familiar to many. The concerto demands rhythmic precision, attention to detail yet with glimpses of expansive melodic lines which have an expressive sonorous quality which are a delight to explore
He is excited to be shining a light on this first modern trombone concerto which set the scene for Trombone concertos from Berio, Turnage, Xenakis and Dani Howard in 2021. Some interesting facts:
The last time the trombone was featured at the BBC Proms was in 2003 with trombonist Christian Lindberg 'Symphony No. 9 for trombone and orchestra' by Finnish composer Kalevi Aho, memorably featuring trombone, sackbut (early trombone) and free jazz solos. Here's the first movement of that piece - sadly not teh Proms performance (which I attended and remember well) but the BIS recording is still with Lindberg, though here with the Lahti Symphony Orchestra under Osmo Vänskä:

Critics say of Peter, that he "displays an eloquence and nobility that one might have thought impossible except by the human voice" - BBC Music Magazine, on his debut album Life Force in 2018.
Later this autumn, Peter will also be featuring in a series of London Symphony
Orchestra concerts celebrating composer Tōru Takemitsu giving Peter another high-profile opportunity to showcase the beauty and power of the trombone.
Fantasma/Cantos II by Takemitsu is Inspired by Japanese Landscape Gardens. In the words of the composer:
You walk along the path, stopping here and there to contemplate, and eventually find yourself back where you started from. Yet it is no longer the same starting point.' A beautiful melody line is repeated many times, each one slightly different, with the ever-shifting sound world in the orchestra revealing different colours every time. Takemitsu instructs the trombonists to further explore new sounds by using different mutes.
Peter shares:
I first introduced this piece to Sir Simon Rattle back in 2019. He was
immediately taken with the work and suggested we look to perform it together. Four performances with the LSO in London and Japan is a mouth-watering prospect.
Here is Lindberg again, so you can hear Takemitsu's piece, on BIS with the Kioi  Sinfonietta Tokyo under Tadaaki Otaka:


Peter also has a great desire to raise the profile of the trombone as a solo instrument in contemporary classical music, stacking up world premieres of pieces by award winning composers Francisco Coll, Roxanna Panufnik, Dani Howard, and the UK premiere of James Macmillan's Trombone Concerto.
You can find my review of the Dani Howard RLPO / Domingo Hundoyan World premiere in June 2021 here, and of an LSO performance with Moore conducted by Xian Zhang in April 2022 here.That premiere being listed as one of the top 100 hundred events in 2021 by the Telegraph.

Peter is also a big fan of the wonderful brass band sound of the 70s and 80s the best bands of this era played with heart, soul and passion in abundance. Peter played in brass bands for a decade between 2001 - 2011, where the of shaping melodies and phrases were a defining characteristic of the genre: he enjoyed how everybody locked into the same sound world; it would make the hairs on the back of his neck and sees his time there a key part of his musical identity.
Later in October Peter will also be debuting a new chamber music series with mezzo-soprano Anna Huntley and pianist Michael McHale, performing arrangements of works by Frank Bridge, Schumann, Schubert, and selections from the Great American Songbook (in Belfast, the city where Peter was born).